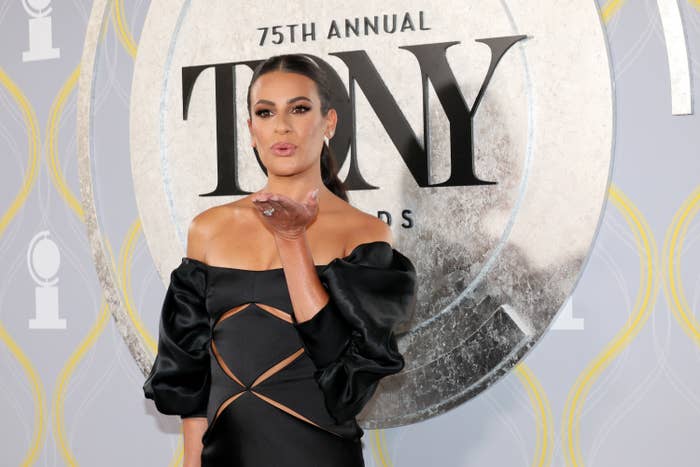 NEW YORK — Scores of fans excitedly waited outside August Wilson Theatre on Tuesday in spite of the unrelenting rain, buzzing to see Lea Michele begin her seven-week run as Fanny Brice in what's so far been an unexpectedly dramatic Broadway revival of Funny Girl.
"She's supposedly going to turn it around," Karyn Nordstrom, who was standing in line with her daughter sans umbrellas, told BuzzFeed News. "I'm excited. She sang all of these songs when she was on Glee."
Michele's casting has been the center of a social media storm since it was first reported by Gawker, then even more so when the whole behind-the-scenes saga was laid out by the Daily Beast. After all, being a fan of Funny Girl was a core character trait in her role on Glee, where Michele sang almost half of the songs from its score. Michele herself has openly spoken about her desire for its revival. There were jokes when she wasn't chosen for the role at first, then there was drama about how she was finally chosen. There was speculated tension as she replaced Beanie Feldstein in a premature end to her contract. There were rumors when Funny Girl cast member and fellow Glee alum Jane Lynch dropped out of the show.
It brought her firmly back into the public discourse, seven years after her beloved (and hated) run on Glee ended. She even addressed the online joke that she can't read, calling it sexist, after several meme iterations of the conspiracy theory went viral.
All of it mattered to the showgoers, largely Gleeks, who told BuzzFeed News they came from all over the country to see Michele perform.
Justin Davis, who said he's a fan of Michele, joked that the show's biggest attraction for him was "watching her read." Andrew Davis, Justin's husband, added that Michele's role in Glee was a big part of his childhood. "We love her," he said. "I'm excited to see the music."
"I needed to feel the chaos, the talent, and tension," said Omri Rolan. "I flew here from Los Angeles to see the show. That's how much it means to me."
And social media chatter aside, they were excited to see her step into a legendary Broadway role. Sloane Ptashek said she had seen Funny Girl in June when Feldstein was still playing Fanny Brice.
"I'm excited to see the differences," she told BuzzFeed News. "I want to see [Michele] because this show is a part of her whole identity as an actor, but [the buzz] is certainly scandalous. The theater is the main part of the reason why I'm here. But it's always funny to hear she can't read."
Live updates from the audience Tuesday night captured theatergoers' excitement over her performance. Several critics tweeted that Michele had received four standing ovations before intermission.