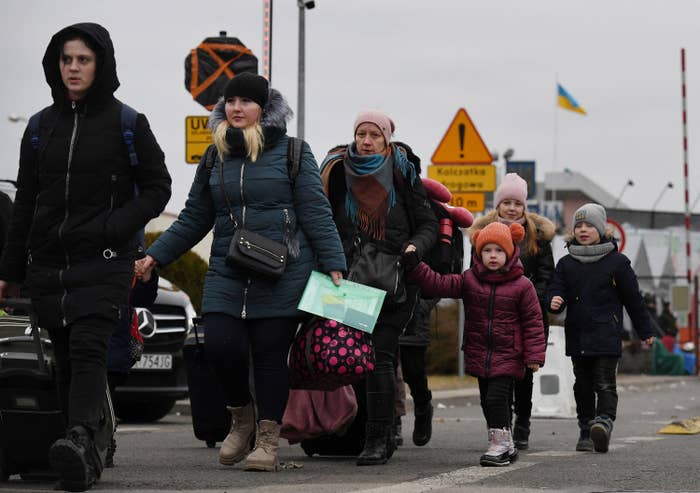 Ukrainian residents in Kherson packed their city's streets to protest Russia's occupation, days after Russian forces seized control of the regional capital in southern Ukraine.
Kherson, a city of strategic importance because of its posts and access to the Black Sea, is the first major city occupied by Russian troops since Russian President Vladimir Putin launched a full-scale invasion of Ukraine. On Saturday, the Kherson mayor said there was no more armed defense, as Ukrainian troops had been forced to retreat. Yet large crowds of people protested across the city, waving Ukrainian flags and chanting patriotic slogans.
Hundreds of civilians have died and more than 1 million Ukrainians have fled the country since Russia launched its attack on Ukraine on Feb. 24.

"My friend's parents' house was bombed," local Kherson teacher Svetlana Zorina told CNN. "They bombed hospitals and shot apartment buildings. It's a horrible situation."
However, in places like Kherson, where Russian troops have taken control, residents have pushed back even under the threat of further violence. In Kherson, around Svobody Square, also known as Freedom Square, thousands rallied against the occupation.
"People, watch! … We aren't afraid. Please repost this around the world. Support Kherson. We are calling on you," pleaded one woman in a video from Svobody Square, calling on cities around the world, like London and Miami, to stand with Kherson.

Videos shared on social media show protesters shouting, "Go home while you're still alive!" Others sang the Ukrainian national anthem as onlookers honked their horns and cheered in support.
Social media has been a key component of Ukraine's defense against the Russians. While misinformation continues to be weaponized through online platforms, Ukrainians have also taken the matter into their own hands, using Facebook, Telegram, Twitter, and TikTok as platforms to share videos and photos of their grassroots efforts.
One video from Kherson's Park Slavy shows residents waving flags while chanting, "Zelensky, well done! Putin, you're screwed!"
In another video, a protester is seen climbing on top of a Russian armored vehicle to wave the Ukrainian flag as others holler in support, cursing "Motherfucker!" at the invading troops.
The city of Kherson is in a predominantly Russian-speaking region, and prior to recent years, it had not seen any mass pro-Ukraine demonstrations. In 2014, Kherson was the site of a pro-Russia protest during the Maidan uprising. But as Putin's invasion of Ukraine pummels city after city, that sentiment appears to be changing.
"We are a Ukrainian city and we want to stay Ukrainian," Zorina, the teacher, told CNN.
Conditions have become dire for people inside the Russia-occupied city, with food and medicine in short supply. As Ukrainians continue to push back against Russian military efforts to take over major cities, many civilians have taken up arms.
"We will give weapons to anyone who wants to defend the country," President Volodymyr Zelensky tweeted the first day of Russian attacks. "Be ready to support Ukraine in the squares of our cities."

Christopher Miller contributed reporting to this story.