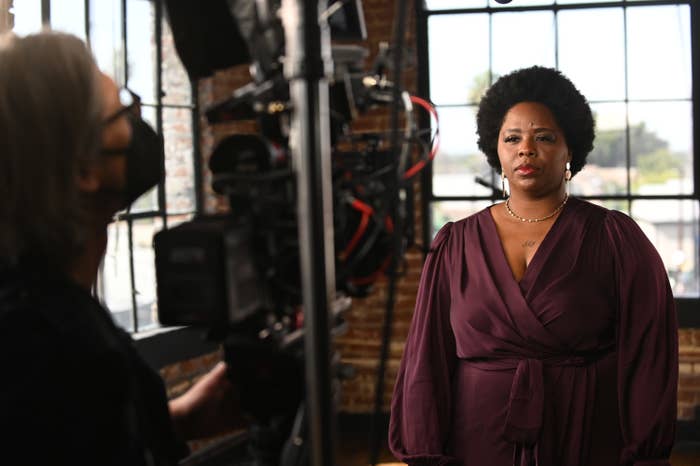 A cousin of prominent Black Lives Matter cofounder Patrisse Cullors died hours after Los Angeles police repeatedly tased him in the middle of the street last Tuesday.
Keenan Anderson, a 31-year-old high school teacher and father, was detained by multiple police officers. "They're trying to George Floyd me," he called out in body camera footage released on Wednesday.
According to a police statement, officers were flagged down by Anderson for a traffic collision. The account said that "several citizens involved in the traffic collision motioned to Anderson, indicating that he caused the accident" and that Anderson was "running in the middle of the street and exhibiting erratic behavior." When additional units arrived, Anderson attempted to flee and was then restrained by multiple police officers. Footage shows an officer pushing an elbow onto Anderson's neck as he is detained in the middle of the road. He is then tased several times. At one point, an unidentified officer tased Anderson for 30 uninterrupted seconds, sending what Captain Kelly Muñiz described as "two metal probes" into Anderson's body that are "designed to cause neuromuscular incapacitation."
"Please, please, please, please, please," Anderson cries in the video. "They're trying to George Floyd me."
Anderson was taken into custody and paramedics arrived within minutes. He went by ambulance to a nearby hospital in Santa Monica, where he died four hours later after going into cardiac arrest, according to police. A formal cause of death has not yet been determined.
"LAPD has killed three people this year. One of them is my family member," Cullors wrote on Instagram. "Keenan deserves to be alive right now, his child deserves to be raised by his father. Keenan we will fight for you and for all of our loved ones impacted by state violence. I love you."
Takar Smith, 45, and Oscar Sanchez, 35, were both shot and killed by Los Angeles police officers in the first few days of 2023. Anderson's death has only added to the outcry over law enforcement's use of excessive force and brutality toward Black and Latino men.
Dr. Melina Abdullah, who cofounded the Los Angeles chapter of Black Lives Matter with Patrisse Cullors, told BuzzFeed News on Saturday that she was hit heavily by the news.
"When we first heard about Keenan Anderson, we were stunned that there was a third police killing [in 2023], and then when Patrisse reached out and said, 'that's my cousin', we were thrown completely off-kilter," Abdullah said. "It made it more personal. It reminded us of how often this happens and how close to home it can hit."
Anderson lived in Washington, DC, where he taught 10th grade English at Digital Pioneers Academy. He was visiting his family over winter break at the time of his death, according to a statement that academy founder Madea Ashton wrote on the school website.
"Our community is grieving," Ashton said. "But we're also angry. Angry that, once again, a known, loved, and respected member of our community is no longer with us. Angry that another talented, beautiful black soul is gone too soon."
Mayor Karen Bass issued a statement on Wednesday, voicing her sympathies for the families and expressing her concerns over the videos. "The need for urgent change is clear," Bass wrote. "We must reduce the use of force overall, and I have absolutely no tolerance for excessive force."
Abdullah is calling for police Chief Michel Moore to step down from his position. "We need to struggle for justice in the name of Keenan Anderson," Abdullah said.