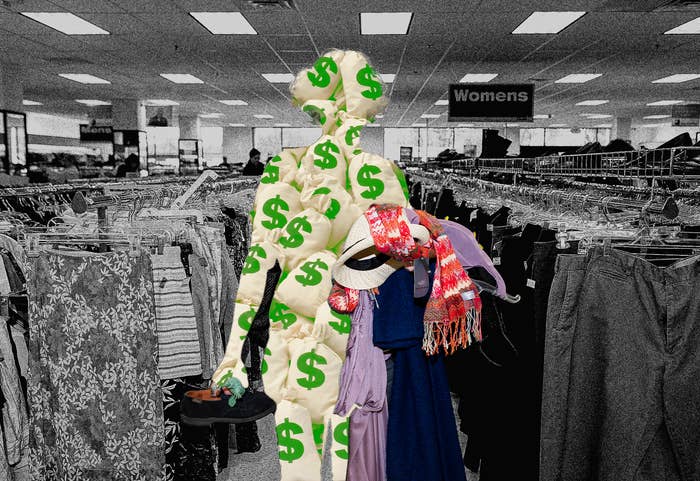 A vintage-clothing seller has become the center of outrage and debate about thrift stores and reselling secondhand clothes after posting a now-viral shopping haul on TikTok.
Jack (@jbwells2 on TikTok) runs her store Jack's Vintage on the secondhand fashion app Depop. She posted a video on Jan. 24 where she tries on a variety of thrifted clothes, modeling skirts and jackets that she would later post to her online store. "This right here is the best thrift haul you will ever see," she says, holding up a large bag overflowing with clothes.
Under the video, which has 5.8 million views as of Wednesday, TikTok commenters have been lambasting Jack for marking up and reselling the clothes — particularly a long fur-lined coat for $175 and a quilt-patterned skirt for $35 that one person found new on Amazon for $45.
Top searches for Jack's username on TikTok include "jbwells controversy" and "jbwells is a bad person," as some users compared her and other resellers to developers who buy buildings in lower-income neighborhoods and push out residents.
"i can't explain it but girlies who resell on depop for a living give mini landlord energy," one said. "Most of these girls are bulk buying in low income areas thinking they can turn a profit but ruin the way the thrift stores charge clothing," another tweeted.
Inflated pricing on secondhand-shopping platforms like Depop and IRL vintage stores has received increasing scrutiny as more people online claim the practice of buying in bulk and selling at double or more the price is inherently unethical.
But Venetia La Manna, a fair fashion campaigner who was featured in an expository documentary about Shein, told BuzzFeed News that the main issue is big fast-fashion corporations, not individual sellers, calling it a "misdirection of outrage."
"A lot of these people that we're getting annoyed about for thrifting and then jacking up the prices on Depop, these are predominantly young women who are ultimately not doing anything that harmful," she said. "They're not working for Amazon or Shein. This isn't an influencer using an affiliate link to get you to buy from Nasty Gal or Revolve. They're not forcing you to buy anything."
But people have been posting about the "gentrification" of thrift stores, with frustrated jokes about the inflated pricing of basic clothing items on Depop.
"I hate scalpers and resellers more than some criminals," one person said in a TikTok stitched with Jack's haul video.
Jack posted on Instagram on Wednesday that selling vintage clothes is how she is able to support herself as a college kid without family financial support. "I started Jack's Vntg in February of 2022, still in school, with $100 to my name, and a lot of hope," she wrote. "Not to sound dramatic, but it saved my life. I was able to pay my bills, eat, and survive on my own as an 18 year old."
Others came out in support of resellers like Jack, saying the comparison to landlording is inaccurate and that higher price points reflect the cost of time sellers spend curating thrifted items. Jack noted in her haul that the clothes were from more than five different stores. "fashion is simply not the same thing as housing… reselling vintage has existed for years… the depop girlies may be silly but they are not extracting surplus value in the form of rent, they are simply charging for hours of work and curation!!" one person said.
Last year, Jack, who did not respond to BuzzFeed News' request for comment, addressed similar criticisms from viewers accusing her of being "money hungry" and "greedy." She said that as a seller, she's seen truckloads of clothes get dropped off to her local Goodwill retail stores and by-pound bin outlets, where inventories are constantly being replenished. "There are more clothes being donated than can be sold," Jack said. "While the demand resellers have for thrifted items is high right now, it's still not higher than the supply of thrifted clothing."
She reiterated this sentiment after this week's backlash.
"Where i live, there are 20 goodwills," she wrote on Instagram. "All overflowing, all restocking hourly, and all sending truckloads of excess clothing to the bins. It's terrifying to see the amount of clothing going to waste, while fast fashion continues to pollute and abuse their workers. Reselling pushes circular fashion, sustainable consumption, and helps low income individuals earn a living wage off of endless clothing."
Fast fashion has also created a disconnect between consumers and their understanding of what constitutes fair clothing prices, La Manna said, particularly in relation to how much cotton, water, plastic, and labor go into their manufacturing. "Fast fashion's price point is not reflective of the true cost of our clothes," she said. "And that needs to change."
According to the University of Colorado, the US generates an average of 25 billion pounds of textiles per year, and 21 billion pounds of textile waste goes to landfills per year. With more frequent extreme weather events in areas that produce materials like cotton, as well as a dwindling supply of resources for clothing, sustainability in fashion has become a buzzy topic for many keen on learning about environmental protection.
For young people who are trying to find a starting point to shop sustainably, La Manna recommends looking at your existing closet, figuring out the items you already wear frequently, and then taking note of any measurements, styles, fabrics, necklines, lengths, silhouettes, and colors you like from the clothes you already put on your body. Building a Pinterest board for your style can be a good way to figure out what you actually want to buy, based on all types of inspiration, from movie characters to magazine covers.
La Manna also suggests finding accessible influencers to follow, noting how Jack's excitement about her clothes rubs off on her followers. "It's vitally important that people need to see slow fashion and secondhand fashion as something that is joyful," she said.
Jack ended her Instagram post by telling her followers that reselling has allowed folks with lower incomes earn a living, introduced a new avenue for sustainable consumption, and encouraged more consumers to engage in circular fashion. As she said in an earlier TikTok: "The more people thrifting, the better."
Correction: Venetia La Manna's name was misspelled in an earlier version of this post.