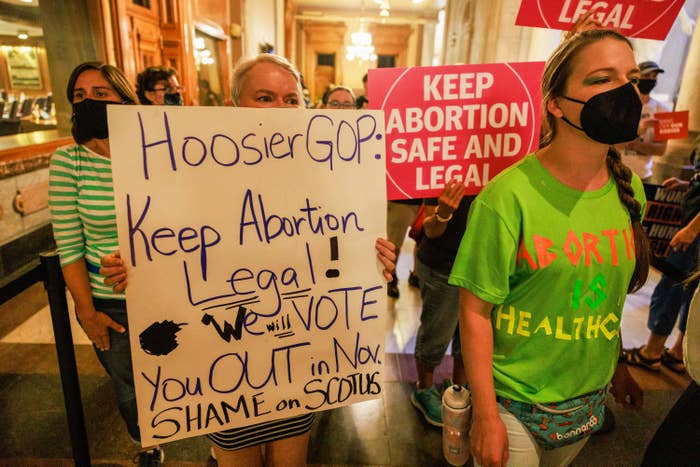 On Friday, Indiana Gov. Eric Holcomb signed a bill that will ban most abortions starting Sept. 15, making it the first state to pass such a restrictive law in the post-Roe era.
Before the state Senate and House passed the bill on Friday, anti-abortion lawmakers debated for hours over whether to remove exceptions for rape and incest in the bill, as abortion rights protesters outside chanted "bans off our bodies." The lawmakers finally approved the bill with narrow exceptions that included those for cases of rape, incest, fatal fetal anomalies, and when the life of the pregnant person is endangered.
Republican House Rep. John Jacob, an anti-abortion extremist who wanted to remove all exceptions from the bill, including those for rape and incest, declared that an abortion was not a woman's choice.
"The body inside of the mom's body is not her body," Jacob said on Friday. "Let me repeat that: The body inside of the mom's body is not her body. Not her body, not her choice."
Jacob, who was among a handful of Republicans who voted against the bill because it did not go far enough, said, "Trying to end all abortion is not forced birth, but rather it is trying to end murdering children," the Washington Post reported.
Responding in anger to his remarks on the floor, Democratic House Rep. Renee Pack, said, "Sir, I am not a murderer. And my sisters are not murderers, either. We are pro-choice. That is what we are. We believe that we have command over our own bodies. That's who we are."
During the debate, Democratic lawmakers brought up the recent news of a 10-year-old rape victim, who had to travel from Ohio to Indiana to get an abortion. (Many Republicans had dismissed the news as a political hoax before a suspect was arrested for the rape.)
When GOP House Rep. Karen Engleman was asked whether her amendment to eliminate the rape and incest exceptions from the bill would even apply to a fifth-grade victim of incest, Engleman sighed and said, "It does," before adding, "but I think it's harmful to put a minor in the position of being the new Jane Roe."
GOP state Sen. Mike Bohacek, who voted against the bill, spoke emotionally about his 21-year-old daughter, who has Down syndrome. He said the bill did not provide adequate protections for rape victims with disabilities.

"If she lost her favorite stuffed animal, she'd be inconsolable. Imagine making her carry a child to term," Bohacek said on Friday, before choking up and exiting the chamber.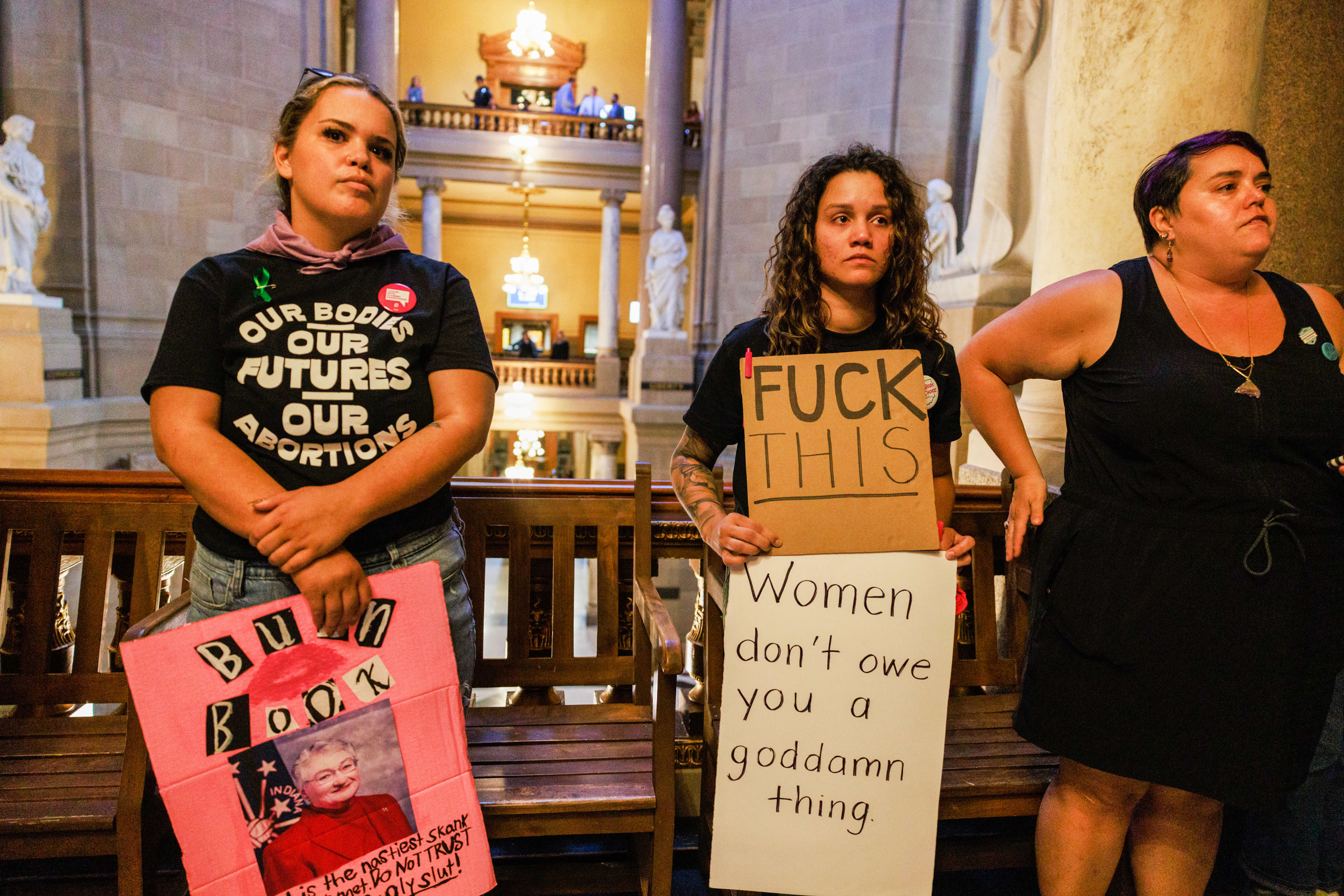 Some Democrats attempted to introduce amendments to the bill in an effort to make a statement. House Rep. John Bartlett proposed an amendment to ban the prescription and distribution of erectile dysfunction and impotence drugs in Indiana.
"We're forcing young girls to be mothers, but not forcing the men to be fathers," Bartlett said on Thursday. "If an unwanted pregnancy is an act of God, then impotency must be an act of God," he added, as the chambers erupted in laughter. "Some may think this is a joke, but it takes two people for a pregnancy to come about. And to put all the onus onto a woman, I think it's unfair."
After the vote, Democratic lawmakers expressed their anger over the restrictive bill. State Sen. Greg Taylor tweeted, "I hope this supermajority is ready to take responsibility for the women and girls who will lose their lives to their dangerous legislation."

"Hoosier women are now lesser human beings than we were yesterday," state Sen. Shelli Yoder tweeted. "We have lost the right to self-determination, to autonomy, to the futures we want to build for ourselves."

After the Supreme Court struck down Roe v. Wade, Republican lawmakers in several states have attempted to eliminate or severely restrict abortion access despite the fact that most Americans believe the medical procedure should stay legal.
Only days before Indiana's abortion ban, voters in Kansas rejected an attempt to strip abortion protections from the state's constitution, in what was seen as a massive victory for abortion rights.