This is an excerpt from Please Like Me, the BuzzFeed News newsletter about influencers and internet culture. You can sign up here. In our new column, Social Media Made Me Do It, we try a new trend, product, or tip from the feed.
As Valentine's Day approaches, ideas for themed drinks for Galentine's Day parties — the Feb. 13 celebration of besties — have been all over my Pinterest and TikTok feeds.
Coined by Leslie Knope on Parks and Recreation (on Season 2, Episode 16), Galentine's is meant to be a day to celebrate the gals in your life. On social media, that's translated into cocktail nights inspired by your exes or heart-themed girls-only gatherings. Of course, anyone can have a Galentine's to celebrate their friends regardless of gender. But it must be cute, and it must be heartwarming — and extra points if it results in glitzy viral content.
The key elements I've seen on social media have involved some kind of red and pink decoration, a heart-shaped food like pizza or cake, and homemade drinks (no specific recipes given, just vibes). So I attempted to make a Galentine's drink for my friends in the office, my Galentines.
Part of the fun is making up a drink to fit the theme. I made up two options — a fruity spritz-inspired drink and a chocolaty drink, for variety. To make the spritzer more obviously festive, I chose blackberries and cranberry syrup to be the base of the drink. I poured sparkling wine over the top and added lime, too. This was complete guesswork — I had looked at the videos and Pinterest images and just estimated the ingredients and amount. I guess I could've looked up an actual recipe, but where's the fun in that?
The second drink was chocolate-based, with a shot of vodka at the bottom and topped with whipped cream and sprinkles, like a candy bag of Valentine's Day sweets but with alcohol. I tried to make a crushed Oreo rim to really top it off, but I ended up spraying Oreos all over the office kitchen and it had to be abandoned.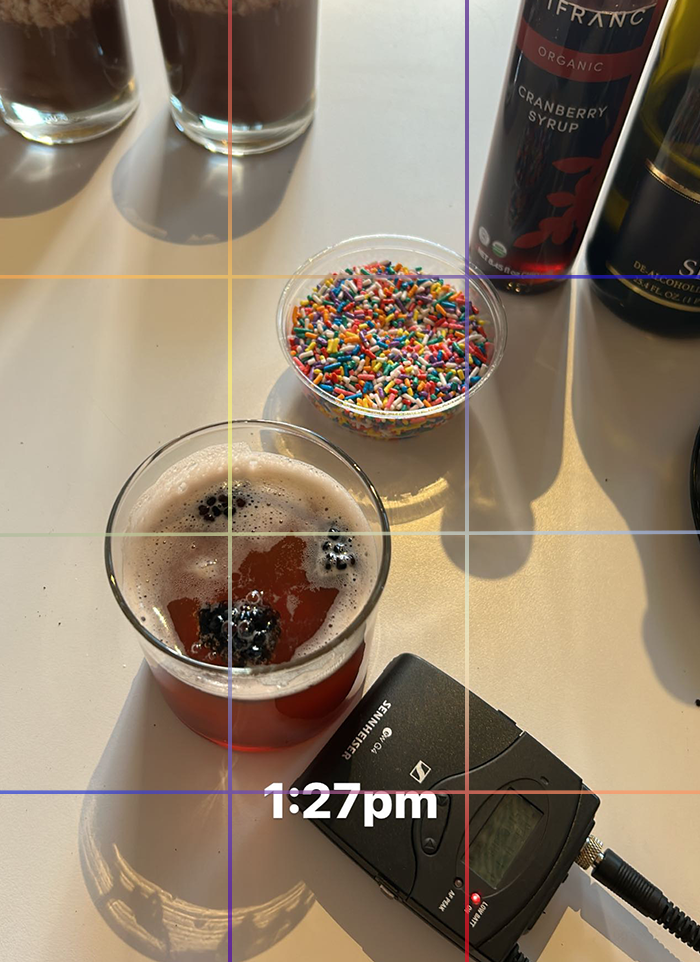 The reviews were mixed. Those who don't like sweet drinks said the chocolate drink tasted too sweet, while those with a sweet tooth said it just tasted like chocolate milk, earning a thumbs-up. I definitely thought the vodka and chocolate were going to be an unappetizing combination, but it actually ended up being OK. The spritzer was more favorable for the general audience, as the taste was lighter. Of course, they also needed names. I let my Galentines (we decided to let the men join) name them.
Mos named the spritzer "Berry Delicious," while Ken and Alexa dubbed the chocolate drink "The Steffi." I'm not sure how I feel about my name being associated with a shot of vodka and essentially chocolate milk, but OK.
I'm not totally convinced I staged my drinks well enough to pass as a Pinterest-worthy post, but it was just fun to mess around with my friends and create beverages together. Valentine's Day doesn't need to just be with your partner! It's an opportunity to share love with anyone in your life, specifically by guessing a drink recipe and making them taste it.