The New Mexico state police are investigating police officers of the Farmington Police Department after they fatally shot a man when they showed up to the wrong house, the department said Thursday.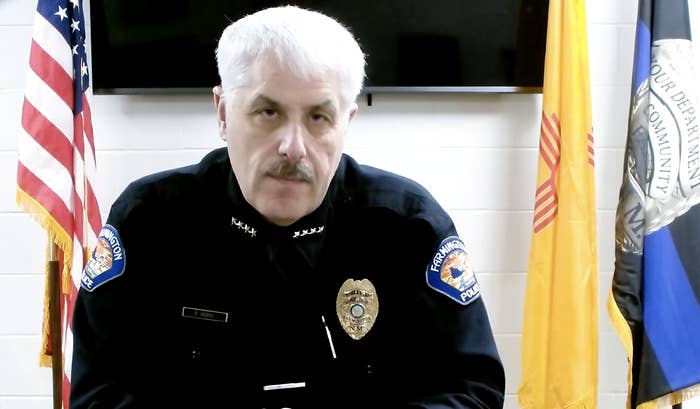 According to the state police statement on Facebook, three officers, who were not identified to the public, received a call about a domestic violence incident on Wednesday night in Farmington, a city in rural northwestern New Mexico. But on arrival, the officers "mistakenly approached" the house across the street. As they were verifying the address, the homeowner Robert Dotson, 52, arrived at the door with a handgun, but did not shoot. "At this point in the encounter, officer(s) fired at least one round from their duty weapon(s) striking Mr. Dotson," the statement read. Dotson was later pronounced dead at the scene by medical investigators, police said.
After officers fatally shot Dotson, his wife (who was not identified in the statement) fired from the doorway, the statement continues. Officers returned fire, and once the woman realized the people outside were police officers, she put her gun down and complied. The officers and Dotson's wife were unharmed. Dotson's wife did not immediately respond to BuzzFeed News' request for comment.
The Farmington Police Department told BuzzFeed News on Saturday that the officers are currently on paid administrative leave. Their names and the body camera footage of the event will be released after they have issued public statements later this week. A statement from the New Mexico State Police Investigations Bureau, part of the State Police, said the incident remained under investigation as of Thursday, and that findings from the investigation would be shared with the "appropriate district attorney" for review throughout the process.
Farmington police Chief Steve Hebbe called the event "extremely traumatic" and said he was "heartbroken" by the situation in a video on Thursday.
"This is a very dark day," he said. "I extend nothing but my deepest condolences to the Dotson family. There's nothing I can say that will make this better."
Farmington mayor Nate Duckett did not immediately respond to BuzzFeed News' request for comment.