Iranian rock climber Elnaz Rekabi returned to Tehran on Wednesday morning to cheers of "Elnaz, hero." The crowd chanted and gave her flowers for her safe return after Rekabi competed without a hijab this weekend — breaking Islamic Republic rules.
Rekabi, 33, placed fourth at the International Federation of Sport Climbing (IFSC) Asian Championships in Seoul on Sunday. During the finals, she scaled a wall while wearing an uncovered ponytail, which is against the mandatory hijab laws of Iran.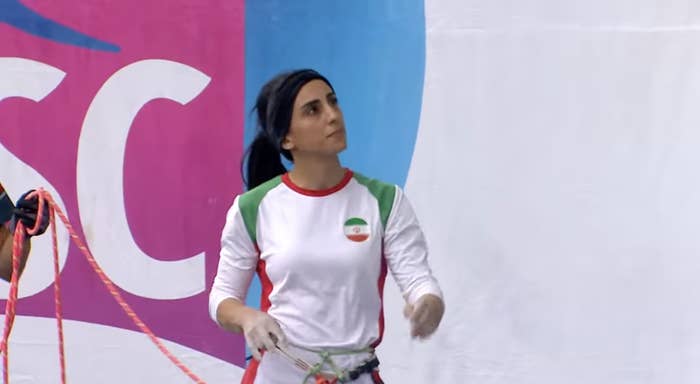 The visual quickly went viral. Many shared photos and videos of her as a rallying symbol and show of solidarity for the struggle that women in the country are currently facing against Iran's hijab laws and hard-line conservative regime.
Iran has been gripped by weekslong protests after 22-year-old Mahsa Amini died in the custody of the morality police, when she was arrested for wearing tight pants and "improper hijab." Women have cut their hair in public as a show of protest and many have clashed with police forces. Human rights groups and news outlets have shared differing numbers of how many protesters have been killed, so it's unclear what the actual death toll actually is.
Rekabi's act has been the latest in a series of public displays of criticism of Iran. She finished the competition on Sunday; by Tuesday, many reports of her going missing began to gain traction online. BBC Persian reported from an anonymous source that Rekabi's phone and passport had been seized when she was asked to go to the Iranian Embassy, sparking concern about her whereabouts.
Before Rekabi's return, her brother Davoud Rekabi spoke with Tasnim News Agency, a state-aligned outlet, saying people "took advantage of the situation." "My sister is a child of Iran, and she will always play wearing the national team's uniform," he said. Some reports noted that he had been arrested, so it is unclear whether he was pressured to make those comments.
On Wednesday, the IFSC confirmed that Rekabi was with her family in Tehran. As she landed, she was greeted by them and spoke to state media about her return.
"I came back to Iran with peace of mind although I had a lot of tension and stress," Rekabi said. "But so far, thank god nothing has happened."
The climbing federation released a statement revealing that it had met with the International Olympic Committee and the Iranian National Olympic Committee in Seoul about Rekabi, as well as a phone call with the athlete herself. "The IFSC received clear assurance that Ms Rekabi will not suffer any consequences and will continue to train and compete," the organization said Wednesday.
However, Sima Sabet, a host of an international Farsi-language talk show, tweeted that at home, Iranian Sports Minister Hamid Sajjadi would be "investigating her action."
"Because I was busy putting on my shoes and my gear, it caused me to forget to put on my hijab and then I went to compete," the statement reads, calling the choice "unintentional."
On what appears to be Rekabi's Instagram account, a statement was posted to the Instagram stories denying that forgoing hijab had anything to do with supporting the anti-hijab law protests.
Protests continue to rock the country as civilians fight against the government's enforcement of conservative dress laws. The Iranian police have arrested over 40 journalists for reporting on the topic, the Committee to Protect Journalists noted. Iran has also tightened restrictions on access to social media like Instagram and WhatsApp.