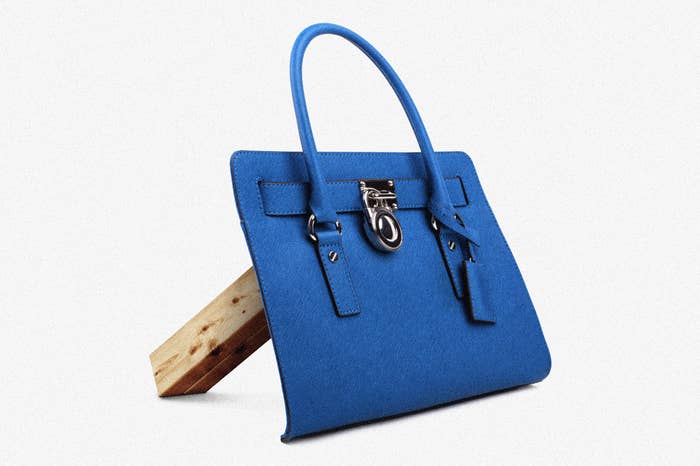 Walk through Old Navy or Walmart, and you'll probably start thinking of other brands — those leggings look like Lululemon, that jacket resembles Aritzia. Scroll through TikTok and random influencers will tell you to run to Amazon because this bodysuit looks identical to the trendy Skims one. Dupes surround us.
Blythe Snyder was in Target when she realized many items reminded her of another, higher-end product: a belt that was reminiscent of the Gucci logo belt, a pair of sunglasses that looked like Fendi. So she made a TikTok about it, holding up the products like an exaggerated Amazon influencer showing off their new finds. "Prada dupe," she says, holding up a black pleather tote and ​​exaggerating the pronunciation of the word "dupe."
"At first I made it as a joke," Snyder told BuzzFeed News. "It sat in my drafts for two days." But after a friend convinced her to post it, it quickly went viral, garnering over 2.9 million views.
"It was just the accent. It was really funny to me," Snyder, 18, said. "Saying 'dupe' over and over, it doesn't sound like a real word at some point."
Within days, more people posted their own versions of the highly exaggerated dupes, under the hashtag #doupe. It extended to the comments, as people turned it into a meme, tacking it onto the end of just about anything. "Generational wealth dupe," one said in a video of them at their job. "Nepo baby DUPE," another commented under one user's video about their father burning down their house.
"Once you start living in the dupe mindset, everything becomes a dupe," TikTok user @charismaticblackgal said in her now-viral video.
The appeal of product dupes is the opportunity to game the system — get the look for less, and spread your hot girl purchases across more products. Off-brand items have long been seen as taboo — even just last year, Korean reality star Song Ji-a received major backlash after wearing counterfeit designer items on Netflix show Single's Inferno. Cheaper brands always existed but dupes weren't so proudly worn.
Now, searches for knockoff items are soaring. On TikTok, hashtag #reps (short for "replicas," often used to reference counterfeit sneakers) has been viewed over 1.4 billion times, while #dupe has been viewed 2.4 billion times. #tiktokmademebuyit has over 37 billion views.
"I definitely think Gen Z and younger audiences have really changed how knockoff and dupe culture is seen," said Aiyana Ishmael, a Teen Vogue fashion writer who recently went viral for her article on dupe Bella Hadid outfits. "Now it's become a really exciting and cool thing for a lot of Gen Z people to finally find — like, Oh, where can I find the dupe of this skirt that you're wearing that's actually $3,000 and I don't want to spend that?"
Blame it on inflation, declining production quality, or a new wave of cash-poor teenagers who have more exposure to aspirational lifestyle trends than ever. But the gold rush to find the next big copycat has become an increasingly profitable game for content creators, and is a key factor in the shapeshifting of the definition of the word dupe, into meaning anything that slightly resembles another thing.
"I think TikTok played a huge role in it," Ishmael said. "I feel like a lot of people notice that videos where you give people alternatives to different items does well on the app. And so people are figuring out, like, Oh, wait, this is a way for me to create content and you know, also help people."
Abbey Yung, 28, is a beauty influencer on TikTok that often tries out trending haircare dupes. The process involves lots of product testing and reviewing, she told BuzzFeed News, but it's a very successful format of content for her channel. "I'm somebody that's always someone that's always looking for more affordable options," she said. "And spending more doesn't always mean higher quality."
Yung's audience is predominantly young women. "For a long time, influencers, at least on Instagram, were really aspirational," Yung said. "But you wouldn't always know where they bought that outfit or how they did their hair. Trends like 'hot girls don't gatekeep' show there's a really concerted effort on TikTok to share those tips, and reveal your secrets."
And many young people are watching. Snyder said she usually follows a lot of beauty creators who share their favorite makeup dupes, like the E.L.F. Cosmetics Power Grip Primer that has been named several times as a knockoff for Milk Makeup's Hydro Grip Primer. "I have the Milk version, but when I bought the E.L.F. one, it was like the same consistency," she said. "I would say a lot of trending things right now that I've tried have equal value to their dupes."
Tiffany Zhou, the founder of luxury handbag brand Oleada, said that from a brand perspective, the idea of gatekeeping and sharing product information is not limited to the age of TikTok. She told BuzzFeed News that dupes have always been a part of the fashion industry. "I think people expect, from the brand perspective, to hate dupes," she said. "But they're normal, a part of the market. They're nothing to be surprised by."
And Zhou said the meaning of dupes began to shift even before it became a content farm on social media. "It also doesn't always work top-down," she said. "You can see many small designers come out with a certain product, and then a luxury brand like Givenchy or another big brand will make their copy of that."
Now, ironically, influencers are creating dupes of each other's content. "The reason that is becoming a trend in of itself is because there are so many creators trying to find the next best dupe," Yung said. "And so the word dupe has been stretched, where it used to mean it would yield just as good quality results, but now it's more about resemblance, or vibe."
The dupe mindset extends beyond the realm of product alternatives; the mentality is that anyone can hack the socioeconomic ladder of haves and have-nots by taking a shortcut with a dupe. In the era of performing carefully curated lifestyles online, there is content to be made and views to be gathered by telling people that they can get a little closer to that aspirational performance by using a similar sort of product. You can't be a nepo baby by virtue of being born outside of generational power, but you can get a job and say it's a dupe. You can't spend millions of dollars on this because you aren't in the tax bracket to afford that, but you can get a dupe and sort of participate in this Pinterest board projection of luxury.
The parodies point out an obvious truth of class difference: This isn't the real thing, but it's what I have right now. And a part of me is self-aware that it's not the real thing, but I can also live under the delusion that I am foxing the system.
Content creators are mining every inch of the internet to make a comparison that will rake in millions of views. And that means anything can be a dupe.