Bike Delivery Drivers Are Struggling To Work Through Heavy Snow, And They Say The Apps Won't Do Anything About It
Snowy streets mean repairs and even injuries on the job, but drivers told BuzzFeed News they'll be paying out of pocket.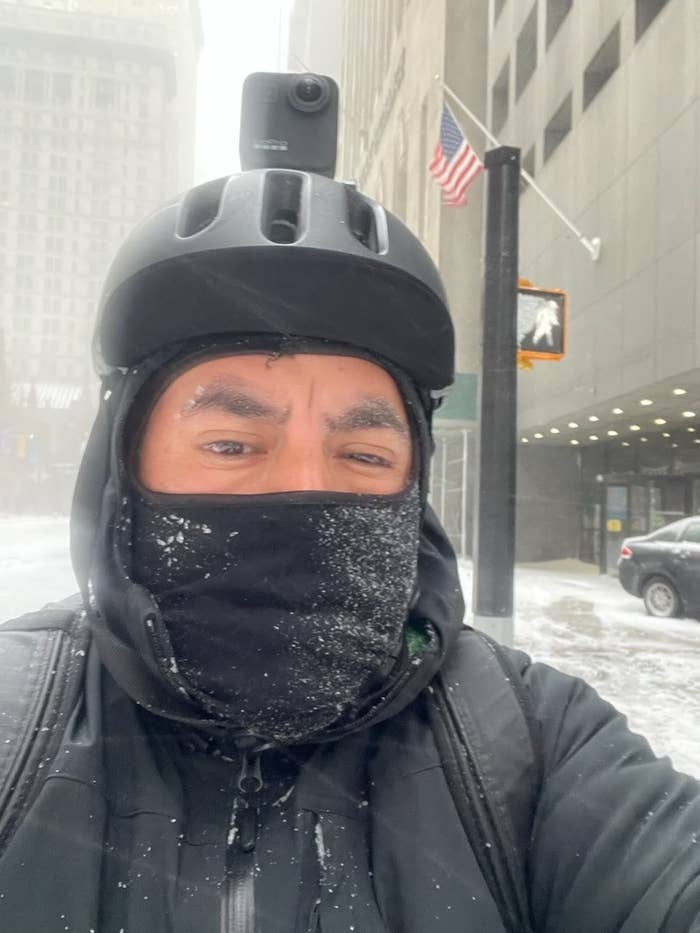 As heavy snowfall hit the Northeast on Saturday, delivery drivers in New York City continued to cycle through snowy streets, facing not just freezing temperatures but also potentially costly damage to their bikes as well as injuries.
Gustavo Ajche started his morning at 5:30, waiting 45 minutes for a train into the city. Once he was on the job, a person operating a snowblower didn't recognize his presence on the street and ended up blowing snow directly onto his face. By Saturday evening, he told BuzzFeed News, he'd experienced unprecedented obstacles that he said went beyond his previous experiences in bad weather.
"Many of us are experiencing issues with our bikes," Ajche said. "I fell off my bike around four times this morning. Several delivery workers, including myself, have had to carry our bikes over our heads to move through the snow."
Generally considered independent contractors by delivery apps, workers like Ajche are facing the rough conditions without any assurance of extra pay. They're responsible for the upkeep of their bikes, and parts to fix the damage can run anywhere from $40 to $700. From a snow-blanketed street Saturday, Ajche posted on Twitter to show some support for delivery drivers. The tweet has now been reposted thousands of times, with people replying in the comments with heartwarming messages and even offers to send him thank-you payments. He was touched but said he doesn't need the donations. But organizations like Los Deliveristas Unidos, of which he's a founder, have started relief funds for delivery workers to help with the repair and damage costs in the winter in particular.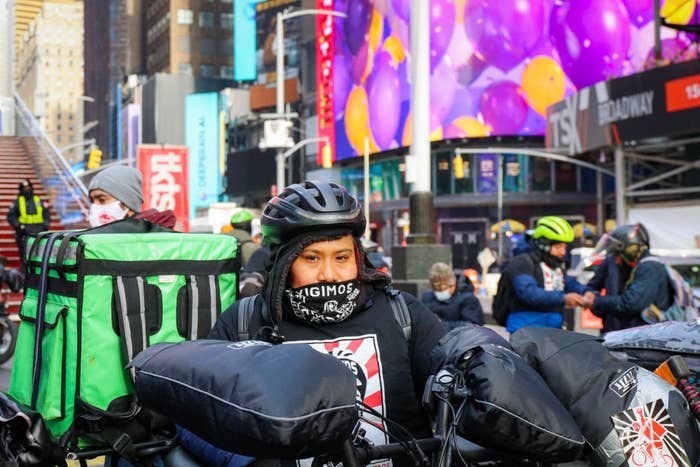 Ernestina Gálvez, a delivery worker and mother of three, experienced a punctured tire Saturday morning as she began her shift, which she said is not uncommon during this cold season. "When I have issues with my bike, I have to spend time fixing it, which means my deliveries slow down, I get a bad rating, and I cannot choose the next day's hours," she told BuzzFeed News.
This often means getting slated for a time when demand for orders is low — and ends up impacting her income. Her husband and eldest daughter, both of whom work as delivery drivers, have also experienced issues in the storm, including a damaged battery and falling off the bike because of slippery conditions, she said.
It's not unusual for winter conditions to be dangerous for drivers, and she's never seen delivery apps compensate workers for medical bills, Gálvez added. "Around this time, we usually see a lot of head and leg injuries, mostly fractures," she said.
And this weekend's storm could bring serious snow. As of 1 p.m., the National Weather Service had already recorded more than 7 inches at Central Park.
Manny Ramirez, another driver, told BuzzFeed News that an additional stressor during the storm so far has been low visibility. "It's a nightmare on the street," he said. "The slippery conditions force us to slow down, and it's harder to see cars. My phone dies quicker in the cold too, which affects how much we can move around."
Some customers have stepped up with big tips, he added. But overall, fewer workers have been out in the storm, so his routes have been longer. "There are generous customers," Ramirez said. "But because demand is down and 15 minutes becomes 45 minutes on the street, you don't make any more money than you usually would."
In a statement to BuzzFeed News, DoorDash said it might stop its services if the conditions get severe.
"We are closely monitoring conditions and guidance from local officials in markets across the Northeast and we may adjust or pause operations in impacted regions to ensure the safety of merchants and Dashers," DoorDash said. "We remove any customer ratings that are below 5 stars in cases of severe weather. We will continue to evaluate our operations in accordance with local conditions."
So some drivers are opting to simply wait out the storm and the risks on the street. But for those who are still working, Gálvez said she hopes customers will be patient and support drivers by giving them good ratings. "Please understand that things might be a bit slower due to the weather," she said. "Your food might be cold because it's very cold outside."