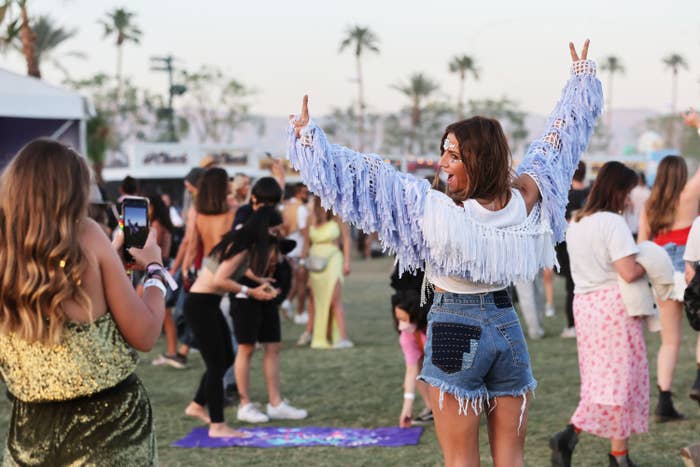 For the first time in three years, Coachella is back. Opening weekend of the music festival's pandemic return included some trending moments — headliner Harry Styles in his sequined jumpsuit and model Sarah Talabi talking about climate change in response to kissing Timothée Chalamet — but leading into weekend two, the vibe is just not…giving.
"A lot of people have pointed out that this is the first Coachella where TikTok exists," said Jasmine Melody, a 26-year-old influencer who has attended multiple Coachellas, including last weekend. "Through Instagram, you're getting a very 2D look at what Coachella is. You're seeing the outfits, and that's it. Now that people have platforms like TikTok that are video-based and candid — the vibe of TikTok is very, like, 'today sucked,' and people connect over it — it's a big part of what's going on."
Rather than Coachella posts being jealousy-inducing, the key mainstays of the festival's optics, from celebrities' Instagram captions, to this year's slew of outfits, to the poor event planning at Revolve (a side event for influencers), have been dragged all over social media. "coachella looks like the most boring festival ever just influencers competing to be best dressed," wrote one on Twitter. "if I can be honest with you all in this moment, in my heart, I really believe we could've left Coachella Pre-Panini," Fashionista editor-in-chief Tyler McCall tweeted.
Has culture moved on from the hype of Coachella, the last remnants of its coolness just influencers showing us a spectacle of fun in exchange for brand money?
Under one viral TikTok vlog on opening day, a lifestyle influencer took us through her day of her glam routine, pregame, six outfit changes, meals, freebies, meeting other influencers, and several Instagram photo sessions. Commenters pointed out that most of the clips focused on the fanfare around the festival, rather than the music itself. "What's the point of going to coachella if u don't go see the actual artists?" read one comment. "I'm curious what the point of all this is," said another.
Naomi Mahdesian, 30, is a beauty creator who posted a widely shared TikTok about her lack of Coachella envy this year. "there's zero coachella fomo this year bc it's mainly an influencer work event created to farm content," she wrote.
Fashion writer Mandy Lee, 30, dissected Coachella's possible flop era in a now-viral TikTok analysis. "It's not about the music at all. That's like a sidekick. It's about doing things for the internet. It's about performing fun for the internet," she stated.
We're following the influencers who want you to follow them. Sign up here for weekly dispatches from our Please Like Me newsletter.
Speaking with BuzzFeed News, she emphasized that while there are surely those who still attend for the high-profile lineup, the glimmer around Coachella has become increasingly about brands churning out digital marketing, using free perks as a way to entice influencers to post for their companies in massive quantities without actually paying them.
"Your attendance is a transaction for your content," said Lee. The phrase "let's connect after Coachella" even spawned an insular T-shirt meme among influencers. "Looking at my other influencer friends," said Lee, "whether they had a good or bad time, they were being paid to be there, so they don't get to say they had a bad time."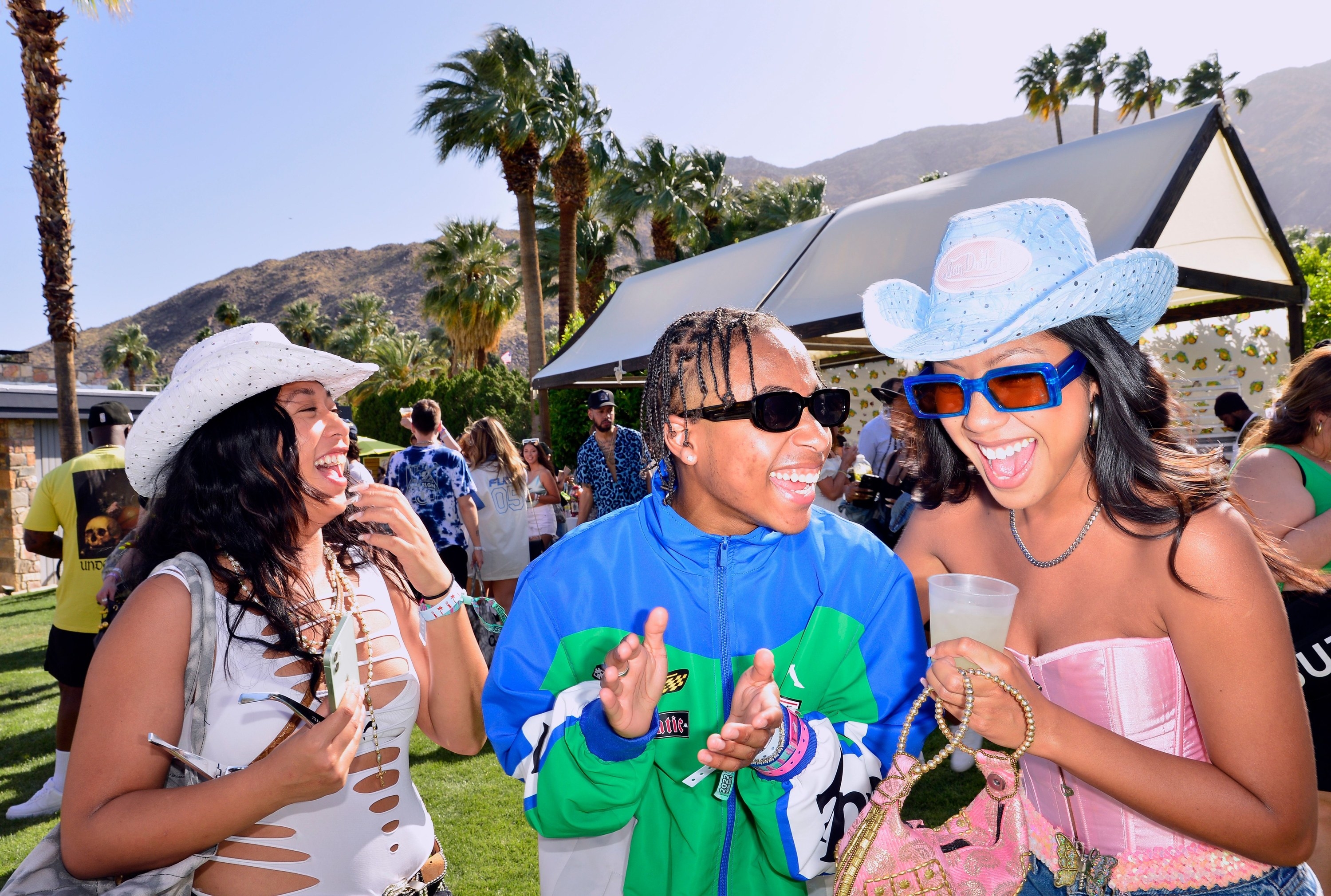 Mahdesian told BuzzFeed News that she had never been to Coachella, but used to watch vlogs about the festival with great enthusiasm. "I think I'm a little fatigued," she said. "It used to feel more aspirational — like you could be there someday. It feels faker now, like it's more commercialized."
This year's Coachella features 23 sponsors with even more events and brand activations outside the official roster. For instance, Venmo set up a swing ride within the Revolve party (which some might call capitalism inception). Those invited have posted nonstop from these activities — but not always positively, with Revolve's event getting compared to Fyre Fest after transportation and logistical mistakes. Many of these companies, including Adidas, Revolve, and H&M, have relied heavily on influencer marketing in recent years.

Yet the biggest online trend this Coachella is posting negatively about the festival. After getting caught in traffic for so long on day one that she only spent a few hours at the venue, Melody, who bought her own ticket, posted a TikTok about her experience. "is it worth it? not rly idk LMAO #coachella," she wrote in the now-viral video. On the second day, Melody said she didn't even make it into the festival, instead saying she waited for three to four hours in traffic to get to the parking lot, before just turning around and going home.
Mahdesian said watching the content from outside the festival feels like a culmination of the microtrends happening online, but IRL. "I don't know, everyone looked the same," she said. "The commercialism and the marketing killed the authenticity part of it for me. I don't even think I've seen content about the music. It felt like one of those museums where you only go to get selfies, rather than a music festival."
Mahdesian said she watched lots of vlogs from last weekend's event to try and see if it really was as bad as everyone claimed.
"Sometimes the negativity gets more hype and more eyeballs," Mahdesian said. "The positive content seemed like it was more about getting vlog footage rather than seeming like an actual fun time. But you know, the headliners were amazing. The TikToks I watch of Doja Cat, she seems like an amazing performer."
When asked, Mahdesian said she would go if she were invited, out of morbid curiosity to see if it's as bad as people posted about, but would not pay out of her own pocket to attend.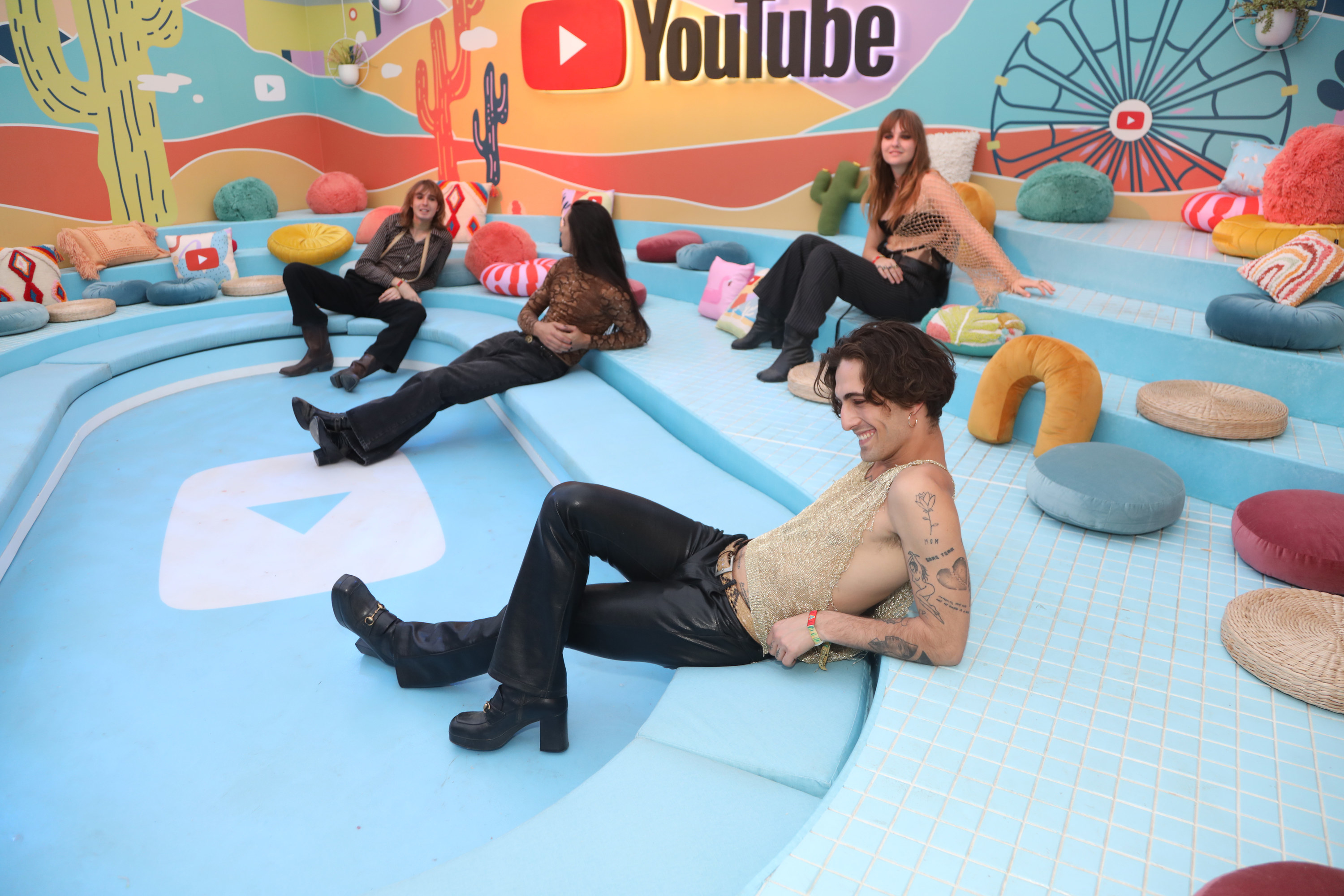 Many top-tier celebrities are also seeming to slow down on the content gold rush. Emma Chamberlain posted from day three in sweatpants with the caption, "no i am done." Melody thinks this is a reflection of how many feel about the festival now, too. "Fashion at Coachella was casual for many, many years, but all of a sudden, it became like a Met Gala, where everyone wanted to outdo each other," she said. "So we had years of everyone trying to do the absolute most. But not only does it get exhausting, it also gets cringey if you're trying so hard for a festival."
Lee agrees with the sentiment. "All the A-listers are dressing normcore now," she said. "They're not putting on the performance for the festival now. But there's maximalist TikTok girls who are dressing up, because that's how your content stands out at Coachella. But the A-listers already have status. They don't need to perform for the internet to elevate their status."
Also, the world has changed. Mahdesian said she's seen more negative posts about Coachella this year than aspirational content.
"Especially after the whole Astroworld stuff, I think people are hyperaware of how dangerous these events can be," Melody said.
But she thinks she'll still try and go to the upcoming second weekend. Despite the waning interest in the festival's ongoings, there's still enough content to prey on your FOMO. "It's funny — it was such a mess of a weekend but I don't regret it," she said. "It's Coachella."