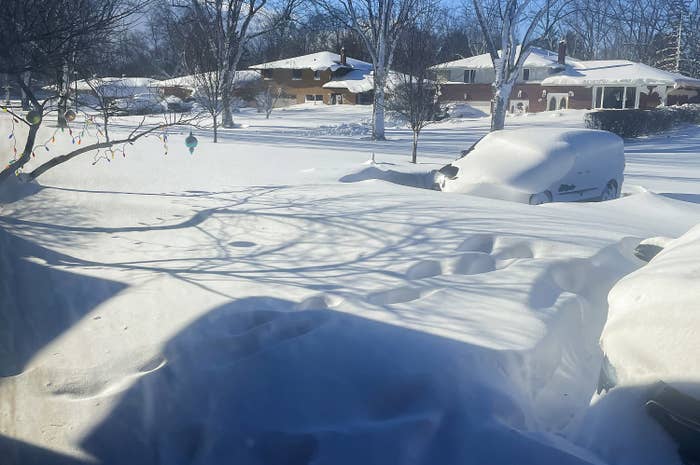 As a relentless winter storm continues to blow through much of the eastern US, local officials have begun announcing deaths, including 25 people who were killed in the area of Buffalo, New York.
Erie County Executive Mark Poloncarz said Monday that the county medical examiner's office determined that the causes of death were directly related to the snowstorm. Some of the victims were found in their homes, in their cars, and on the street, he said. Poloncarz also noted that many of the deaths were due to cardiac reactions from snow shoveling and using a snowblower. One person died of carbon monoxide poisoning.
"It's absolutely devastating to see this many deaths," he said in a press conference. "We have the worst storm, probably in our lifetime, and maybe in the history of the city."
Erie County saw some of the worst of the storm, with some areas reporting as much as 49 inches of snow by early Monday morning, according to the National Weather Service. The storm made roads impassable, froze power stations, and left abandoned cars and buses "everywhere, pointing in the wrong direction," Poloncarz said. Local news reported that this was the snowiest calendar year the city had seen since at least 1939.
"We had to send specialized rescue crews to go get the rescuers," he told CNN Monday morning. "It was complete whiteouts, and the extreme cold. It was some of the worst conditions that any of us have ever seen."
By the end of the week, Buffalo is expected to see temperatures up to 50 degrees, according to the National Weather Service. The storm is expected to ease up in the next few days, but Poloncarz reminded residents that they have not reached "the end of the tunnel" just yet.
New York Gov. Kathy Hochul said in a news conference on Sunday that power outages — and a lack of heat — have also been a major concern. "There are also people in their homes, freezing cold for the last 56 hours, some of them without power," Hochul said. "This has nothing to do with the resources … what we're experiencing is a mobility and access challenge."
"It's a crisis of epic proportion," Hochul told CNN on Sunday as hundreds of thousands of people across the US were without power.
As of Monday, outages had largely been restored but more than 18,000 homes and businesses remained without power in New York, according to poweroutage.us.
In addition to New York, other deaths were reported across the US. Two cities in Colorado were confirmed to have at least four exposure-related deaths on Sunday, and one 82-year-old woman in Michigan was found dead on Friday. Other recorded deaths included a 22-year-old Ohio utility worker who died while trying to restore power to the area, a woman in Wisconsin who slipped and fell through ice, and a woman in Vermont who was killed when a tree fell on top of her. Many of the deaths have been due to car crashes as ice and snow created dangerous driving conditions. Ohio state troopers confirmed four fatalities on Friday from an icy highway crash, and in Missouri, one man died after his vehicle lost control and slipped into a creek. At least three people have died in Kentucky, one in a weather-related car crash. Based on local reports, BuzzFeed News counted at least 44 weather-related fatalities.
Weather conditions have also resulted in flight cancellations across the US. According to FlightAware, at least 3,800 flights were canceled on Monday.