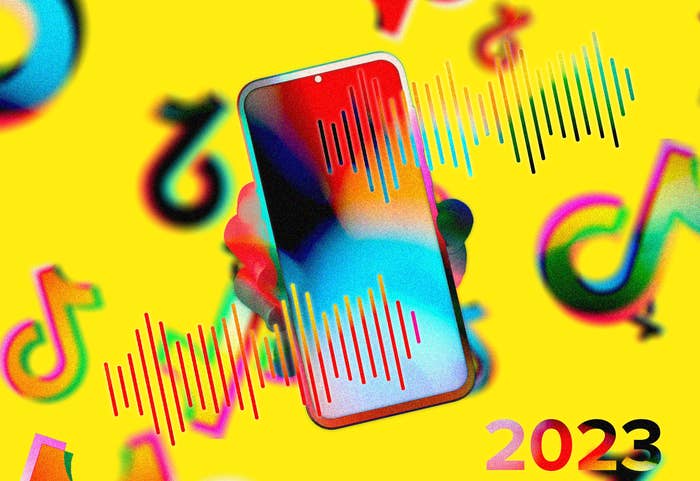 Memes have historically focused on the visual, but TikTok — and Vine before it — has created memeable audio clips, perfect for a new situational joke. But sometimes your FYP will just drop you in the middle of a new sound without context. So, to alleviate that confusion, here's an explainer of 2023's biggest trending TikTok audios so far.
Bombastic Side-Eye
The side-eye has turned into a "bombastic side-eye, criminal offensive side-eye". These words were spoken originally by TikTok user @lmfaomal, and now everyone from Kim Kardashian to Malala Yousafzai has used the audio clip in their videos. TikTok users have applied the shady phrase to moments in their own lives, shared experiences, and current events. "Jamie Lee Curtis… the tax agent…won the Oscar over the queer multidimensional daughter Stephanie Hsu," one user captioned their side-eye video in March.
So My Name…My Name Is Bella Hadid
This interview with internet favorite and meme hub Bella Hadid has quickly turned into an audio mocking anything related to diet culture, equating the habits to the supermodel's behavior. "My name…my name is Bella Hadid," the audio plays as one TikTok user dabs the oil off their pizza. "My emotional support squishmallow after using it as a pillow for months," another captions their video showing off their flattened plush toy. The audio has also been used to meme the aesthetics associated with diet culture, with one making fun of the "clean girl bun" that many influencers have shared online.
Two-Hit Wonder
"Everybody was tryna be like, 'Oh, she a one-hit wonder,' da da da, but it's like, now what? Two-hit wonder?" rapper Ice Spice said in an interview with Genius about her song "Bikini Bottom." The quote has now been used in audios for any user feeling successful about anything going on in their lives, flexing on anything from big moments to small wins. Angel Reese used it after winning the NCAA national championship. "Me after doing a Chloe ting working two days in a row during quarantine," influencer Noah Miller captioned his video.
I Waited For Three And A Half Years…White Man Did It In One Week
From Avatar to Maze Runner to fandoms (like that of indie singer Beabadoobee), this audio has become the new favorite for different online worlds to share inside jokes about the random white male characters who've either cuffed their celebrity crush or inexplicably achieved something that no other person in the community had been able to do. The audio originated from controversial social media personality Umar Johnson on a live video, but now it's expanded to many subcultures online.
"Y'all Already Know Who I Am, My Name's Topher"
Better known as Topher, 9-year-old Christopher Russell became the newest edition of Rickrolling or being Krissed after a video of his family introducing themselves went viral on TikTok. "Y'all already know who I am, my name's Topher," the fourth-grader says in his country twang. His persona as a hyperactive child with a penchant for screeching has made him an audio icon. Since then, Topher's introduction has been utilized as a meme all over the platform and become its own genre on the app, TopherTok.
"I Try Not To Kill Myself…"
This darkly funny audio has been trending on the platform since user @fatmata042 sang the phrase in a video. People have used it to share their deepest, darkest, most embarrassing moments ever since. "when a doctor asked me how many drinks I have a week and I said 'not that many maybe 30' and he said anything over 10 is alcoholism," one wrote. "when my friend in class asked if i was doing this on purpose but i was not," said another, revealing their bent-over posture in an image. Celebrities like Trisha Paytas have used the audio to share their cringiest moments, and it's also sparked niche drama on the platform, like when this New York transplant realized that not everyone in the city dresses like social media influencers.
"Denial Is A River In Egypt, Your Husband Is Gay"
Wendy Williams has once again proven she is the center of the internet after this old audio clip became a meme and birthed several offshoot trends. Her proclamation was mashed up with the Mickey Mouse Clubhouse theme song on TikTok, and in videos, it's often accompanied by a CapCut edit of Stranger Things' Finn Wolfhard walking up to the camera and snapping, revealing the next photo. With the audio, people have shown then-and-now photos of their glowups, whether that's talking about their body image journeys, career changes, or, yes, sharing their own coming-out stories. It's become so viral that a sped-up, transition version of the audio (mashed up again with Toni Basil's 1980s hit "Mickey") is being used in getting ready and body alteration transition videos.
"Here With Me," d4vd
The lyrics, "I don't care how long it takes, as long as I'm with you, I've got a smile on my face," have become a popular audio choice for content creators to share heartwarming moments with their loved ones, or romanticize little moments between their favorite celebrities. Conversely, it's also been used in photo mode to make ironic content with the song, with posting funny texts from their loved ones. "Sometimes all you need is your dad," a tweet says in the first clip of one TikTok. "Who is that singer I like," the father of @ilovemickininaj texts in the next photo. "Fella pupa." "??? DUA LIPA," the user responds.
Side-Eye
From the voice of Cynthia Mmasi, this audio — "side eye…SIDE EYE" — has become the trend du jour for people to share the shady moments or judgmental parts of their lives. "When you booked a non-refundable Bali trip a year in advance but broke up 7 months ago…" user @documentwithmimi captions the viral video of her and her ex in the plane. "Us at our 16 year old cousins gender reveal," one other person wrote, using the audio. "when for once I'm not in an obnoxious loud mood and someone around me is being loud & obnoxious," someone else said.
"In Ha Hood," Ice Spice
All hail Ice Spice, the It girl of TikTok. Both the actual song and a sped-up version of "In Ha Hood" have been used all over the platform for people to dance to, show off their outfits, and spin off into a meme that features a CapCut edit of two dancing cartoon dogs. Celebrities like Skai Jackson and Kehlani have posted videos with the audio, and stand-alone comedy videos with the audio have gone viral on the app, like Tyrell Hampton rapping along to the song into a museum's interactive station.
"Kill Bill," SZA
Ever since the release of SZA's album SOS at the end of 2022, many of the songs have trended on TikTok, but no other has surpassed the usage of lead single "Kill Bill," which has become a lip-synching thirst trap favorite. Everyone from Kylie Jenner to Lizzo (with a bonus SZA cameo) have used it on their feeds, and the audio has become a virality springboard for every kind of video, from hair tutorials to "get ready with me" videos to celebrity drama posts. Another clip combining the song and original dialogue from the namesake movie has also become the transition version of the original SZA audio, alongside a hand motion for the transition that mimics pulling a gun's trigger.
"OMG," NewJeans
K-pop group NewJeans released their bubbly single "OMG" on Jan. 2, and it instantly became a sensation online. Not only have users across TikTok filmed their own attempts at the choreography, but a CapCut edit that goes along with the song has been used to make ironic fan edits of everyone from Jimmy Fallon to Walter White.
"I'm A Male, I'm A Man, I'm A He"
In an interview between "man on the street" YouTuber Poudi and a conservative white man, the interviewee says, "I'm a male. I'm a man. I'm a he. I don't get into that mentally ill stuff," when Poudi asks for his pronouns. Of course, the darkly ironic humor of TikTok turned it into the audio that many women now use to make fun of stereotypically masculine things, like the low pants and no shirt combo, whole milk, and camouflage jewelry. A trend in which you raise your eyebrow after every statement also had a moment last October, with celebrities like Dove Cameron hopping onto the wave, but remixes have been popping up in 2023.