A white police officer was arrested on charges of negligent homicide after fatally shooting an unarmed Black man earlier this month in Louisiana.
Shreveport police officer Alexander Tyler, 23, was arrested on Thursday for the shooting death of Alonzo Bagley, 43. According to initial police reports, at approximately 10:51 p.m. on Feb. 3, officers received a local 911 call about a domestic disturbance at an apartment complex. In audio of the 911 call released by police, the caller identifies herself as Bagley's wife, Tangela Bagley, saying her husband was "loaded on something" and threatening her and her daughter.
"He in the room with the door closed," she says in the audio clip. "I don't know what he on."
Tyler and another officer arrived at the scene, where Bagley opened the door. In the body camera footage, Bagley begins to walk towards the back of the apartment, saying he "needs to put my dog up" and then jumps off the second-floor balcony. The two officers chase him on foot, and after rounding the corner, Tyler fires at Bagley and shoots him. Police confirmed in a critical incident briefing that Bagley was struck in the chest.
"Oh God, you shot me," Bagley can be heard saying in the video, as he slumps to the ground. The officer behind the body camera calls for medical dispatch. "No. No. Sir. Sir. Hey. Hey. Hey. No. No," one of the officers is heard saying.
During the video, Tyler's body camera turned off for one second, then reactivated, police said in the briefing.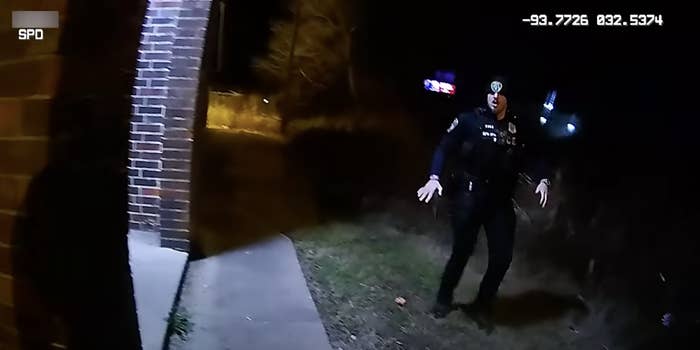 Bagley was transported to a nearby medical center for treatment, but was later pronounced deceased, police said. Investigators did not find any weapons in his possession.
After a Louisiana State Police Bureau investigation reviewed the body camera footage, Tyler was arrested by state troopers on Thursday morning for negligent homicide. He posted bond at $25,000 and was released by Thursday afternoon, according to local press. A negligent homicide charge in Louisiana carries a prison sentence of up to five years if found guilty.
Dhu Thompson, an attorney representing Tyler, told BuzzFeed News on Saturday that "this is an unfortunate and tragic situation for all involved," saying that police officers face "highly charged dangerous atmospheres wherein they must make split-second decisions."
Tyler is currently on paid administrative leave. Police chief Wayne Smith told the Associated Press that, to his knowledge, Tyler had violated conduct policy once before, involving "violence to a suspect," but did not elaborate further. The Shreveport police department did not return BuzzFeed News' request for comment on Saturday.
Bagley's wife, mother, and stepdaughter have also filed a $10 million lawsuit against Tyler. During a press conference on Thursday, the family's attorney, Ronald Haley, said that fleeing the police should not equate to a "death sentence."
"Flight does not mean shoot to kill," Haley said. "It is an incident that we see far too often in the state. It's an incident that we see far too often around this country."
Court documents show that Bagley had previously filed a lawsuit against the police department in 2019, following another domestic disturbance call. He alleged in the documents that he was beaten severely during his arrest, resulting in "treatment of a broken occipital orbital eye-socket bones, contusions to the head and face, and a number of his front upper teeth knocked out." The lawsuit was ultimately settled, Haley told the New York Times.
The ACLU of Louisiana has filed two cases against the Shreveport police department, demanding Tyler's termination. "A police department that keeps officers on the force who use excessive force against those they are sworn to protect becomes the police force that kills yet another unarmed Black man," the organization wrote in a Feb. 8 press release. "We cannot continue this pattern of abuse and the constant failure to adequately investigate excessive force."
At the Thursday press conference, Bagley's brother Xavier Sudds said he felt there was no need for Bagley to lose his life. "I want Alonzo's death to mean something at the end of the day," he said. "I know it will happen."
Tyler's first court date is set for April 3, according to local press reports.