Police Investigating Georgia Man Who Announced On Twitter He Was Going To Rape Passed-Out Girl
Detectives in Cobb County, Georgia, are investigating the man who tweeted a picture of a passed-out girl and said he was going to sexually assault her. The police have not yet confirmed a crime occurred, nor have they identified the men who tweeted the pictures.
Update - Jan. 2, 1:25 p.m. ET
At 1:09 a.m. on Jan. 1, Twitter user RichlonelyJuan posted a picture of what appears to be a girl passed out in her own vomit, claiming that he and his brother planned on raping her.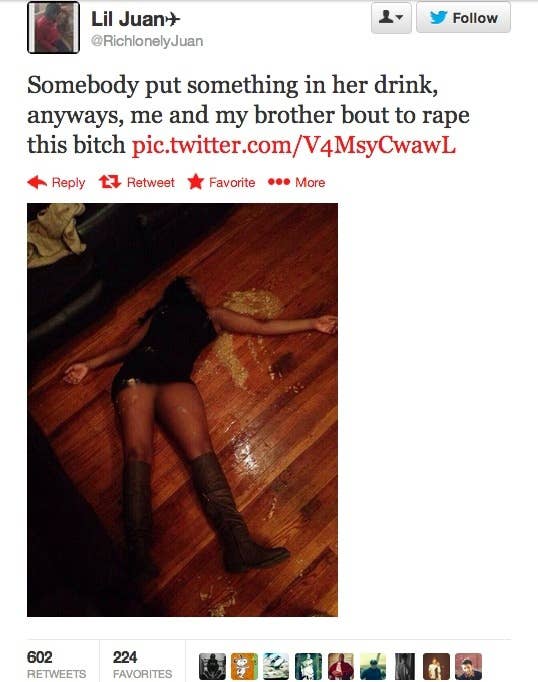 He continued to live-tweet throughout the night, declaring that the victim no longer had a pulse.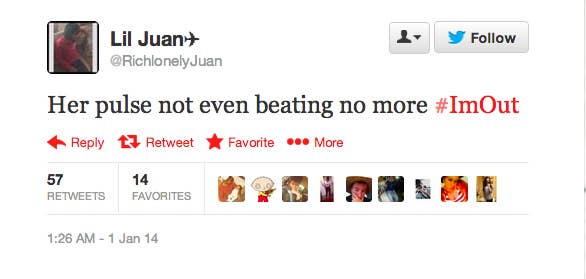 Twitter user "@IH8UHOES" also posted about the passed out girl.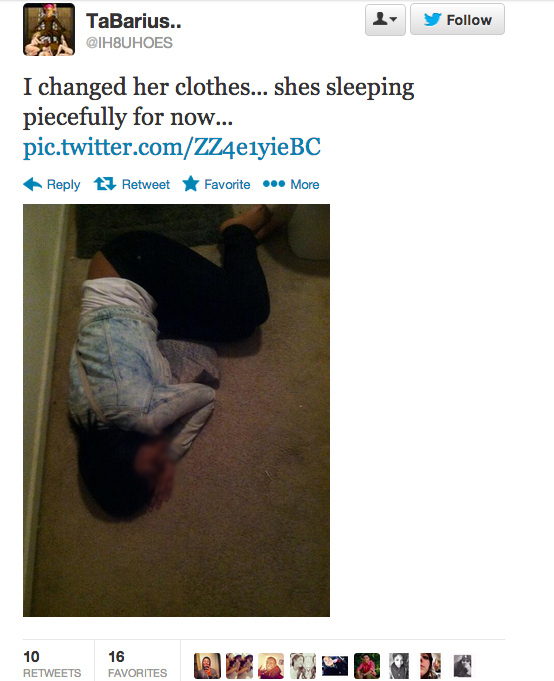 Both users continued to tweet about the incident, neither denying nor backing down from the rape threat.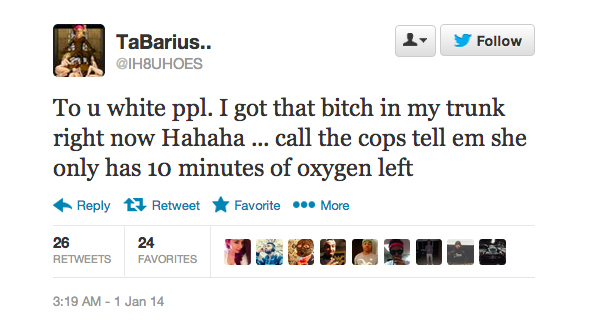 A Tumblr post listed a possible address for the party in Acworth, Ga. But Acworth police told BuzzFeed that the incident took place elsewhere in Cobb County, Georgia.

Around 6 a.m., one of the men tweeted that somebody was at his door.


Update — Jan. 1, 2 p.m. ET:
The Cobb County police confirmed they were aware of the photograph, and a police dispatcher said that two detectives were on site at the residence investigating the rape allegation.
On Wednesday, Dana Pierce, a public information officer for Cobb County told BuzzFeed that the police department did not have the names of the men who posted the photographs, or any information about the alleged attackers.
"How are we going to find them?" asked Pierce. "We could find their IP addresses, but we're not going to do that on New Years Day... They [the detectives] will probably really sink their teeth into the case tomorrow."
Pierce also told BuzzFeed that investigators received an anonymous call from a female who said she was familiar with the case and that there was "no truth" to it.
"Obviously this doesn't satisfy our investigation," said Pierce. "But the alleged incident that has gone viral is not a crime. We need a lot more evidence to prove that this happened."
The detectives are "working on it," but they have not had any success in validating the claims from the tweet based on the information provided thus far.
Update - Jan. 2, 1:25 p.m. ET
In a phone call to BuzzFeed, the Cobb Country Police Department confirmed that they are continuing to investigate the case and are not taking it lightly.
"We are a 24/7 operation," Pierce said. "We began working on the case at 8:54 a.m. yesterday, but because it was New Years Day, we were limited." For example, the police attempted to contact Twitter yesterday to acquire more information about the suspects, but they were unsuccessful.
The two detectives who investigated the house where they believe the alleged incident took place said they found no evidence of a crime, but they will continue searching for the IP addresses of the two men who tweeted about raping the woman pictured. No official police report has been filed.
Twitter user @richlonelyjuan deleted his account at about 11:25 a.m. ET.