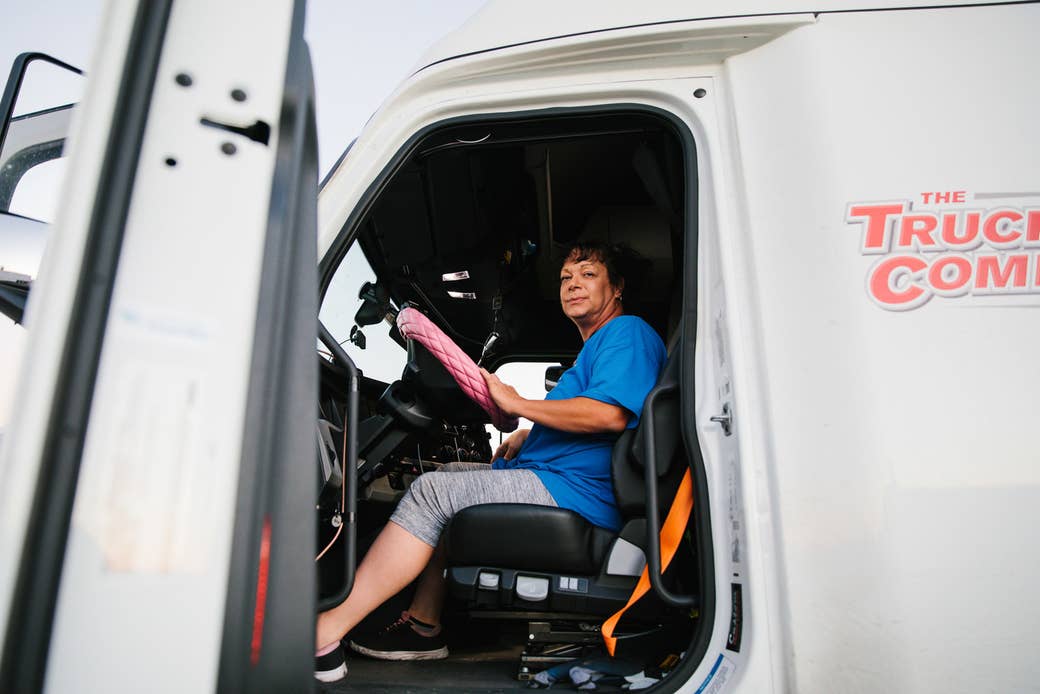 Dianna Vasher loves her job as a truck driver. Each week, she drives 3,000 miles in an 18-wheeler she's retrofitted to make feel like home, its interior decorated with twinkle lights and a pink leather steering wheel cover.

"All the drivers name their trucks," says Vasher. "Every truck is kind of temperamental." Hers, she says, "feels like a Greta."
As one of America's 3.5 million truckers, Vasher drives back and forth across the continental US, through winter storms and summer heat over grueling, 11-hour shifts.
Driving a truck is more difficult than most people realize, and truckers take immense pride in their work. But for Vasher, who's 48 years old, trucking is more than just a job. It's one of the few well-paid, blue-collar industries that gives her the freedom to be herself as an openly transgender and bisexual woman.
"This is the ideal profession for someone that's trans," says Vasher. "If [transgender women] have difficulty living as a woman at home, you put them in a truck where they have their own space, they can dress however they want and nobody's judging them. Plus, they're making money while they're doing it."
Workplace safety is often a top concern for transgender people, with 90% reporting outright harassment at work or hiding their gender identity to avoid discrimination, according to the National Center for Transgender Equality.
"You're safer in the truck than you are at home, working at Walmart," Vasher says, adding that she's earned the respect of her cisgender male colleagues because "not everybody can drive a truck."
"This is the ideal profession for someone that's trans."
The bottom line, says Vasher, is that in a truck, "you can be who you are."
While there are no hard statistics on the number of LGBT people in trucking, Anne Balay, a former truck driver and professor of gender studies at Haverford College, argues there's been a marked uptick in transgender truck drivers in recent years. She recently published a book, Semi Queer, which is a detailed ethnography that draws on interviews with 66 trans, queer, and other minority truck drivers.
During her research, Balay found that trans people gravitate toward truck driving because it provides some level of safety (truck drivers work alone), anonymity (truckers communicate with colleagues over CB radio), and lack of discrimination during hiring (many truckers are hired over the phone).
The uptick in transgender and other minority truck drivers comes as the industry faces a chronic driver shortage. From 2016 to 2017, the number of long-haul truck drivers dipped by 1%, a loss of 36,000 drivers.
The mainstay demographic of white male truckers is reaching retirement age, says Sean McNally, vice president of public affairs at the American Trucking Associations. Nowadays, he says, trucking companies are casting a wider net into "nontraditional" places in their search for qualified drivers.
According to Vasher, "companies don't care if you're purple or pink." The only thing that matters, she says, is your commercial driver's license and a good score on the DAC report — essentially a detailed driving record for commercial truckers. "If you've got a CDL and your DAC report is good, you're getting a job."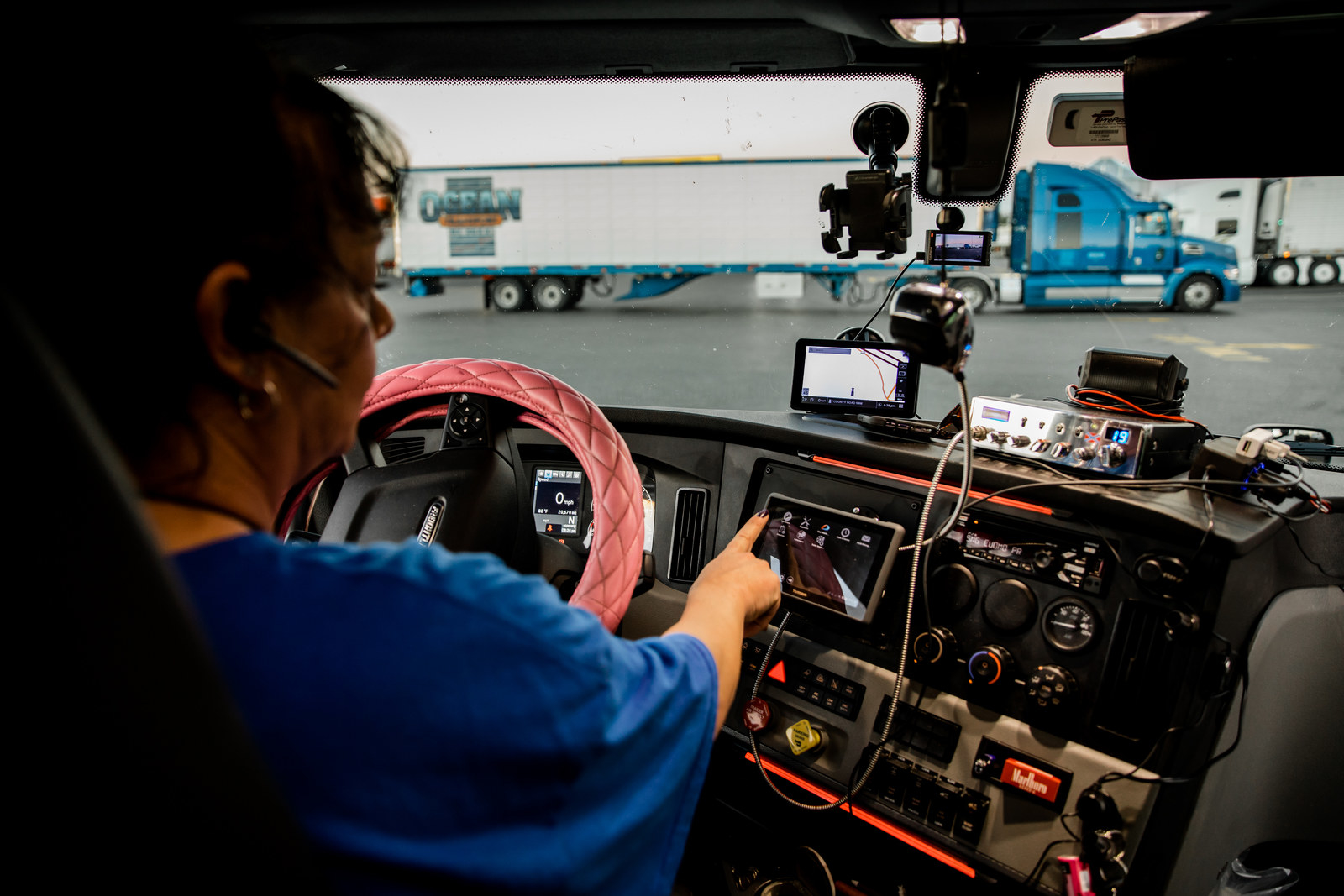 The drop in truckers isn't only due to an aging white, male workforce. Wages also haven't kept up with the rate of inflation, and there's a general lack of respect for the profession. Meanwhile, trucking is more regulated than it ever has been, with many vehicles now loaded with equipment that limits a trucker's speed, logs hours on the road, and monitors conditions with dashcams.
These challenges are driving seasoned truckers out of the industry, leaving trucking companies scrambling to hire more marginalized (and therefore more exploitable) workers, Balay explains in her book.
Though truck drivers are still overwhelmingly white (59%) and male (94%), the industry is diversifying to meet an ever-growing demand for qualified drivers, with a growing number of black and Asian Americans now working as truckers.
Additionally, "recruiters are specifically seeking out women truckers [because] there's a perception that women are safer, more dependable, and that there's an untapped labor market," says Balay.
Also in the mix is an increasingly vocal minority of queer and transgender truckers, drawn by the decent pay and relative solitude of the job. According to one transgender woman Balay interviewed, "There's enough of us out here now that we can feel more bold and be more visible."
But along with the diversity comes rampant exploitation of women truckers, explains Desiree Wood, president of the nonprofit REAL Women in Trucking. The average male salary is nearly $42,000, while the average women's salary is just under $29,000, according to a Deloitte analysis of public data.
"It's hard to stay in [the industry] with all the obstacles," Wood says.
Sexual harassment is also common in an industry that still values machismo, says Wood, who exposed rampant harassment as part of Dan Rather's 2009 investigation "Queen of the Road." She founded REAL Women in Trucking as a place for women and other trucker minorities to voice complaints when their bosses won't listen.
Vasher says she had to work her way up to get the opportunity to work at an "awesome" trucking company called Artur Express, where she makes close to $90,000. But she also recognizes that many truckers — especially minority truckers — are mistreated, working long hours for low pay.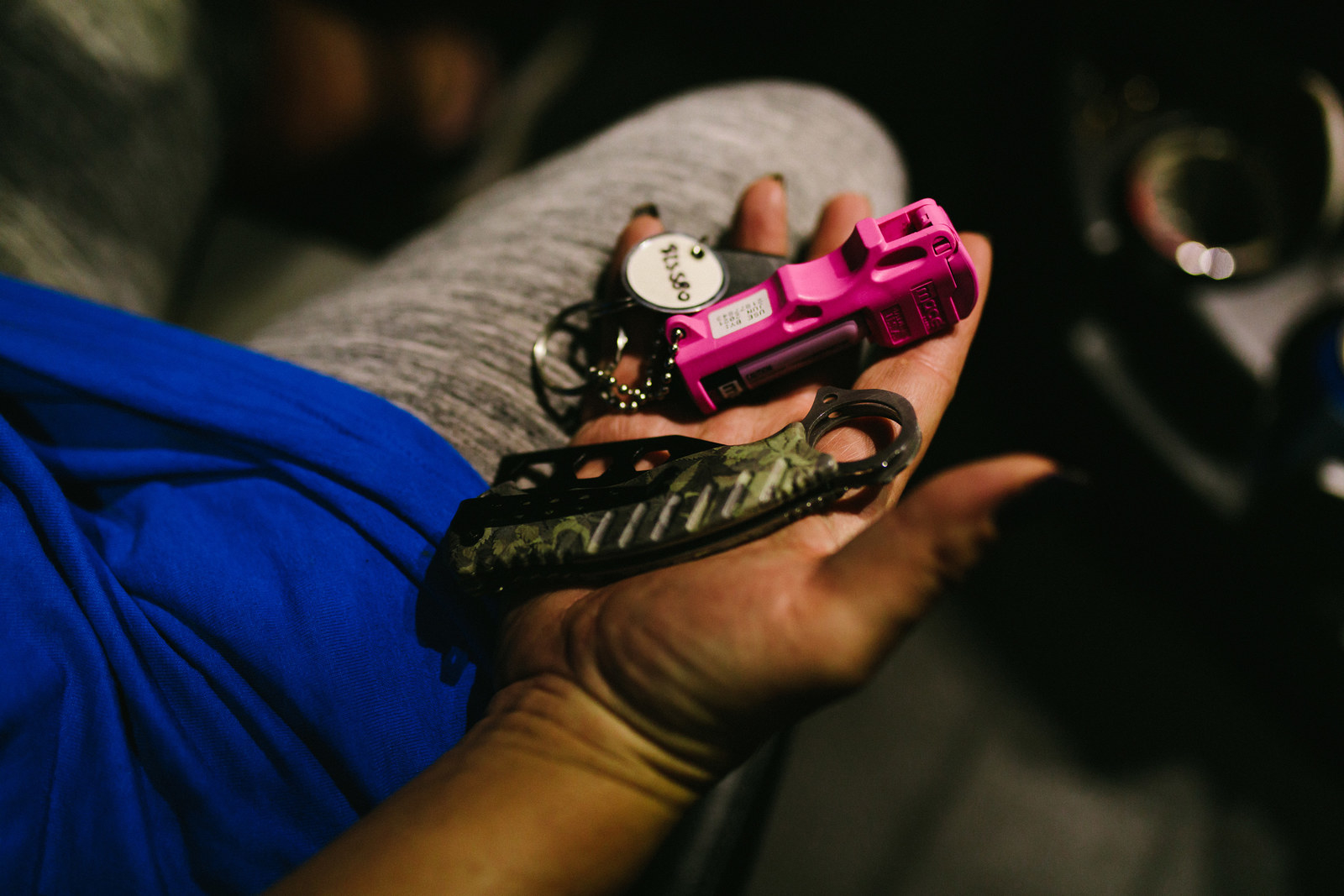 In her research, Balay found that most queer and transgender truckers keep to themselves when stopping for fuel or food. These truckers would sometimes go out of their way to avoid truck stops with reputations as hubs for prostitution and drug use.
"You're always looking over your back," says Vasher, who says she's never been outed as a trans woman at a truck stop. "But I've got a friend of mine who is not very passable, and she has a difficult time in public."
The fact that many truck stop showers and bathrooms are designed as single-person facilities helps, says Vasher. "The door locks behind you when you go in. No one is seeing you undress. It's very private," she says.
In recent years, groups like Truckers Against Trafficking have taken steps to train truckers on how to identify and report truck stop prostitution, which often entails trafficking underage girls. At least half a million truck drivers have received this training, which experts say goes a long way toward improving truck stop safety.
Still, cisgender and transgender women truck drivers face rampant harassment, even sexual violence, at truck stops. This past September, a black woman truck driver was found dead at a truck stop in Louisiana — news that sent a shock wave through the trucking industry.
"You're always looking over your back."
"It's become kind of a warning sign that women are vulnerable," says Balay.
But Vasher argues the danger she faces on the road is far greater than the danger she faces while parked at a truck stop. You're far more likely to be killed in a car accident than at a truck stop, she points out.
"One of our biggest fears is a rollover," she says. An accident at highway speed is a near-guaranteed death sentence. Worse still, her vehicle is basically a 40-ton weapon, liable to kill other drivers in their four-wheeled cars, which are minuscule by comparison.
It's a fear that all truckers share. Paradoxically, the difficult and stressful nature of the job can help ease social tensions as transgender people become increasingly visible members of the workforce, Vasher says.
"Other truck drivers, they may judge someone that's dressing in female clothes they [think] is male," she says, "but they still respect them because they drive that truck." ●