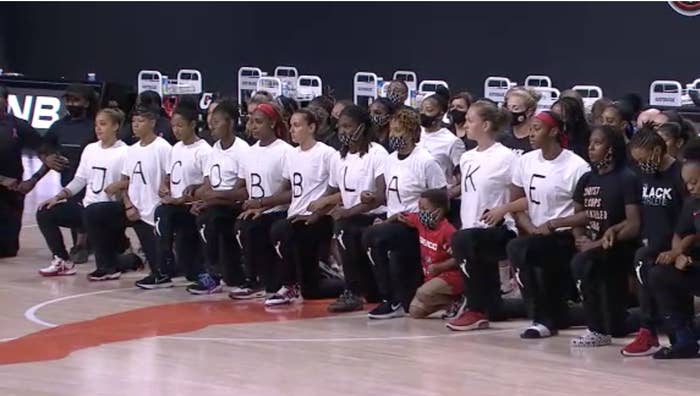 Players from WNBA teams chose not to play Wednesday and instead link arms and kneel on the court as the sports world coalesced in protest over the police shooting of Jacob Blake.
"The consensus is to not play in tonight's slate of games and to kneel, lock arms, and raise fists during the national anthem," Atlanta Dream player Elizabeth Williams said while reading a statement on behalf of her teammates and other players in the league.
The move by the women athletes came after the NBA's Milwaukee Bucks set forth a league-wide postponement of playoff games on Wednesday. Players for the Milwaukee Brewers, Cincinnati Reds, and other MLB teams also decided to postpone their games.
"We stand in solidarity with our brothers in the NBA and will continue this conversation with our brothers and sisters across all leagues and look to take collective action," Williams said.
The Dream was set to play the Washington Mystics. The Los Angeles Sparks, Minnesota Lynx, Connecticut Sun, and Phoenix Mercury were also scheduled to play. All three games have been postponed, the league said.
The athletes are playing the 2020 season in Bradenton, Florida, with no fans in a "bubble" environment intended to prevent COVID-19 from spreading among players. The players have dedicated their season to Breonna Taylor, the 26-year-old Black woman whose death at the hands of Louisville police helped trigger national protests, as part of a seasonlong initiative called the Justice Movement.
Last month, before the season opener, the Seattle Storm and New York Liberty players walked off the court before the national anthem in solidarity with the Black Lives Matter movement.
On Wednesday, some of the players who kneeled were wearing T-shirts spelling out Blake's name. The back of their shirts depicted seven bullet holes, representing the seven times Blake was shot by Kenosha police as he got into his car with three of his children inside on Sunday evening.
"What we have seen over the last few months and most recently with the brutal police shooting of Jacob Blake is overwhelming, and while we hurt for Jacob and his community, we also have an opportunity to keep the focus on the issues and demand change," Williams said.
The players also encouraged everyone to vote and participate in the 2020 census, saying, "If we wait, we don't make change."
"It matters. Your voice matters. Your vote matters," Williams added.