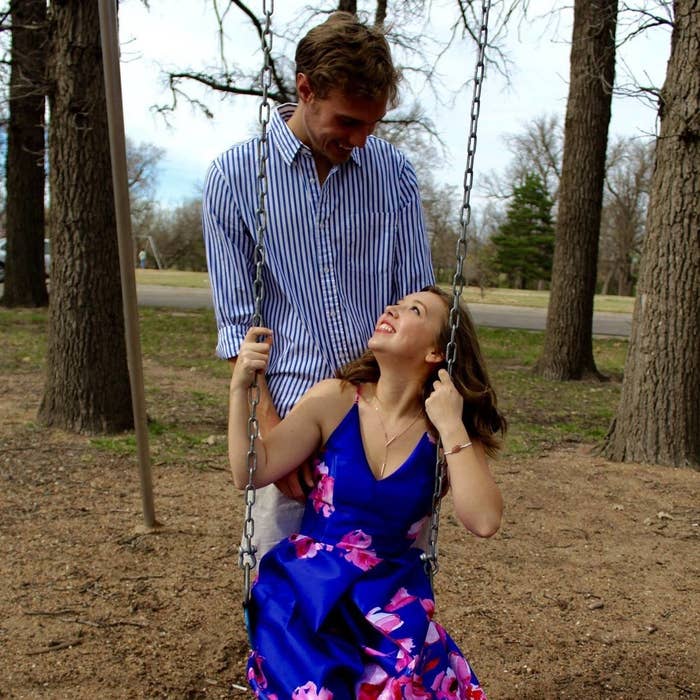 Justin Montney and Alexis-Athena Wyatt had planned to marry in Colorado Springs in May. But tragedy struck in early February when Wyatt, 22, died in a car crash, forcing Montney to cancel the arrangements.

That's when he contacted Copper Stallion Media, the Dallas-based wedding videography company the couple had hired to capture their big day, to ask for a refund. But the company refused, saying the $1,800 fee Montney and his fiancé had paid was nonrefundable.
After not hearing from the company about his request for months, Montney, a 24-year-old Kansas resident, told BuzzFeed News he reached out again last week, letting them know he planned to tell his friends about what happened and post about it on social media. But before he could, Copper Stallion Media threatened to sue Montney and Wyatt's family in response to a review her mom had written on the Knot website.
At that point, he said he decided to reach out to KRDO, a local television station, to talk about what happened. The story, which published on its website Thursday, along with a Facebook post in which, according to screenshots, Copper Stallion Media mocked the 24-year-old for talking to the news, saying "we hope you sob and cry all day for what would have been your wedding day. Sorry, not sorry." The story sparked widespread outrage online.
"At first I was just going to tell friends and family, but when he started to threaten Alexis's family with a lawsuit for basically their daughter dying, that's when I was like, OK, I'm going to start going to the people who ... spread the news," Montney said during a live video interview Tuesday. "The rest of the internet said, 'Oh, that's terrible.'"
The backlash prompted the company to purportedly create a website under the domain name JustinMontney.com "to build our case against" Montney, accusing him of fueling a "smear campaign." The content on the website that was live at the time of publication was temporarily removed.
According to the website, the vendor received more than 75 one-star reviews on Yelp and the Knot "in a matter of hours" after the KRDO story was published. The page also included several videos the company claims are voicemails of people bashing the company for not refunding Montney.
"It is not right that people can go online and trash a company. The contract was non-refundable. We will NEVER refund Justin Montney even with the online threats and harassment," the website stated. "If we knew he was going to shake us down, we would have charged a higher deposit."
Copper Stallion Media did not return BuzzFeed News' requests for comment. According to the website, the company has shut down its page on the Knot. The company's Facebook account also appears to have been taken down.
In a statement to BuzzFeed News on Wednesday, the Knot Worldwide said it recently learned that Copper Stallion's account on the Knot and WeddingWire sites was created under a false identity by a man named Jesse J. Clarke, in violation of its terms of use.
"As soon as we became aware, we took immediate action and removed Copper Stallion Media from our marketplaces on The Knot and WeddingWire," the company said.
The Knot added that the Copper Stallion Media's "actions with respect to Justin Montney and Alexis Wyatt are in direct violation of our Terms of Use."
"We are conducting a thorough investigation across our sites to determine if there are any other businesses that have been created under false identities by individuals associated with Copper Stallion Media and will take quick action to remove any listings that are found," the Knot said.
Representatives for the Knot did not immediately respond to questions about whether Clarke is the same Jesse J. Clark who, according to the Telegram newspaper in Massachusetts, was accused of scamming more than 90 couples out of payments for wedding videos that were never delivered in 2013.
People who have worked for Copper Stallion told ABC-affiliate Denver7 that they believe Clark is the owner of the videography company currently under fire.
For his part, Clark has denied being associated with the company on Twitter.
Attorney Nicholas Frye, who represented several couples who won civil judgments against Clark, told the station he still owes four clients $100,000.
"He essentially fled Massachusetts with a number of warrants. The state attorney general had an order against him and he was no longer able to do business in Massachusetts," Frye said.

On the website Copper Stallion purportedly created to document its case against Montney, it explained that deposits for wedding contracts are nonrefundable because if an event is canceled it's unlikely the company would be able to book another event for that date, causing staff to lose out on income.
"Nonrefundable deposits are the industry standard," the website stated.
However, Montney said other vendors didn't hesitate to give back their money after hearing about Wyatt's death.
"They obviously felt terrible for what had happened," he said.
After seeing the website, Montney said he was a little concerned about his safety, noting that it appeared the company had photoshopped a picture of him from his college's website. The site also linked to Montney's personal Facebook page, as well as other pages for people who the company claims to be a part of the alleged campaign.
"[The company's owner] is trying to stir up a ruckus and defame my name, but obviously he doesn't have any ground to stand on," Montney said, adding that he felt like it was clear who is actually defaming someone. "He kind of made his own smear campaign."

UPDATE
This post has been updated to reflect that content has been removed from JustinMontney.com.