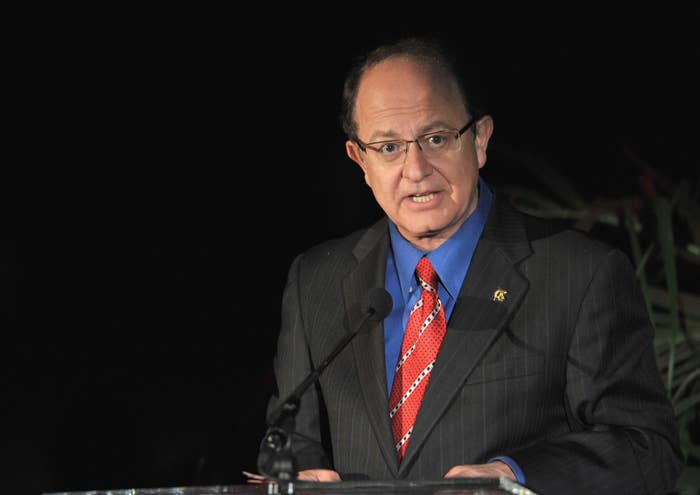 University of Southern California President C.L. Max Nikias will step down amid the growing scandal involving a gynecologist accused of abusing students at the campus health center, the board of trustees announced Friday.
"We have heard the message that something is broken and that urgent and profound actions are needed," the board said in a letter to the USC community. "Today, President Nikias and the Executive Committee of the Board of Trustees have agreed to begin an orderly transition and commence the process of selecting a new president."
The announcement comes in the wake of increasing outrage over the university's handling of repeated complaints against George Tyndall, who allegedly inappropriately touched students and made sexually and racially discriminatory comments for nearly two decades, following an investigation by the Los Angeles Times.

Multiple women later told BuzzFeed News that Tyndall inserted his fingers into their vaginas, often without gloves, and told them it was part of their examination. He was also accused of making inappropriate, sexual comments. One woman said he grabbed her breasts, another said he commented on her tight pelvic floor muscles and said she should "try to keep it tight" for her partner.

Since revelations about the Tyndall accusations came to light last week, thousands have signed online petitions calling for Nikias's suspension or resignation, and at least six women have filed civil lawsuits against the university for allegedly ignoring repeated complaints against the doctor for years.
On Tuesday, 200 professors demanded in a letter that Nikias, who has served as president since 2010, resign, saying he had "lost the moral authority to lead."
In response, the board said in a statement that, while trustees were "troubled" by the allegations, they were standing by Nikias and had "full confidence" in his "leadership, ethics, and values and is certain that he will successfully guide our community forward."

But Friday, the board changed course, saying it understood "the need for change."
"Our pledge to this community is that we will rebuild our culture to reflect an environment in which safety and transparency are of paramount importance, and to institute systemic change that will prevent this from occurring in the future," the board said.
After being contacted by the Los Angeles Times, USC disclosed May 15 that Tyndall resigned in 2017 after a yearlong investigation sparked by a complaint from a staff member.
The statement said there had been numerous other complaints made against the veteran physician, adding that it was unclear as to why he was able to keep his position.
Hours later, the Times published its own investigation into Tyndall's behavior.

The newspaper reported that over the doctor's nearly 30-year tenure, staff and patients repeatedly complained about the doctor touching women inappropriately during pelvic exams and making sexually suggestive remarks about their bodies.