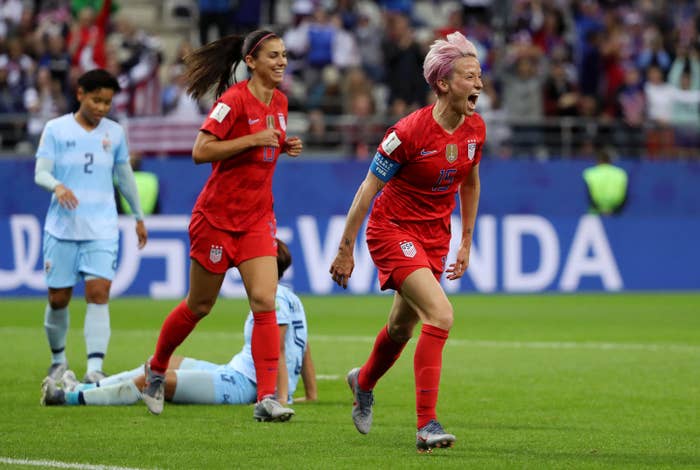 The US women's national soccer team (USWNT) scored the most goals ever in a single World Cup match — for men or women — beating Thailand 13–0 Tuesday in its first match of the 2019 tournament.
The Americans, the No. 1 ranked team in the tournament and defending champions, broke the previous record set in 1954, when Austria beat Switzerland 7–5 in the quarterfinal game of the men's World Cup for a combined total of 12 goals.
Forward Alex Morgan also tied former US player Michelle Akers' 1991 record for the most goals scored by a single player in a women's World Cup match with five goals.
The USWNT is the favorite to win the eighth edition of the women's international competition. But after host team France's 4–0 routing over South Korea in the opening match of the tournament, analysts wondered whether the Americans could make a similar statement — and did they ever.
After referees ruled offsides what would have been the first goal by Morgan in the fifth minute, the striker scored in the 12th minute with a header off a cross from defender Kelley O'Hara.
Midfielders Rose Lavelle and Lindsey Horan then scored one goal apiece in the respective 20th and 32nd minutes, bringing the US up to a 3–0 lead by halftime.
In the second half, midfielder Sam Mewis and forward Megan Rapinoe joined the party, scoring two goals and one goal, respectively. Lavelle also scored her second goal in the 56th minute as Morgan racked up four more.
Substitutes Mallory Pugh and Carli Lloyd also scored one goal each.
At various points throughout the second half, it felt like the US was scoring every couple of minutes.
And honestly hard to keep track of.
Looking away for just a few minutes meant viewers likely missed a few goals, so here they are in all their glory.
The US's next match is against Chile in Paris on Sunday. It wraps up the group stage with a June 20 game against No. 9–ranked Sweden in Le Havre.
The US women's team has dominated the game for decades, winning three World Cups, four gold medals in the Olympics, and being ranked No. 1 by FIFA for 10 of the last 11 years. And yet, as the team embarks on the journey to win a fourth historic World Cup, the women are still fighting for equal pay back home.
In March, just three months before the start of the World Cup, the players sued the US Soccer Federation for discrimination, escalating their long-running feud over pay equity and working conditions. Even though they play more games and have won more championships, the US women continue to be paid less than their male counterparts, who didn't even qualify for the men's World Cup last year.
If anything, the women's show of dominance on Tuesday served as a reminder of that ongoing fight.