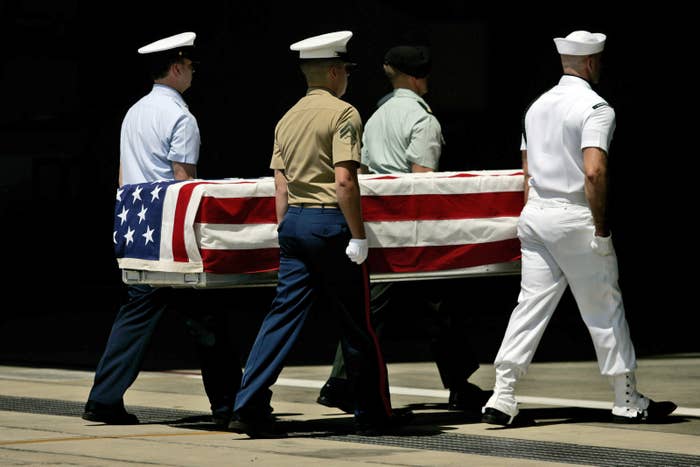 A US Air Force plane carrying what was believed to be the remains of dozens of American soldiers killed during the Korean War departed North Korea on Friday, the White House said.
The repatriation of the remains comes after the historic summit between President Donald Trump and Kim Jong Un last month when the two leaders agreed to work toward denuclearization of the Korean Peninsula.
Since the meeting, officials in the two countries have been working to recommence the repatriation of remains and resume the search for the estimated 5,300 Americans who have not returned home from North Korea.
"Today, the Chairman is fulfilling part of the commitment he made to the President to return our fallen American service members," press secretary Sarah Huckabee Sanders said in a statement. "We are encouraged by North Korea's actions and the momentum for positive change."

North Korean officials handed over 55 cases of remains to the US, a Pentagon spokesperson told BuzzFeed News. The plane later arrived at Osan Air Base in South Korea where a formal repatriation ceremony will be held on Aug. 1.
The US military will have to confirm the soldiers' identities through lengthy DNA testing once the remains have arrived at the Defense POW/MIA Accounting Agency (DPAA) lab in Hawaii.

"The United States owes a profound debt of gratitude to those American service members who gave their lives in service to their country and we are working diligently to bring them home," Sanders said. "It is a solemn obligation of the United States Government to ensure that the remains are handled with dignity and properly accounted for so their families receive them in an honorable manner."
According to the Pentagon, Pyongyang had indicated for a while that it has the remains of 200 of US service members — a number that Trump cited over a month ago when he falsely claimed that the remains had already been sent back.
Between 1990 and 1994, the US recovered the remains of as many as 400 people in North Korea. North Korea returned 229 caskets with remains of US soldiers between 1990 and 2005, according to Defense Department data. The last time North Korea handed over remains was in 2007, when Bill Richardson, a former UN ambassador and then-New Mexico governor, secured the return of six cases.
Many of the caskets transferred in the past contained "comingled" remains, according to the DPAA, meaning that they also contained remains of persons of other nationalities. More than 36,000 US troops died in the war from 1950 to 1953.