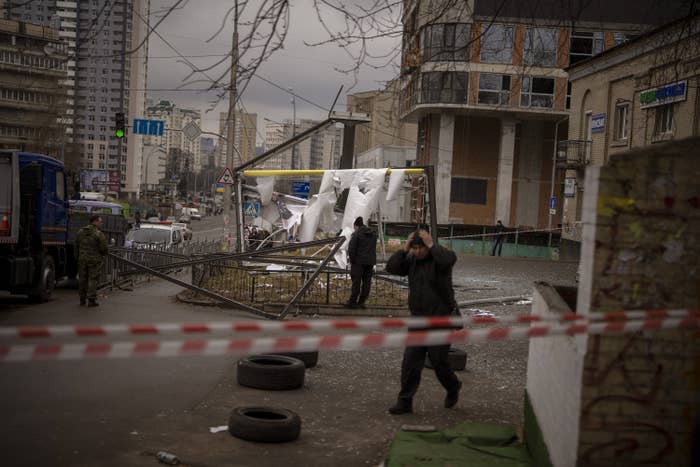 Ukrainian guards who were defending an island in the Black Sea on Thursday as Russia launched its deadly, full-scale invasion told their approaching aggressors on a warship to "go fuck yourself," according to audio purportedly captured during the exchange.
According to the news outlet Ukrayinska Pravda, which obtained the audio, a Russian official tells the border guards on Snake Island to surrender or "be bombed." Two Ukrainian guards are then heard briefly talking between themselves before refusing the demands.
"Russian warship, go fuck yourself," one of the guards responds.

The guards were initially believed to have been killed by Putin's troops after they refused to surrender, but they still may be alive, according to Ukraine's State Border Guard Service.
In a video message on Friday, Ukraine President Volodymyr Zelensky said the guards defending the outpost were among the at least 137 civilians and military personnel who were killed in Thursday's attacks. Zelensky said the guards died "heroically" and "did not give up." He also said they would be posthumously awarded Hero of Ukraine medals.
"May the memory of those who gave their lives for Ukraine live forever," he said.
But in a Facebook post on Saturday, the State Border Guard Service announced that the guards may have survived, saying Russian media had reported that they were taken as captives.
"We got strong beliefs that all Ukrainian defenders of Zmiiniy Island may be alive," the State Border Guard's post said.
The agency said that preliminary information suggesting that the border guards had died came before the men could make contact. The State Border Guard said it was working with the Armed Forces of Ukraine to identify the soldiers.
"We sincerely hope that the boys will return home as soon as possible," the post said.

The Russian invasion began in the early morning hours Thursday with shelling and explosions striking deep into Ukraine. The violence expanded to regions previously untouched by the conflict in eastern Ukraine, which began when Russia took the Crimean peninsula by force in 2014.

The attacks have been condemned by the international community and even Russian citizens, who risked arrest to protest the military aggression.
Zelensky has vowed that Ukraine will defend itself as he ordered a full military mobilization to combat Russia's actions, which he compared to those of the Soviet Union.
"But now the fate of the country depends entirely on our army, on our heroes, our security forces, all our defenders," he said.