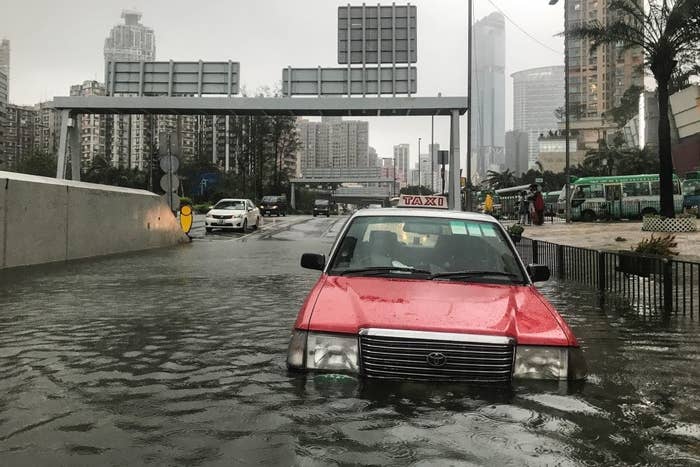 Tropical cyclone Mangkhut, which reached the southern coast of China on Sunday, has killed at least 69 people — including 65 in the Philippines and four in China, according to state media.
Dozens more are missing and feared dead after a series of landslides in rural parts of the Philippines.
More than 5 million people were in the path of the typhoon, which had winds equivalent to a Category 5 hurricane when it made landfall on the northern tip of Luzon island, according to the Associated Press.
Mangkhut made landfall at 5 p.m. local time on Sunday in the Chinese city of Taishan. Videos posted to social media showed people being blown off their feet by strong winds and floodwaters bursting through the ground-floor windows of a hotel in Shenzhen.

Seven cities in China's Guangdong province were evacuated, while videos posted to social media show Hong Kong being battered by winds of up to 100 mph. As many as 2.4 million people in Southern China have been evacuated.
On Sunday, a Chinese state broadcaster said at least two people were killed after the storm slammed into Guangdong province, according to the AP.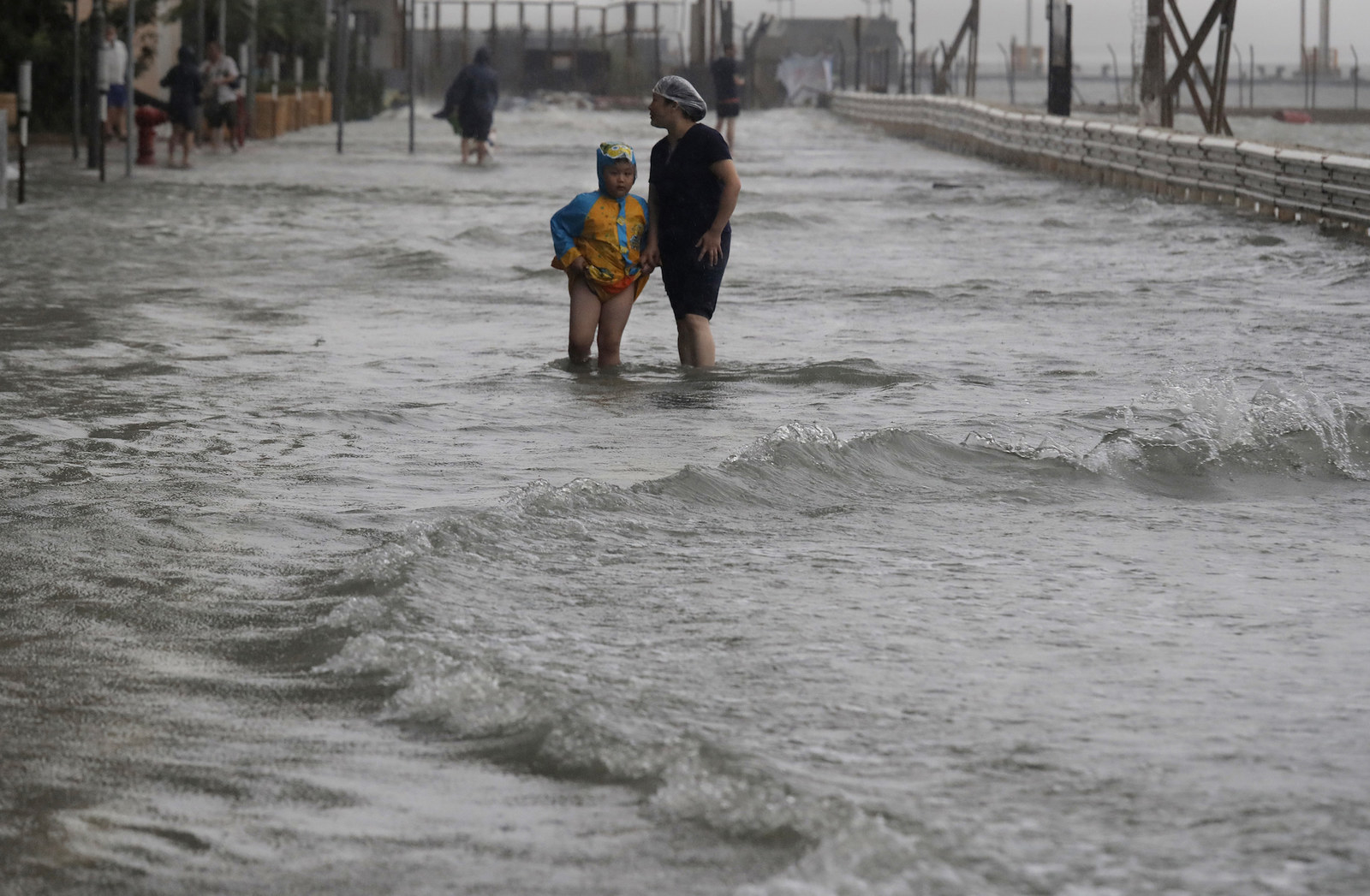 So far in Hong Kong, Mangkhut has broken trees, ripped off roofs, and shattered glass windows of large skyscrapers. The AP reported that the rainfall brought storm surges of 10 feet around the metropolitan city.

"Because Mangkhut will bring winds and rains of extraordinary speeds, scope, and severity, our preparation and response efforts will be greater than in the past," Hong Kong Security Minister John Lee Ka-chiu said in advance of the storm's arrival.

In the Philippines, between 40 and 50 people, mostly gold miners, were trapped in a landslide in a mountainous region in the north of the country on Saturday.

On Monday, Victorio Palangdan, mayor of the town of Itogon in Benguet province, told a news conference that there was a 99% chance that all of these people were killed. So far 11 bodies have been recovered.
Palangdan told the AP that dozens of miners and their families had rushed into an old three-story building in the village of Ucab on Sunday, but that the former bunkhouse was destroyed by a landslide. Three villagers managed to escape and told officials what had happened.

Palangdan expressed sadness that the miners had not had been options during the typhoon. Many of the miners are poor, but work for big corporations that have reaped enormous profits from the gold mines.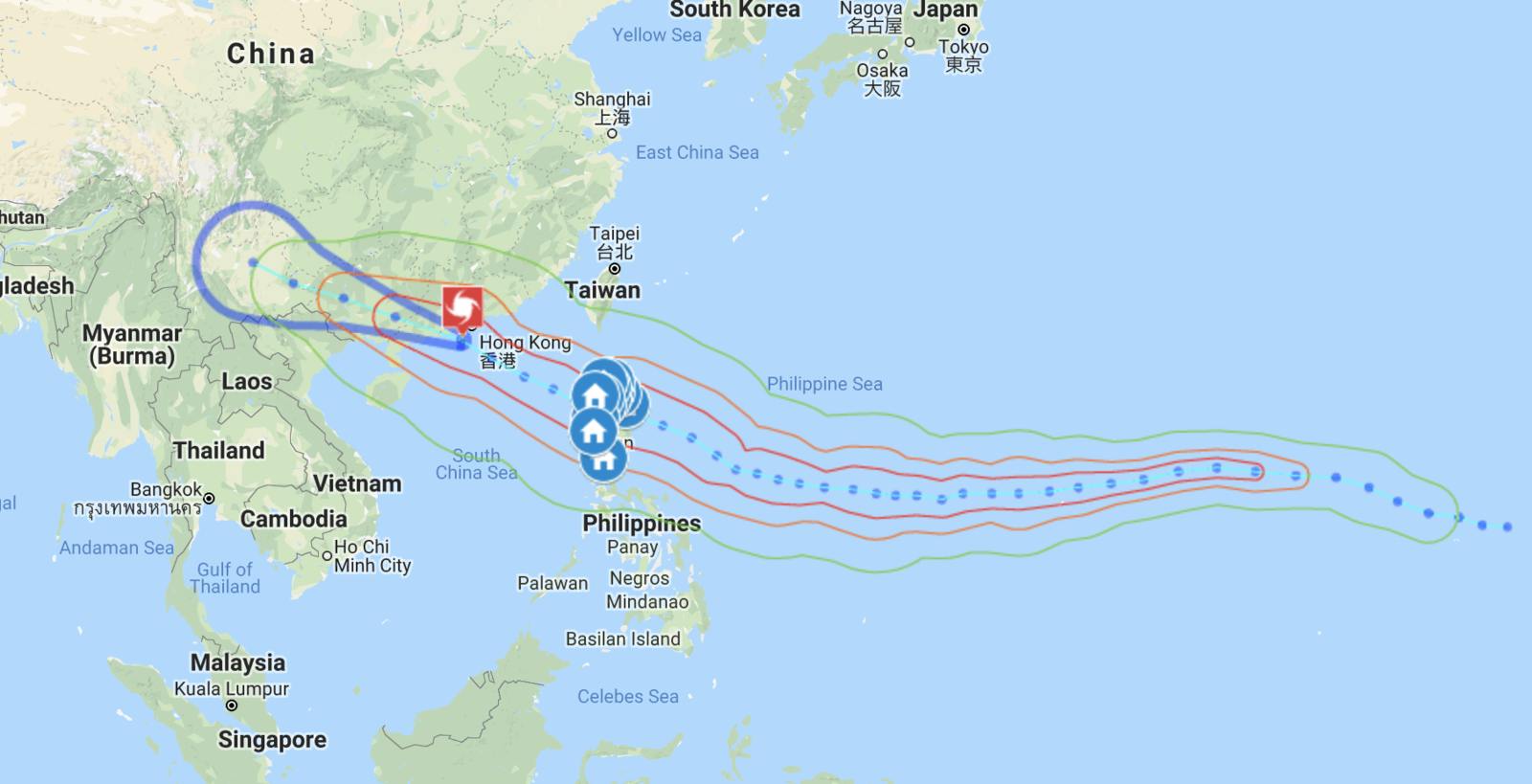 Earlier, Philippine National Police Director General Oscar Albayalde told the AP that 20 people died in the Cordillera mountain region, four died in nearby Nueva Vizcaya province, and one person died outside those regions. Three other deaths were reported in the northeastern Cagayan province, where the typhoon made landfall.
The Philippine News Agency said 133,457 people were being housed at evacuation centers and another 14,826 people were being assisted elsewhere.
This is a developing story. Check back for updates and follow BuzzFeed News on Twitter.‏