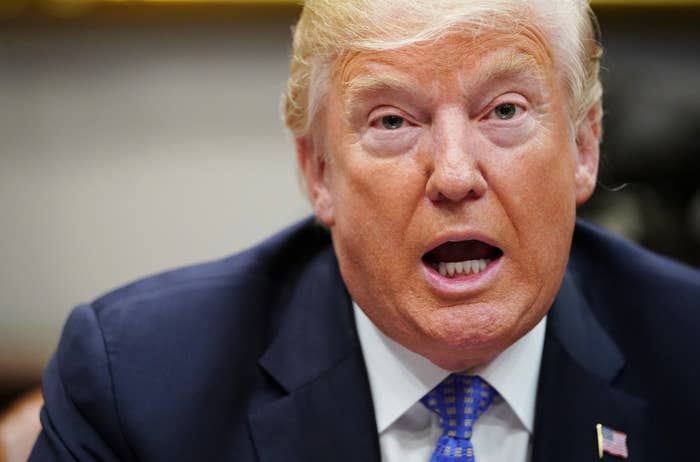 President Donald Trump told a woman reporter "don't be a baby" on Friday after she asked him for evidence to back up his claim that people in a US-bound caravan of immigrants were "hardened criminals."
Trump made the comments at the end of a roundtable discussion on defense in Arizona after Mexican authorities clashed with several members of the caravan as the crowd of thousands approached the country's southern border.
"Some of these people are hard criminals. Hardened criminals — not good people," Trump said. "These are some bad people coming through. These aren't babies these aren't little angels coming into our country."

New York Times reporter Emily Cochrane later asked Trump what evidence he had that people in the caravan were "hardened criminals."

"Oh please, please, don't be a baby, OK," Trump responded. "Take a look, just take a look, look at what's happening, look at the Mexican soldiers that are laying on the ground. Take a look. These are hardened — I didn't say in all cases but in many cases these are hardened criminals."
He continued to say that "these are tough, tough people" he didn't want to enter the US and "neither does our country want them in our country."

The caravan, made up largely of people from Honduras seeking refugee status, has become a central rallying point for Trump, who has threatened to stop sending aid to Guatemala, Honduras, and El Salvador if their governments do not turn the caravan around.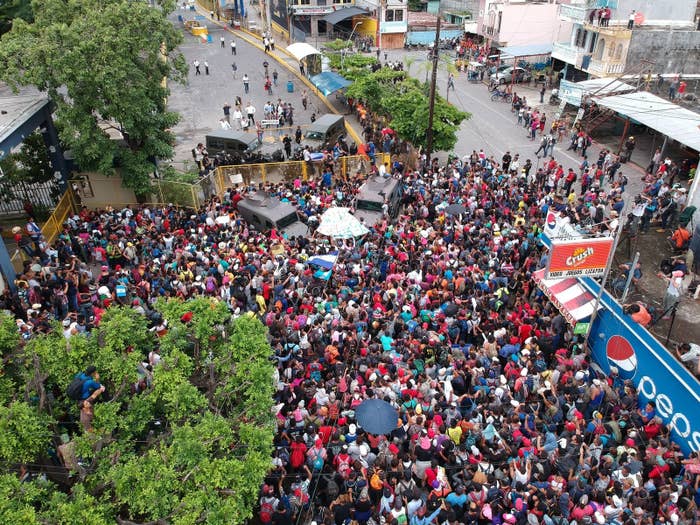 On Friday, Mexican authorities met the group with tear gas when the crowd breached the gate at one of the official crossings with neighboring Guatemala. At least 20 people were treated for injuries after clashes with authorities, including a Mexican reporter, according to the Guatemalan Red Cross.
Mexican authorities said six federal police officers were injured in the altercation, according to NBC News.
The caravan is the second to make its way to the US this year. It formed last Saturday and has grown to as many as 4,000 people who are traveling almost entirely by foot. They are fleeing widespread gang violence and poverty and include men, women, and children.
Traveling in a large group offers people protection from criminals who prey on immigrants and from authorities who seek to detain and deport them.
Trump's remarks toward Cochrane were reminiscent of previous interactions with women reporters.
Trump has repeatedly dismissed and interrupted women reporters during news conferences. Earlier this month, he told ABC News reporter Cecilia Vega, "I know you're not thinking, you never do," after calling on her to ask a question.