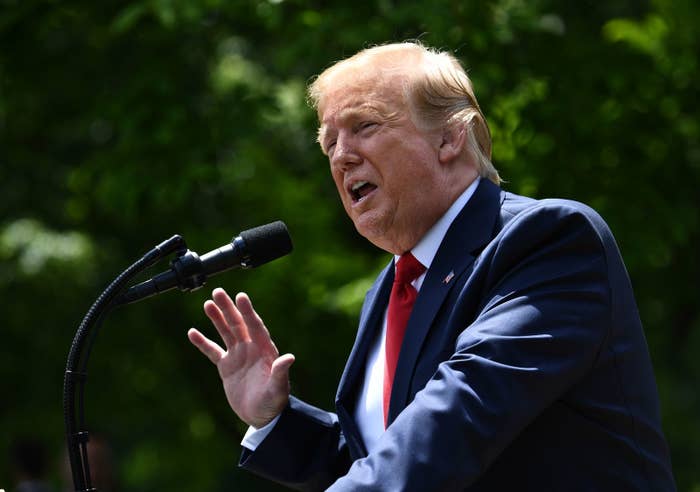 The Treasury Department said Monday that it will not release President Donald Trump's tax returns, denying Democrats' request for six years of the president's personal and business tax documents and setting up an inevitable legal battle over federal tax laws.
In a letter to the House Ways and Means Committee chair, Massachusetts Rep. Richard Neal, Treasury Secretary Steven Mnuchin said the request "lacks a legitimate legislative purpose," and that the department was not authorized to release the documents.
"As you have recognized, the Committee's request is unprecedented, and it presents serious constitutional questions, the resolution of which may have lasting consequences for all taxpayers," Mnuchin wrote.

Mnuchin said the Treasury had consulted with the Department of Justice in coming to the decision and that the DOJ "intends to memorialize its advice in a published legal opinion."
On April 3, Neal requested Trump's individual returns as well as those for several of his business entities for the years 2013 through 2018. In response to Mnuchin's letter, Neal said in a statement that he would "consult with counsel and determine the appropriate response."

Mnuchin, one of Trump's longest-serving cabinet members, has argued that the release of the president's returns threatens the privacy of all taxpayers.
"Your request presents the question whether there are any legal limits on the ability of a Congressional tax-writing committee to obtain an individual's private tax returns from the IRS and disclose them publicly," Mnuchin wrote in a April 23 letter to Neal.
Trump has refused to make his tax returns public as past presidents have done. Democrats made investigating the president's finances one of their priorities after winning back the House in the midterms.
In making the request last month, Neal cited a section of the Internal Revenue Code that states the Treasury secretary shall provide certain congressional committees with any return or return information in response to a written request from the committee's chair.
He also requested the department provide information about any audits or examinations concerning the returns.