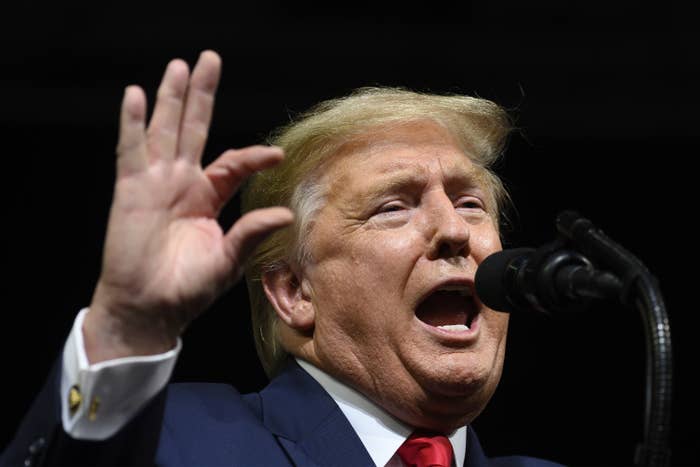 President Donald Trump criticized the Academy Awards during a rally Thursday for awarding this year's top prize to Parasite, a South Korean movie.
The film made Oscar history earlier this month by becoming the first-ever foreign-language film to win Best Picture. Parasite also won the Oscars for Best Director, Best Original Screenplay, and Best International Feature Film. Fans, critics, and celebrities were thrilled.
But Trump didn't think much of that.
"By the way, how bad were the Academy Awards this year — did you see? 'And the winner is a movie from South Korea' — what the hell was that all about?" Trump said to a crowd in Colorado Springs, Colorado. "We got enough problems with South Korea with trade. On top of it, they give them the best movie of the year? Was it good? I don't know."
"Let's get Gone With the Wind — can we get, like, Gone With the Wind back, please?" Trump continued, referring to the 1940 Best Picture winner, which is set on a slave plantation during the Civil War.
He also took a moment to say he was never a fan of actor Brad Pitt, who, in his acceptance speech for Best Supporting Actor, called out Trump's impeachment trial for blocking witness testimony.
"They told me I only have 45 seconds up here, which is 45 seconds more than the Senate gave John Bolton this week," Pitt said during his speech. "I'm thinking maybe Quentin does a movie about it — in the end, the adults do the right thing."
The Academy Awards did not immediately respond to a request for comment regarding Trump's comments. Representatives for Parasite director Bong Joon-ho said he has no comment on Trump's remarks.

Neon, the film's distributor, was quick to respond on Twitter, joking that Trump can't read subtitles.
Earlier in the awards season, when Bong accepted the Golden Globe for Best Foreign Language Film, he acknowledged the historic lack of accolades for non-English-language films in Hollywood. He encouraged American moviegoers to expand their horizons.
"Once you overcome the 1-inch-tall barrier of subtitles, you will be introduced to so many more amazing films," he said.