President Donald Trump defended Kim Jong Un's record of human rights abuses while also praising the North Korean leader as "tough," "smart," and "a great negotiator."
In an interview with Fox News' Bret Baier aboard Air Force One after the historic summit between the two leaders Tuesday, Baier mentioned that reporters asked Trump earlier about whether he discussed human rights with Kim.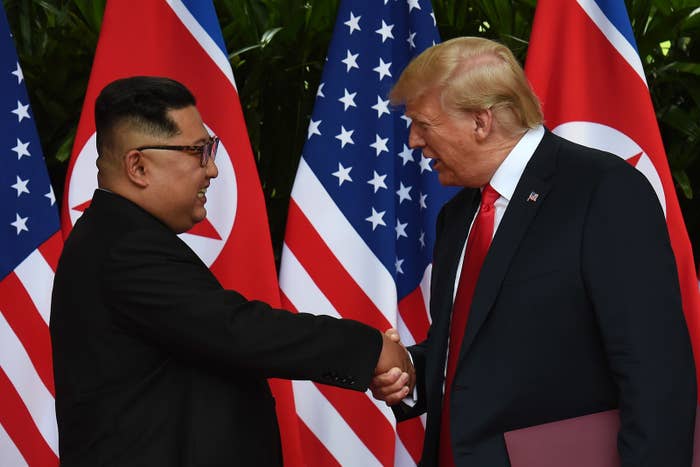 The North Korean leader is suspected of being responsible for vast arbitrary imprisonments and torture of his citizens, the apparent assassination of his brother and execution of his uncle, and the recent lengthy detainment of a US citizen. But Trump said human rights were discussed only "briefly" during the summit.
"You know, you call people, sometimes, killers. He is a killer," Baier told the president. "He's clearly executing people."
Trump interjected, "Well, he's a tough guy," adding that, "when you take over a country" at 27 years old, as Kim did, "that's one in 10,000 that could do that."
"So he's a very smart guy," Trump added.
Baier pressed him on the issue, saying Kim has "still done some really bad things."
Trump responded, "Yeah, but so have a lot of other people done some really bad things. I mean I could go through a lot of nations where a lot of bad things were done."
Last year, Trump defended Russian President Vladimir Putin in a similar manner, dismissing allegations that Putin is "a killer" by saying, "What do you think — our country's so innocent?"
Longtime Sen. Orrin Hatch of Utah responded to Trump's comments about Kim, tweeting, "Tough guys don't put 100,000 political opponents in labor camps."
"Here's to hoping we address that as these talks progress," Hatch said.
Rep. Adam Schiff of California also criticized Trump for his comments.
"Trump can't conceal his admiration for despots, or his disdain for democratic leaders like Justin Trudeau," Schiff wrote on Twitter. "And still, Republicans stay silent."