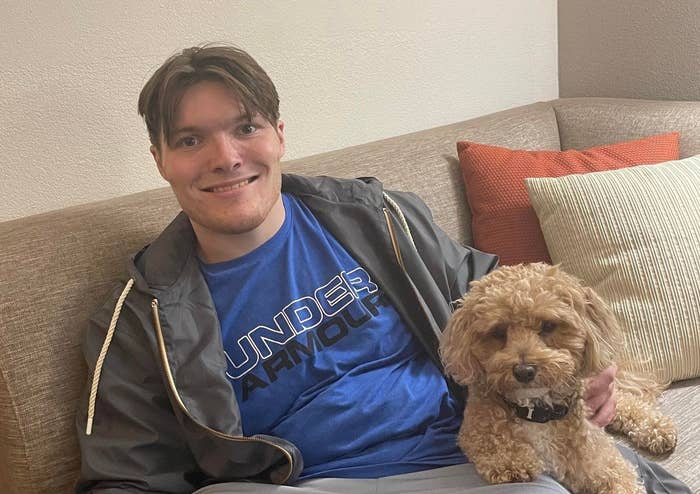 The family of 19-year-old Trenton Lehrkamp, who was left at a Georgia hospital barely breathing and covered in urine and spray paint last month, slammed authorities after they dismissed claims that he had been tortured by a group of teens.
"Today it was evident that [authorities] wanted to address and correct what the kids didn't do, but not recognize or acknowledge the fact of what was done to Trent," the family said in a statement Monday evening after Glynn County officials announced arrests in the case. "At the end of the day, he was mistreated in inhumane ways."
Officials have accused James C. Strother, 46, and Lauren C. Strother, 57, of maintaining a disorderly house and contributing to the delinquency or dependency of a minor, both misdemeanor offenses, in connection with the investigation into what happened to Lehrkamp. Three teens, including two whose names were not released because of their age, are also facing misdemeanor charges for battery and drug-related offenses, though police said one of those individuals was being charged for a separate incident involving a different victim.
Disturbing images from high school gatherings at the Strothers' house in the small coastal community of St. Simons Island showed four boys standing over Lehrkamp — who was passed out in a chair with his face covered, an orange substance on his clothes, and a sluglike object on his lap — and a boy spraying a water hose at his head. As the images circulated on social media, sparking outrage and calls for justice for Lehrkamp, so too did rumors about what had happened to the 19-year-old. But on Monday, District Attorney Keith Higgins dismissed many of the claims, including that Lehrkamp had been defecated and urinated on, as misinformation.
Higgins also said that Lehrkamp "consented to be washed off" with the water hose after engaging in "an egg fight" on March 17 and "voluntarily drank alcohol until he blacked out" the night of March 21, when he ended up at the hospital.
"No one poured acid down his throat, no one beat him, no one choked him, no one tortured him," the district attorney said.
In their statement, the family said Lehrkamp had clearly been "humiliated" and made to be "the joke of social media videos," calling the teens' alleged treatment of him "disgusting."
"We don't believe that confirming it wasn't feces on him, urine on him, or no battery acid down his throat makes this any better," the family said. "A vulnerable 19 year old was made to be a sick joke of someones disgusting fun and games."
The family also said they shared a video with police from the night he came home "dripping wet from behind hosed."
"It is hard to believe and it was the first the family heard that he consented to being hosed down," the family said. "He was visibly passed out in that video while being hosed, doesn't seem to make sense someone would consent."
The statement said the family has reached back out to the investigators. A representative for the Glynn County Police Department did not immediately respond to BuzzFeed News' request for comment. Through a spokesperson, Higgins, the district attorney, declined to comment on the family's statement.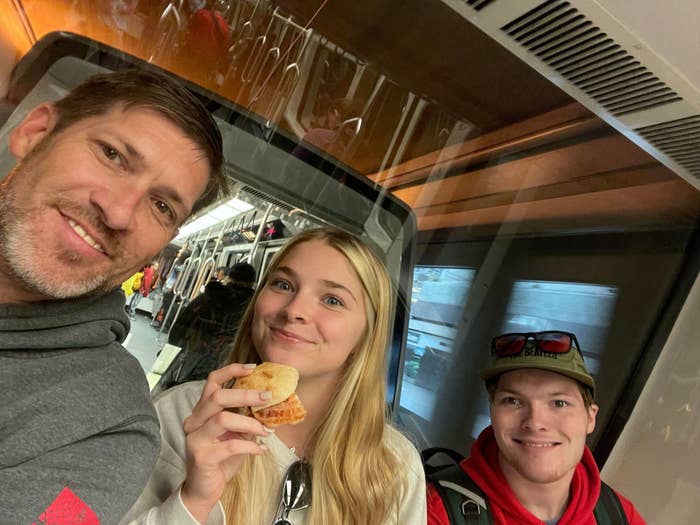 The charges announced on Monday came nearly a month after three teens dropped Lehrkamp off at the emergency room at the Southeast Georgia Health System in Brunswick. At the time, Lehrkamp was breathing just "six times per minute," according to a police report about the March 21 incident, and his blood alcohol level was 0.464. After providing their names and phone numbers to the hospital, the teens left as Lehrkamp was rushed to the ICU and placed on a ventilator.
At the hospital, Lehrkamp's father, Mark Lehrkamp, told police that his son had been at a friend's, whose name was redacted from the report, and that this was not the first time he returned from the friend's house with injuries. On March 17, his son came home covered in WD-40, vomit, paint, glue, egg yolk, and spray paint, Mark Lehrkamp said. And two weeks before that, he had to take his son to the ER to get stitches for a laceration above his left eye.
"He never returns home normal," he said, according to the report.
In their statement on Monday, the family said that since the March 21 incident, he has shared other instances where "things of this nature have happened."
"Other parents have also come forward or made contact to inform the family he is not alone, and that their kids have also been in situations with these kids," the family said. "Trent was not the only one, we want this to happen to noone else. Through this continued awareness, hopefully this is the end of it."
Theawanza Brooks, who organized demonstrations in support of Lehrkamp, told BuzzFeed News that while she's happy that officials have finally made arrests in this case, their explanation for what happened to him and insistence that he consented to certain things "doesn't add up." Brooks's nephew was Ahmaud Arbery, whose 2020 murder in Glynn County also prompted protests and criticism of the local justice system.
"I've never in my life seen someone that can get to that high of intoxication and be able to consent to things happening to him," Brooks, 38, said by phone Wednesday.
She added that she doesn't see how he could have consented to the photo being taken of him passed out with "things all over his body" or how if this was a group "egg fight" then why he was the only one seen in the video being hosed down.
"I just feel like it's just another situation where they just wanted to be able to come forward and say they did their due diligence, they investigated," Brooks said. "Now they kind of just want everybody to be quiet and go away."
Trenton has since been recovering at an out-of-state facility. In their statement, the family clarified that he is not being treated for alcohol or drug addiction.
"Rest assured Trent is getting good care, however there are bad days filled with anxiety and fear," the family said. "He is working through the trauma and ptsd, past losses and the grief that comes with that."