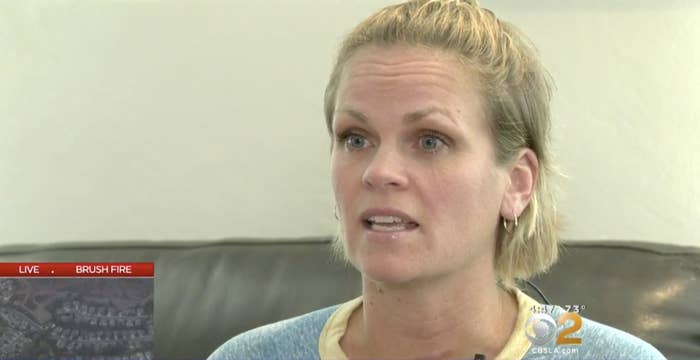 A former track and field coach says the man who shot and killed 12 people inside a Southern California bar sexually assaulted her when he was in high school.
The alleged assault, which was first reported by CBS Los Angeles, happened about 10 years ago when Ian David Long, a 28-year-old Marine Corps veteran who opened fire inside the Borderline Bar & Grill in Thousand Oaks Wednesday night, was a senior at Newbury Park High School.
Dominique Colell, who was one of the track and field team's head coaches, said Long assaulted her during practice after she refused to hand over a lost cellphone.
"He grabs my butt, he grabs my stomach, he puts both arms around me," Colell told BuzzFeed News Thursday. "It was clear that he wasn't after the phone."
Colell said she pushed him off, told him to stop, and kicked him off the team.
"I felt horrible," she said. "I felt violated. I came home crying."

The next day, however, he showed up at practice with a bouquet of flowers.

Colell said she allowed Long to rejoin the team after school administrators made him apologize to her before a track meet and after another coach told her kicking him off the team would ruin his future and his chance at becoming a Marine.
"They come up and have Ian apologize to me in front of everybody, begging me to run the race. What am I supposed to do?" she said. "I let him back on the team and every day from then on he would come up to me with a big old smile ... rubbing it in my face that he got to stay on the team."
Colell said when she heard Long was the one who fatally shot at least 12 people at the Borderline she wasn't that surprised.
"I was shocked that, 'Oh my god, I had a run-in with this kid,' and the second thing is I wasn't shocked by who it was," she said, adding that even a decade ago she recognized that Long had anger issues and emotional problems.

Before the assault, Colell, who would have the students run a mile each time they used a swear word, said Long repeatedly cussed her out during one practice.
He ended up cussing at her so many times that he had to run 13 miles.
"There was anger there he obviously had," said Colell, who is now a professional ice carver based in Camarillo. "I don't know if it was because I was a female — I don't know. High school students are not supposed to do that to their coaches or their teachers. That's not acceptable."
Evie Cluke, a former assistant coach for the track team, said she witnessed the assault on Colell and also saw Long slap girls' butts and grab their breasts during the school day when she visited her dad, who was also a track coach and a campus supervisor at the high school.
"He definitely had an issue with females," Cluke told BuzzFeed News Saturday. "If they rejected him he would start screaming at them."

Cluke, 44, said she and her dad would often report Long to the administration for bad behavior but they "chalked it up to being a high school kid."
Both Cluke and Colell said school administrators need to listen to teachers and coaches when they think something is wrong with a student.
"They need to take it seriously you know because it could save someone's life," said Cluke, who has friends that lost loved ones in the Borderline shooting. "You never know what getting the right help for a troubled child could do. It could to turn their life around. It could prevent stuff like this."

In response to reports that Long, who served in Afghanistan, might have suffered from post-traumatic stress disorder, Colell and Cluke said they didn't think those mental health problems played a role in the shooting.
"He had anger issues," Cluke said. "I don't think this was a PTSD-related shooting, personally knowing the anger that I experienced just as a coach for a few months."
Authorities said they had several interactions with Long over the years, but they were minor in nature: He was involved in a minor traffic collision and had been a victim of a battery at a bar. Earlier this year, deputies were also called to his home for a disturbance, and he was evaluated by a mental health professional but deemed to not be a threat to himself or someone else.
But for Colell, her interaction with Long left a lasting impression.
"He was probably the only athlete I had that actually scared me," Colell, who coached cross country for five years and track for two years, added. "I think in this case with him, perhaps it was just a perfect storm, but it was not PTSD alone because there are so many people that have it that do not go out and do this."