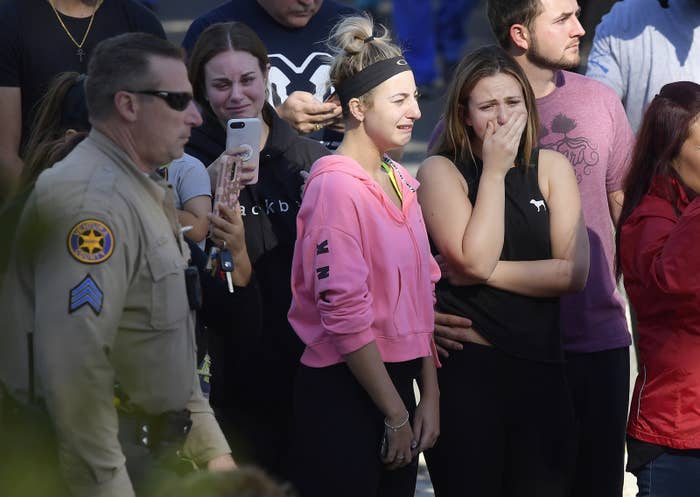 A video captured by a college student and posted to Instagram shows the harrowing scene inside of a Southern California bar when 12 people were shot and killed there Wednesday night.
In the video posted by 22-year-old Cal Lutheran University student Dallas Knapp, a dark figure can be seen across an empty dance floor at the Borderline Grill & Bar in Thousand Oaks before multiple gunshots ring out.
"I looked him in his eyes while he killed my friends I hope he rots in hell for eternity," Knapp wrote in the post. "The guy you see is the murderer and the shots are him shooting people trying to get out the windows."
After a brief lull in gunfire, Knapp bolts out of the bar and runs into the parking lot, yelling, "Guys, run — go. He's coming out this door."
Knapp, who did not respond to BuzzFeed News' requests for comment Thursday, later posted live videos on his Instagram in which he said he watched the gunman shoot two of his friends.
"I'm at a bar by my fucking school and I literally watched one of my best friends get shot," a visibly distraught Knapp said. "I'm so done with this shit, man."
Knapp added that if he would have been allowed to have a gun inside the bar he could have saved lives, adding that he heard at least 50 shots fired throughout the massacre.
"I watched him walk in and then he just starts unloading on people," Knapp said, adding that his friend, Justin Meek, one of the 12 killed in the shooting, tried to wrestle the handgun from him.
"He killed him," Knapp said. "Shot him three times in the back when he was already on the ground after he already shot him."
In a separate post, he shared a photo of him and Meek, calling his friend "a hero."