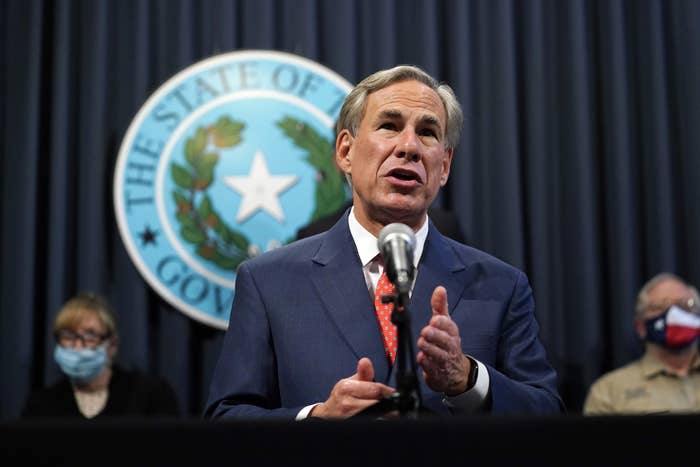 Texas Gov. Greg Abbott announced Tuesday that he is ending the statewide mask mandate despite warnings from federal health officials that lifting coronavirus safety measures now may lead to another spike in cases and deaths.
"It is now time to open Texas 100%," Abbott said to cheers and applause at a restaurant in Lubbock. "Everybody who wants to work should have that opportunity. Every business that wants to be open should be open."

Under a new executive order that the governor said "rescinds most of" the orders he has issued during the pandemic, all businesses will be allowed to open at full capacity starting March 10. Abbott said Texas is at the point where statewide mandates are no longer necessary to combat COVID-19.
"To be clear, COVID has not, like, suddenly disappeared," Abbott said, arguing that individuals still have a responsibility to follow health protocols. "Personal vigilance to follow the safe standards is still needed to contain COVID. It's just that now state mandates are no longer needed."
The announcement was swiftly criticized by Democrats in Texas and elsewhere as a "dangerous" and "reckless" decision that will put lives at risk.
"What Abbott is doing is extraordinarily dangerous," Gilberto Hinojosa, chair of the Texas Democratic Party, said in a statement. "This will kill Texans. Our country's infectious disease specialists have warned that we should not put our guard down even as we make progress towards vaccinations."
California Gov. Gavin Newsom called the move "absolutely reckless."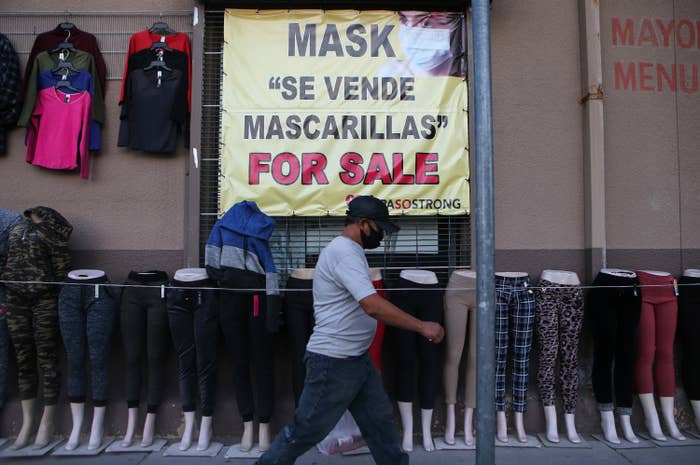 Just last week, the US passed the unimaginable milestone of half a million people who have died from COVID-19. The decline in cases has now appeared to plateau.
In recent days, top health officials have warned against abandoning the measures implemented to slow the spread of the coronavirus even as the vaccine rollout speeds up in the US.
"With these statistics, I am really worried about more states rolling back the exact public health measures we have recommended to protect people from COVID-19," Dr. Rochelle Walensky, director of the CDC, said during a White House briefing Monday. "At this level of cases with variants spreading, we stand to completely lose the hard-earned ground we have gained."

Last month, the CDC formally endorsed double-masking to make face coverings fit better as more infectious COVID-19 variants spread across the country. Federal health officials have emphasized the importance of maintaining mask-wearing until most of the population is vaccinated. Masks are currently mandated on planes, buses, trains, and other forms of public transit, as well as at airports and stations.
Despite the changes to statewide mandates, Abbott said businesses will be able to enact their own safety measures to combat the spread of the coronavirus. However, county judges will not be allowed to enact penalties against people who don't wear a mask. Counties in Texas may also impose their own restrictions, he said, but all businesses must be permitted to operate at a minimum of 50% capacity.
Texas joins a handful of states that have reversed their mask mandates. Several states never implemented a mandate at all.
Mississippi Gov. Tate Reeves also repealed his state's mask mandate Tuesday, saying case numbers "have fallen to the point where no county meets the original criteria for a mask mandate."
"I am replacing our current orders with recommendations," Reeves said in a statement. "Everyone should continue to listen to [State Health Officer Thomas] Dobbs and other health advisors for the best possible wisdom regarding how you can personally stem any risk of catching COVID."
Under the executive order signed by Reeves, only indoor arenas need to limit capacity to 50% and face coverings are still required in schools.