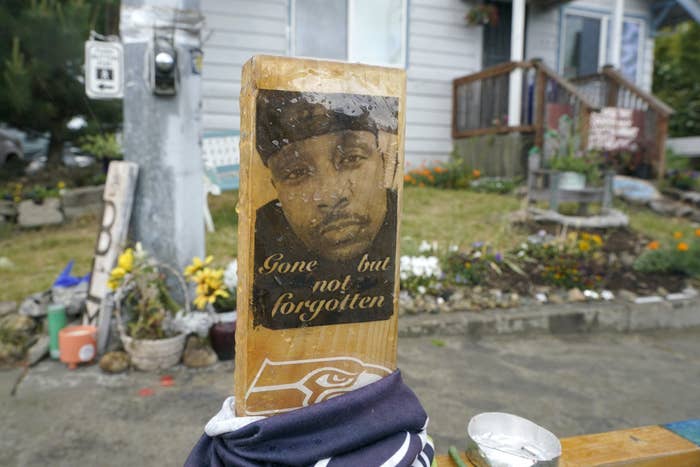 Three police officers in Washington state were charged with murder and manslaughter on Thursday in the 2020 killing of Manuel "Manny" Ellis, a 33-year-old Black man who died after being tackled and restrained by cops while walking home from a convenience store.
Tacoma police officers Christopher Burbank, 35, and Matthew Collins, 38, both face second-degree murder and first-degree manslaughter charges, while officer Timothy Rankine, 32, was charged with one count of first-degree manslaughter, state Attorney General Bob Ferguson announced.
The charges mark the first time the attorney general's office has filed criminal charges against police officers for the unlawful use of deadly force, and only the second time homicide charges have been filed against law enforcement officials since Washington voters adopted a measure that made it easier to criminally charge cops who wrongly use deadly force.

On March 3, 2020, Ellis was walking home after stopping by 7-Eleven to get a box of donuts and some water around 11:21 p.m. when he encountered Collins and Burbank, who were sitting in a patrol car at the intersection of 96th Street South and Ainsworth Avenue South. Witnesses said that as Ellis walked by the car he appeared to briefly talk with the officers in "just a casual conversation," according to probable cause documents filed in Pierce County Superior Court.

But as Ellis began to walk away, witnesses said, Burbank "abruptly swung open" the passenger-side door, knocking Ellis to his knees, according to the documents. The officers then exited the vehicle, tackled Ellis, and repeatedly struck him. Video footage from witnesses shows Collins putting Ellis into a neck restraint as he screamed and Burbank firing his stun gun at the man's chest.
A couple of minutes later, the documents state, a doorbell security camera at a house across the street captured audio of Ellis saying, "Can't breathe, sir. Can't breathe!" Seconds later, Ellis was heard pleading with officers again, to which one of the responded, "Shut the fuck up, man," according to the documents.
Shortly after that, Rankine arrived in another patrol car. At this time, Ellis was in handcuffs and on his stomach as Burbank applied pressure to his back and Collins held his leg. Rankine then ran over and started to also apply pressure to his back, according to the documents. As additional officers arrived and pinned him down, Ellis continued to say he couldn't breathe. They then hogtied Ellis, wrapping a strap around his legs and tying it to the handcuffs behind his back.
Paramedics pronounced Ellis dead at the scene.
Ellis's death sparked protests in Tacoma and Seattle amid a national uprising against police brutality in the wake of George Floyd's death.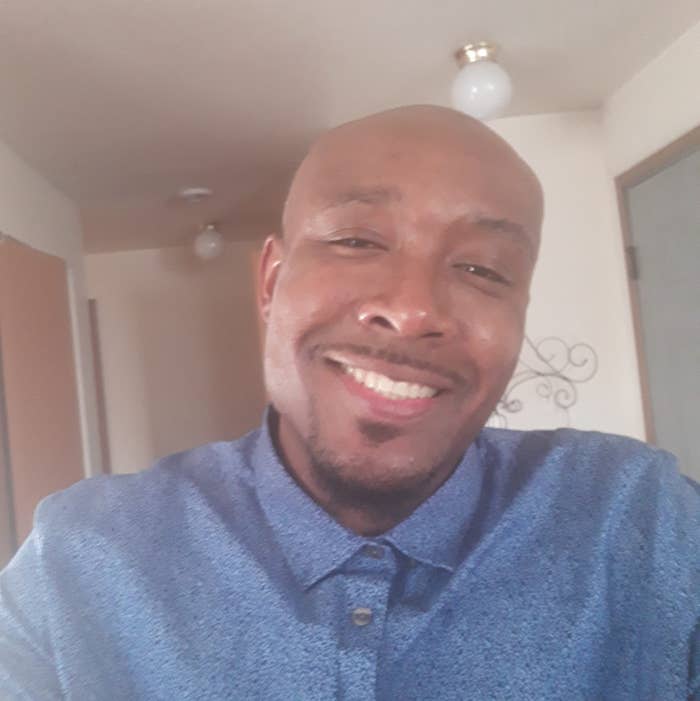 The Pierce County Medical Examiner ruled Ellis's death a homicide, finding that he died from a lack of oxygen "due to physical restraint." The medical examiner also noted that the way in which officers bound Ellis's legs and hands behind his back "would inhibit regular breathing," according to the court documents.

According to the Seattle Times, Collins, Burbank, Rankine, and another officer, Masyih Ford, were placed on leave immediately after Ellis's death but were back at work two weeks later. They were suspended again in June when the medical examiner's ruling became public, the Times reported.

The Pierce County Sheriff's Office initially led the investigation into Ellis's death, but after videos of the incident surfaced and the department revealed that one of its deputies may have been involved in the restraint, Gov. Jay Inslee directed the Washington State Patrol to take over.
During its three-month investigation, the sheriff's department had said that none of the officers had choked Ellis and denied that they used a stun gun during the encounter — assertions that were directly contradicted by the witness videos. Instead, Burbank and Collins painted Ellis as the aggressor and told other officers at the scene that Ellis was "goin' after a car" in the intersection and then came up to their car and started "punchin' their window," according to the court documents.
"These accounts are contradicted by the three civilian witnesses, none of whom ever saw Ellis in the intersection, or saw Ellis strike the officers' car, or saw Ellis attack, punch, or otherwise strike the officers at any point," the probable cause documents state.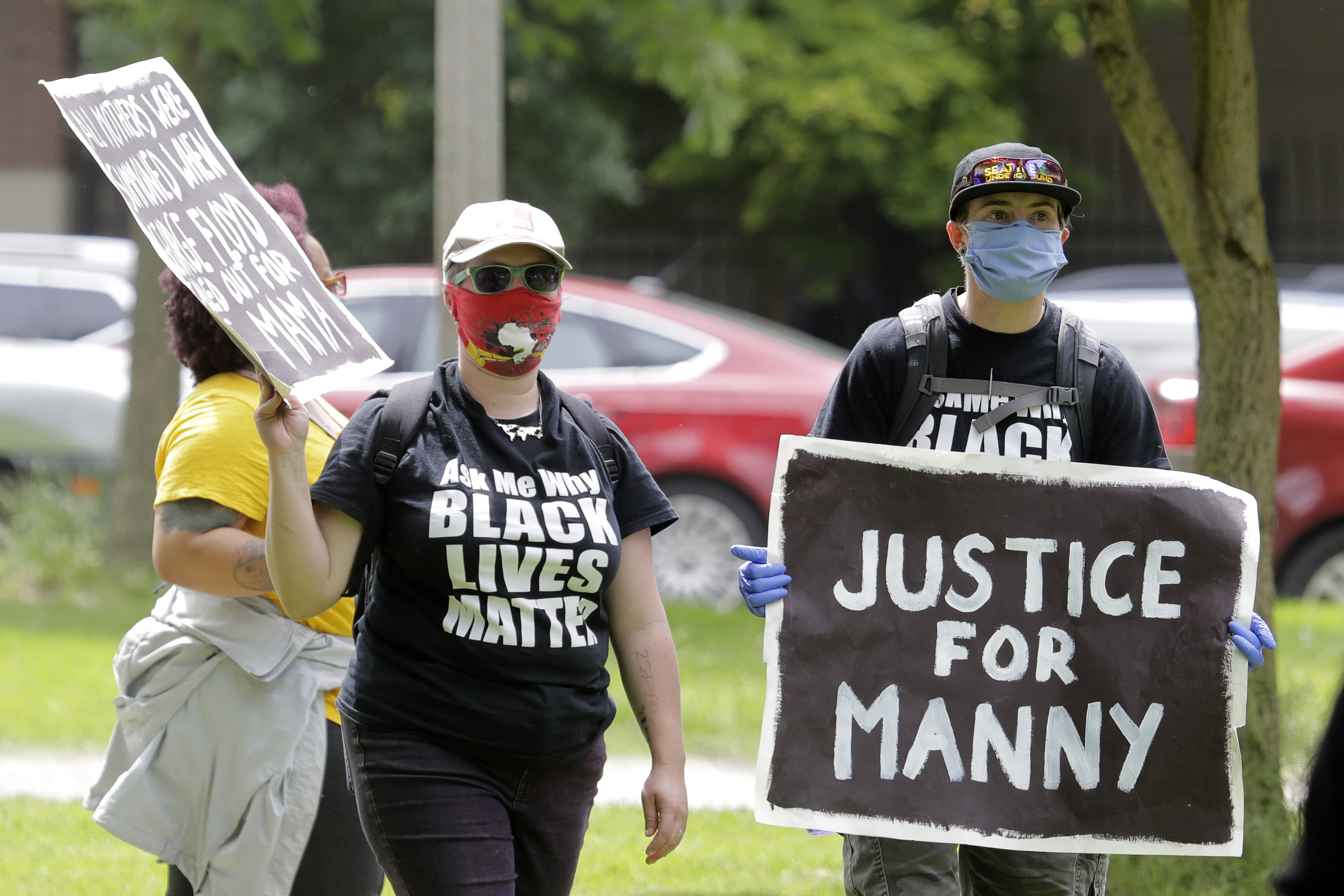 In a statement, James Bible, an attorney for Ellis's family, said the evidence clearly demonstrated "that the officers murdered Manny Ellis." During a press conference Thursday afternoon, his family welcomed the charges, but said the fight for justice was far from over.
"It's hard for me to be happy," said Ellis's sister, Monet Carter-Mixon. "It's hard for me to want to celebrate because of so many things that are still currently being overlooked. There's so much work that needs to be done."
His mother, Marcia Carter-Patterson, spoke about her son's faith, saying she believed he was chosen to expose corruption in the criminal justice system.

"The criminal [justice] system needs to be made over," she said.