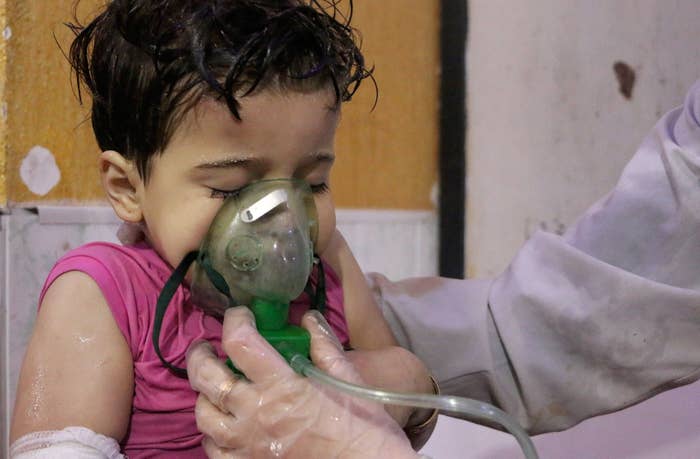 Syria's state-run news agency reported Sunday that missiles had struck a military air base outside of Homs, one day after a suspected chemical attack killed as many as 70 people in a rebel-held enclave that was one of the last remaining footholds for opposition forces.
The Syrian Arab News Agency, or SANA, initially attributed Sunday's airstrikes to "American aggression." The US Department of Defense rejected that claim, however, stating that as of Sunday night, it was not carrying out air strikes in Syria.
"At this time, the Department of Defense is not conducting airstrikes in Syria. However, we continue to closely watch the situation and support the ongoing diplomatic efforts to hold those who use chemical weapons, in Syria and otherwise, accountable," the Pentagon said in a statement.
Reports of the airstrikes follow a suspected chemical weapons attack Saturday in Douma, a rebel-held town near Damascus on Saturday. Medics, activists, and rescue workers reported that dozens of people were killed and hundreds of others were injured after a poison gas was dropped on the area — allegations the Syrian government has denied.
Images circulating on social media showed the lifeless bodies of men, women, and children, including infants, foaming at the mouth — a telltale sign of a gas attack. The footage could not be independently confirmed.
At least 70 people have been killed so far in the attack in Douma, the Union of Medical Relief Organizations, an American charity that works with Syrian hospitals, told the BBC.
President Donald Trump, who last year launched a missile attack against the Syrian regime after a chemical attack in the northern town of Khan Sheikhoun, placed blame for this weekend's attack at the feet of Russia and Iran — criticizing Vladimir Putin by name.
"Many dead, including women and children, in mindless CHEMICAL attack in Syria," he tweeted Sunday. "Area of atrocity is in lockdown and encircled by Syrian Army, making it completely inaccessible to outside world. President Putin, Russia and Iran are responsible for backing Animal Assad."
He warned there would be a "big price" to pay.
The White House later announced that Trump had spoken with France's president, Emanuel Macron, and that the pair had "agreed that the Assad regime must be held accountable for its continued human rights abuses."
"They agreed to exchange information on the nature of the attacks and coordinate a strong, joint response," according to a White House readout of the call.
A statement from Macron's office added that the two presidents had "exchanged information and analyses confirming the use of chemical weapons," and agreed to speak again "in the next 48 hours."
The UN Security Council will convene for an emergency meeting on Monday to discuss the alleged attack. "The Security Council has to come together and demand immediate access for first responders, support an independent investigation into what happened, and hold accountable those responsible for this atrocious act," said US Ambassador Nikki Haley.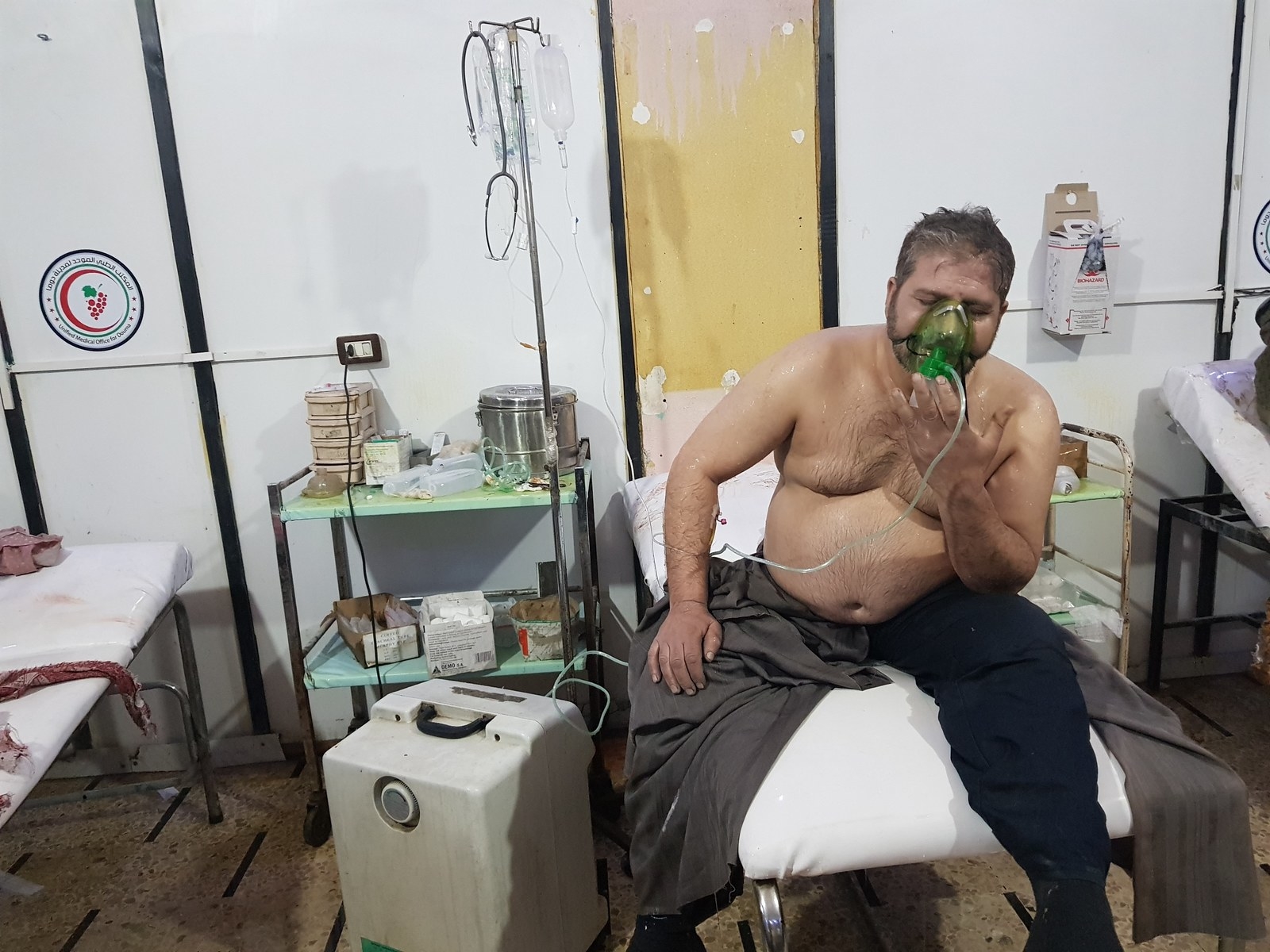 A tweet by the pro-opposition Ghouta Media Centre, which contained several graphic images, said that 75 people had been killed in the attack and that there were 1,000 more cases of suffocation.
In a now-deleted tweet, the White Helmets, a volunteer rescue group formally known as Syria Civil Defence, put the death toll at 150. The group later said at least 40 people suffocated to death after a helicopter dropped a barrel bomb containing a chemical agent on Douma, a town in the Damascus suburbs known as Eastern Ghouta.
Entire families died while hiding in cellars, trying to seek shelter from air raids and barrel bombs, the group said on Twitter.
The reports have not been independently confirmed.
Other relief organizations and watchdog groups, including the Syrian Observatory for Human Rights and the Syrian American Medical Society, also reported the attack, though the number of victims killed has varied.
Rami Abdulrahman, the director of the UK-based Syrian Observatory for Human Rights, told Reuters he could not confirm if chemical weapons had been used.
A report from SANA Saturday rejected the claim that chemical agents were used in Saturday's attack.
A US State Department spokesperson called the reports "horrifying," and said in a statement that Russia should be blamed if chemicals were indeed used in an attack on civilians.
"Reports from a number of contacts and medical personnel on the ground indicate a potentially high number of casualties, including among families hiding in shelters," the spokesperson, Heather Nauert, said. "These reports, if confirmed, are horrifying and demand an immediate response by the international community."
British Foreign Secretary Boris Johnson also called the reports "deeply disturbing."
"An urgent investigation is needed and the international community must respond," said a spokesperson for the British Foreign Office. "We call on the Assad regime and its backers, Russia and Iran, to stop the violence against innocent civilians."
On Sunday, Moscow angrily denied that the Syrian regime had used chemical weapons in Eastern Ghouta and said it would be able to provide proof.
News agencies reported that Russian Maj. Gen. Yuri Yevtushenko said: "We firmly deny this information. We are ready, once Douma is freed from militants, to immediately send Russian specialists in radiation, chemical, and biological defense to collect data that will confirm these claims are fabricated."
The Syrian state broadcaster al-Ikhbariya reported Sunday that rebels in Douma had contacted the Syrian regime in the hope of restarting negotiations, which collapsed on Friday. The channel also said the government had demanded that the rebels release prisoners and cease shelling Damascus before any talks could start. The government began two-hour ceasefire began Sunday afternoon.
By Monday morning, rebels in Douma were believed to have surrendered, having reached a deal with the Syrian regime, and were being bussed out of the city.
Despite repeated accusations, however, the Syrian government denies that it has ever used chemical weapons in the country's seven-year civil war.
President Trump also mocked his predecessor, Barack Obama, Sunday for not taking military action against Syria after earlier chemical attacks.
However, in 2013 Trump repeatedly urged Obama via Twitter not to attack Syria after the regime used sarin gas and other chemical weapons.
"The only reason President Obama wants to attack Syria is to save face over his very dumb RED LINE statement," he tweeted in September 2013. "Do NOT attack Syria, fix U.S.A."
Earlier Sunday, Republican Senators Lindsey Graham and John McCain urged the president to follow up on his morning tweets with military action.
"If it becomes a tweet without meaning, then he has hurt himself in North Korea. If he doesn't follow through and live up to that tweet, he's going to look weak in the eyes of Russia and Iran," Graham told ABC's This Week program. "So this is a defining moment, Mr. President. You need to follow through with that tweet."
McCain also signaled he believed President Trump publicly pushing this week for US troops to soon withdraw from Syria, where they have been fighting ISIS, had contributed to the attack.
"Bashar Assad and his Russian and Iranian backers have heard him, and emboldened by American inaction, Assad has reportedly launched another chemical attack," he said.
Vera Bergengruen contributed reporting.