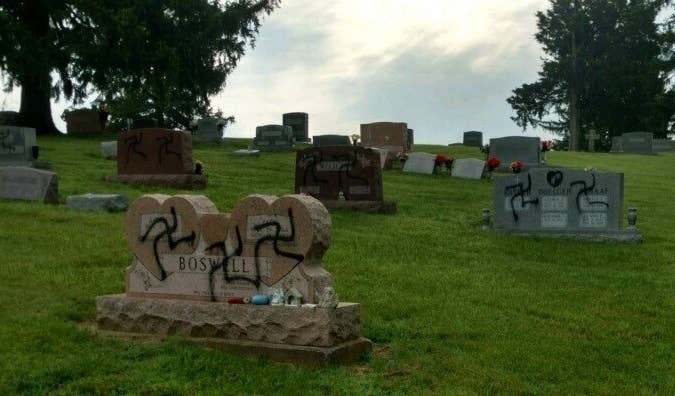 More than 150 headstones were spray-painted with swastikas at a southwest Illinois cemetery overnight as the cemetery was getting ready to honor those who died while serving in the military for Memorial Day.
The grounds crew discovered the vandalism Saturday morning at the Sunset Hill Cemetery in Glen Carbon, a small suburb of St. Louis.

Mark Johnson, the cemetery's grounds superintendent, told BuzzFeed News the swastika, a symbol often associated with anti-Semitism or Nazism, was spray-painted in black on 150 to 200 headstones, as well as on an old office building and the mausoleum.
Johnson said he was hurt and upset by the incident, adding that it was unfortunate that it happened just before Memorial Day.
The cemetery is the resting place for more than 1,300 veterans and each year cemetery officials hold a celebration to honor the veterans.
"We pour our heart and soul into that and try to make that day the very best we can," Johnson said. "We've spent the last month trying to prepare for Monday."

The grounds crew spent all day Saturday cleaning the headstones. There's still some residue on some of the markers, Johnson said, but "it's presentable."
Swastikas were also found on a concrete wall, eight homes, and two cars in a neighboring residential community in Edwardsville, according to Edwardsville police Officer Justin Towell.

One suspect, a 34-year-old man, has been taken into custody by the Glen Carbon Police Department. Police at both agencies are investigating the incident.
Towell told BuzzFeed News he believed the incident was isolated, adding that Edwardsville authorities are not currently investigating the vandalism as a hate crime but that could change.
"We're a diverse community," he said. "It's alarming that someone would think that's appropriate, but I'm not concerned that anyone's going to go out and cause harm to anybody."
Johnson said he didn't think the incident was a hate crime. Sunset Hill is a nondenominational cemetery and the vandalized headstones appeared to have been chosen randomly.
But, to him, the act of vandalizing a person's grave was certainly hateful.
"What possesses somebody to do that?" Johnson said. "I just don't understand it."