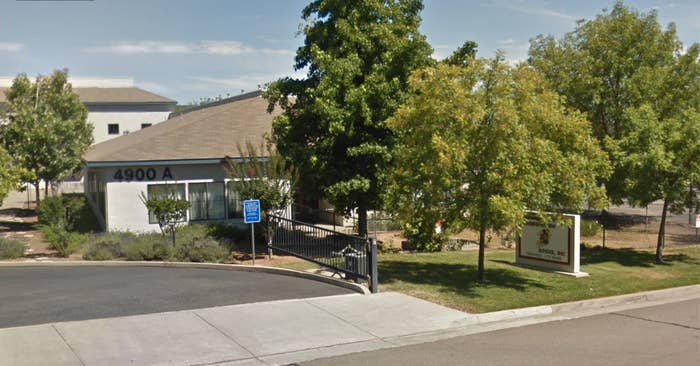 A 13-year-old student who was on the autism spectrum died last week after becoming unresponsive while being physically restrained by a staff member at a Northern California school, authorities said Thursday.

The student had become violent and needed to be restrained by staff at Guiding Hands School in El Dorado Hills "to prevent the injury of staff and students" on Nov. 28, El Dorado County Sheriff's Sgt. Anthony Prencipe said in a statement.
While he was being restrained, the student became unresponsive, Prencipe said. A teacher began CPR until paramedics arrived.
The boy, who the sheriff's department described as being 6 feet tall, 280 pounds, and having "severe autism," was transported to Mercy Hospital of Folsom in critical condition. He was later transferred to the University of California, Davis.
He died on Nov. 29, according to Seth Goldstein, an attorney for the boy's family.
"The family is in terrible shock right now," Goldstein told BuzzFeed News. "They are suffering."
Goldstein, who declined to identify the boy out of respect for the family's privacy, said the boy was placed at Guiding Hands by the Davis Joint Unified School District less than a year ago to address his special needs.
He disputed the sheriff's characterization of the boy's disability and added that according to the family's medical records, the boy was 5 feet and 3 inches tall and weighed 180 pounds as of January 2018.
"This child is highly intelligent," Goldstein said. "He needed to be in a place that dealt with his special needs ... which require somebody in an educational setting who can address those needs and accommodate their educational needs at the same time."
The department is continuing to investigate the incident, but Prencipe said at this time there is no evidence of foul play or criminal intent.

Goldstein said the family doesn't know what exactly happened and so he couldn't say whether they believe a crime occurred, adding that the family has not yet been informed on the specifics of the incident.
"We know that a death occurred and certainly under the circumstances of the school situation it sounds like it's unreasonable that that kind of result happened in this circumstance," Goldstein said. "It doesn't matter if he was violent. The question is did they apply a technique that was reasonable and warranted to control whatever the behavior was — that's the issue."
In a statement emailed to BuzzFeed News, Guiding Hands spokesperson Scott Rose confirmed the death, saying that "there was an incident on campus involving a student in which staff needed to utilize a nationally recognized behavior management protocol to address the situation."

"After the incident, an emergency ensued and staff immediately alerted paramedics. We have since been informed, the student has passed away," Rose said. "We are devastated by this loss and remain committed to the health and safety of our students, faculty and staff."
Rose declined to comment further on the incident, but told BuzzFeed News in an email that faculty and staff undergo training on "de-escalation techniques" each year and said "there are occasional situations in which students are placed in a neutral position."
Prencipe told the Sacramento Bee the department has been called to respond to Guiding Hands School 27 times in 2018 for a variety of reasons including ringing alarms and mental health–related concerns.

Guiding Hands is a private K-12 school founded in 1993. Last year, 137 students were enrolled at the school, according to the California Department of Education.
The state has suspended the school's certification as it continues its own investigation of the incident.
"As soon as the department heard of this incident, on November 28, CDE began an investigation, and as of December 5, CDE has suspended Guiding Hands School's certification," the Department of Education said in a statement emailed to BuzzFeed News.
The department described Guiding Hands as a private school that educational agencies contract with to serve students with disabilities who need a "more restrictive environment." As a result of the suspension, the school won't be able to accept additional students.
UPDATE
The language in this post has been changed to reflect the family's preference that the boy is identified as being on the autism spectrum.