Seattle's public schools will shut their doors for at least two weeks starting Thursday, a first for a major public school district in the US, as officials in the state of Washington enforce more drastic measures to stop the spread of the novel coronavirus.
In a letter to students' families Wednesday, school district officials described the closures as a "necessary action" that aimed to "disrupt widespread infection." The district includes 104 schools with 53,627 students.
"The decision to close the district was extremely difficult," the letter said. "We know that closing our schools will impact our most vulnerable families and we recognize that working families depend on the consistency and predictability of supports and services our schools offer. We are working with partners and the city to determine how to best mitigate the impact closing schools will have on working families."

The decision comes after Washington Gov. Jay Inslee banned gatherings and events of more than 250 people in three counties, including King County — where Seattle is located and which has been the hardest hit by the outbreak.
"This is something that none of us ever expected to face as school leaders," Superintendent Denise Juneau said during a press conference. "This is really an unprecedented time."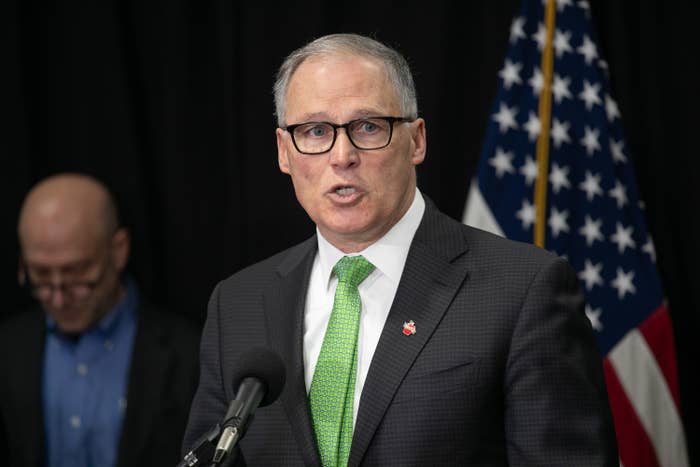 As of Wednesday, more than 200 people in the state have tested positive for COVID-19, the disease caused by a novel coronavirus first identified late last year in Wuhan, China, and 24 have died. Twenty-two of those deaths and 191 cases were in King County, where an outbreak at the Life Care Center nursing facility in Kirkland has killed 20 elderly residents.
Beginning Thursday, all school building activities in the district, including childcare and health services, will be canceled until further notice.
"We have been following the guidance of Public Health Seattle and King County and implementing preventive and responsive strategies, but in light of Governor Inslee's request that all citizens practice measures to slow the spread of COVID-19, it is now time for the district to act swiftly," the district said.
Juneau said the district would not be offering online education as many universities across the country, including the University of Washington, have resorted to due to a large number of families in the district who do not have computers or internet at home.

Juneau said staff would be working on take-home learning materials for students to work on for the time being.
"It does not take the place of instruction in a classroom so there will be a gap that we will need to fill eventually," she said.

Previously, district officials had said they wanted to keep the schools open in order to support students, some of whom rely on the district for meals and health care. On Tuesday, a staff member tested positive for the disease.
"While children appear to be more protected from extreme symptoms, adults, including our educators and employees, need support and protection as well," the district said.
Officials planned to put in place an emergency food plan for students by Monday and were working on ways they could provide child care for families who need it, Juneau said.
It was unclear whether the district would be able to reopen after two weeks, Juneau said, adding that the district would follow the guidance of public health officials and local and state leaders.
"We've been thinking about longer term," she said. "We don't know quite what that looks like yet."