A Protester Was Killed After A Man Drove His Car Onto A Closed Seattle Freeway
Summer Taylor, 24, died Saturday as a result of their injuries.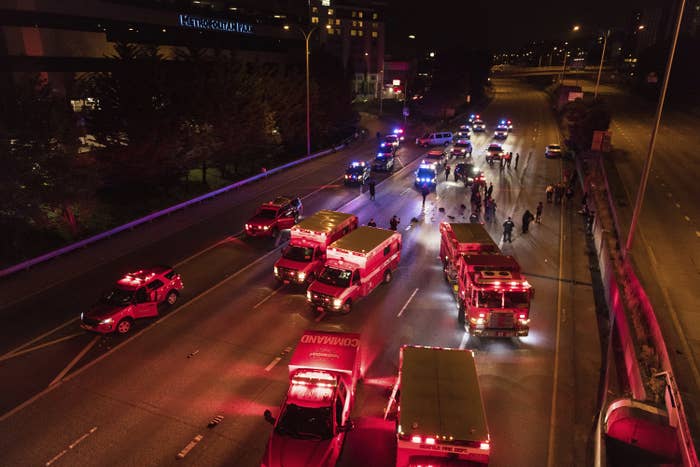 A protester was killed and another injured after a man struck them with his car in Seattle early Saturday, after driving onto a freeway that was closed because of protests against police brutality.
Video of the incident, which occurred at about 1:36 a.m. in the southbound lanes of I-5, shows the car speeding down the freeway and then plowing into the group of protesters, launching the two individuals into the air.
The victims, identified as 32-year-old Diaz Love of Bellingham and 24-year-old Summer Taylor of Seattle, were transported to Harborview Medical Center, said Susan Gregg, a spokesperson for the hospital.
Taylor died as a result of their injuries late Saturday, according to the Washington State Patrol. Love remains in serious condition as of Sunday morning.
The driver, identified as 27-year-old Dawit Kelete of Seattle, continued driving down the freeway after the collision. Police told the Associated Press that Kelete was stopped after a protester in a car chased him and forced him to pull over.
Kelete was arrested at approximately 7:24 a.m. and charged with two counts of vehicular assault, according to King County Correctional Facility records.
Previously on Saturday, Trooper Chase Van Cleave told BuzzFeed News that Kelete was expected to face another count for felony hit-and-run.
BuzzFeed News has reached out to the King County District Attorney's office about whether Kelete will face additional charges in light of Taylor's death.
Love livestreamed the demonstration on Facebook in a nearly two-hour-long video. In the last 14 seconds, people are heard shouting that a car is coming as they run across the roadway before a loud crash is heard and the video abruptly ends.
State patrol said in a statement that this was the 19th consecutive night that protesters had marched onto the freeway amid global unrest over the killings of Black people at the hands of police. The agency had closed that part of the freeway as a result of the protest prior to the hit-and-run.

Officials believe the driver entered the freeway via an exit ramp and that it didn't appear that impairment was a factor.
Officials are still investigating how the driver got through the closure and a possible motive for the collision.
While state patrol troopers have been closing the roadway to separate protesters from vehicular traffic, Capt. Ron Mead urged protesters to stop assembling on the freeways during an early morning press conference.
"My hope is, as a result of this tragedy, protesters will reconsider their desire to be on the interstate because I cannot guarantee their safety, plain and simple," Mead said, according to NPR.
CORRECTION
The driver was identified as Dawit Kelete. A previous version of this article misspelled his name.