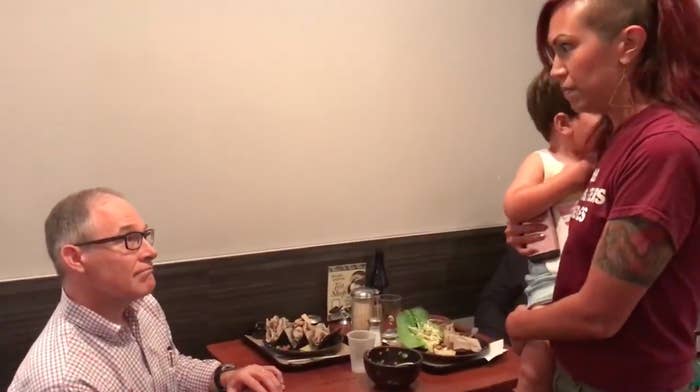 Kristin Mink was eating lunch with her family at a restaurant in Washington, DC, on Monday when she spotted Environmental Protection Agency Administrator Scott Pruitt three tables away from her.
"I had to say something," Mink, a teacher, wrote on Facebook. "He's corrupt, he's a liar, he's a climate change denier, and as a public servant, he should not be able to go out in public without hearing from the citizens he's hurting."
So, carrying her 2-year-old son on her hip, Mink walked up to Pruitt's table and calmly urged him to resign in a short speech, a video of the encounter shows.
"This is my son. He loves animals, he loves clean air, he loves clean water," she told Pruitt, who sat quietly and listened to her speak. "Meanwhile, you're slashing strong fuel standards … paying about $50 a night to stay in a DC condo that's connected to an energy lobbying firm while approving their dirty sands pipeline.
"We deserve to have somebody at the EPA who actually does protect our environment, somebody who believes in climate change and takes it seriously for the benefit of all of us including our children. So I would urge you to resign before your scandals push you out."
It was not the first time that a member of President Donald Trump's cabinet has been confronted in public in recent weeks. White House press secretary Sarah Huckabee Sanders and Homeland Security Secretary Kirstjen Nielsen were both urged out of restaurants last month after encounters with people unhappy with the Trump administration. White House adviser Stephen Miller was called a fascist while eating at a Mexican restaurant.
Sanders was asked to leave by the owner of the Red Hen in Lexington, Virginia, while Nielsen left shortly after being heckled by protesters.
Mink did not ask Pruitt to leave, but she wrote on Facebook that he did not respond to her comments and left soon after.
An EPA spokesperson, however, said that Pruitt thanked her and had left the restaurant because he needed to get back to work.
The video ended after Mink finished talking, so it was unclear whether Pruitt said anything.
"Administrator Pruitt always welcomes input from Americans, whether they agree or disagree with the decisions being made at EPA," spokesperson Lincoln Ferguson said in a statement to BuzzFeed News. "His leaving had nothing to do with the confrontation, he had simply finished his meal and needed to get back to EPA for a briefing."
Pruitt and his team are the subjects of more than a dozen ongoing federal investigations tied to his spending on travel and security, his treatment of staff, his former housing deal, and more. In recent interviews with the House Committee Oversight and Government Reform, Pruitt's aides have reportedly described Pruitt asking them to help find his wife a job and review an apartment lease. They also mentioned the administrator's preference to travel first class.