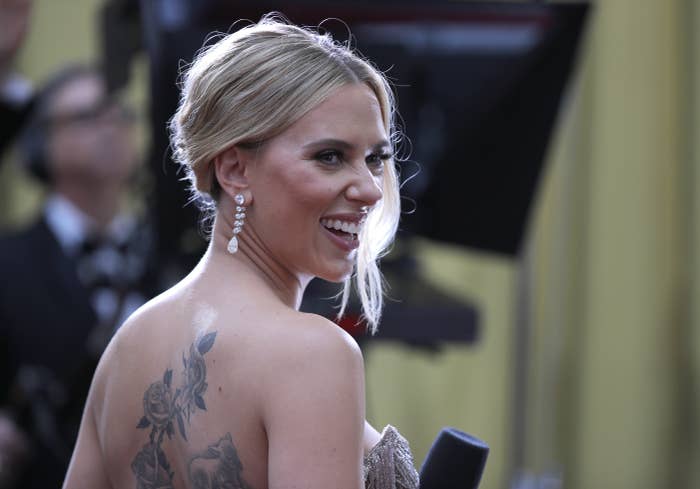 Scarlett Johansson is suing the Walt Disney Company for making Black Widow available on its Disney+ streaming service the same day as the film's theatrical release — a move that sources close to the actor told BuzzFeed News cost her an estimated $50 million.

In a complaint submitted to Los Angeles County Superior Court on Thursday, attorneys for Johansson are seeking unspecified monetary and punitive damages, saying she was promised an exclusive release in theaters and that the simultaneous release of her Avengers' character's first solo film violated that agreement.
"It's no secret that Disney is releasing films like Black Widow directly onto Disney+ to increase subscribers and thereby boost the company's stock price – and that it's hiding behind Covid-19 as a pretext to do so," Johansson's attorney John Berlinski said in a statement provided to BuzzFeed News. "But ignoring the contracts of the artists responsible for the success of its films in furtherance of this short-sighted strategy violates their rights and we look forward to proving as much in court."
According to the complaint, Marvel and Johansson agreed that her compensation for Black Widow would "be based largely on 'box office' receipts" and so to "maximize these receipts, and thereby protect her financial interests" the actor made the studio promise the movie would be exclusively released in theaters. Her attorneys wrote that the studio's parent company, Disney, "was well aware of this promise," but released the movie on Disney+ anyway.
"The reasons for this were twofold," the complaint states, alleging that the company "wanted to lure" viewers away from the theater and to its streaming service "where it could keep the revenues for itself" and grow its subscriber base and "substantially devalue Ms Johansson's agreement and thereby enrich itself."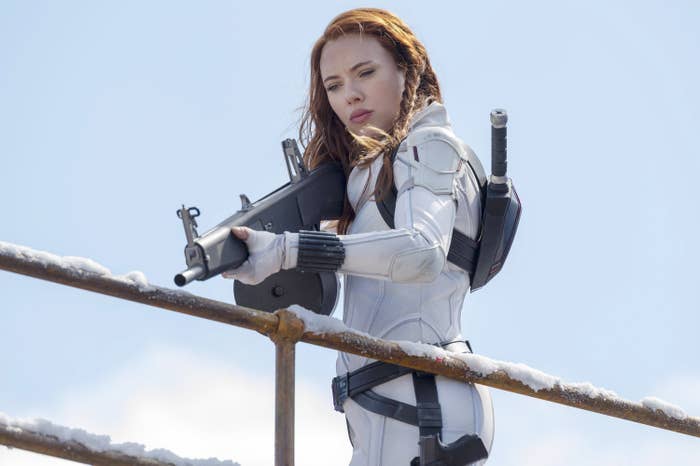 In a statement provided to BuzzFeed News, a spokesperson for Disney dismissed Johansson's claims, saying "there is no merit whatsoever to this filing."

"The lawsuit is especially sad and distressing in its callous disregard for the horrific and prolonged global effects of the COVID-19 pandemic," the statement said.
The spokesperson claimed that the company "has fully complied" with the Black Widow actor's contract, adding that the release of the movie on Disney+ "has significantly enhanced her ability to earn additional compensation on top of the $20M she has received to date."

Johansson's suit comes as multiple major motion pictures have been released on streaming during the pandemic, as theaters in many cities shut down and audiences have been largely staying home. Last year, Warner Bros. and WarnerMedia released Wonder Woman 1984 simultaneously in theaters and on streaming service HBO Max, then announced it would do the same for its entire 2021 slate of films.
But in that case, Warner Bros. reportedly quietly approached agents for Wonder Woman director Patty Jenkins and actor Gal Gadot ahead of the announcement to pay them each millions of dollars to make up for the loss in box office revenue. Ahead of the Black Widow premiere, which was delayed due to the pandemic, neither Marvel nor Disney made any effort "to right their wrong and make good on Marvel's promise," forcing Johansson to take action in court, the complaint states.
According to the complaint, under Johansson's contract for Black Widow the movie was to be initially released only in theaters for a period of 90 to 120 days. After Disney announced the launch of its streaming service, which includes the Marvel Cinematic Universe library of films, Johansson's representatives allegedly received assurances from the studio's counsel that it would adhere to the agreement. But then in 2021, it announced the film would be released concurrently in theaters and on Disney+ Premier Access, which provides subscribers access to select new films for an additional $30 per film fee.

Johansson's reps attempted to negotiate with Marvel to reach an alternative "understanding," but they were ignored, her attorneys wrote.
"To no one's surprise, Disney's breach of the Agreement successfully pulled millions of fans away from the theatres and toward its Disney+ streaming service," the complaint reads. "According to Disney's own self-congratulated press releases, the Picture grossed more than $60 million on Disney+ Premier Access in its first weekend alone."
In spite of the alleged loss to her bottom line, Johansson has continued to promote the film, her attorneys added.
"Adding insult to injury, Ms Johansson has spent the last several months fulfilling her own obligation under the Agreement to promote the Picture — and therefore, by association, its release on Disney+," they said. "In other words, Disney has enjoyed the benefits of having one of Hollywood's top actresses promote its wholly owned subscription service at no additional cost to Disney, and with the intended effect of taking money out of that actress' own pocket."