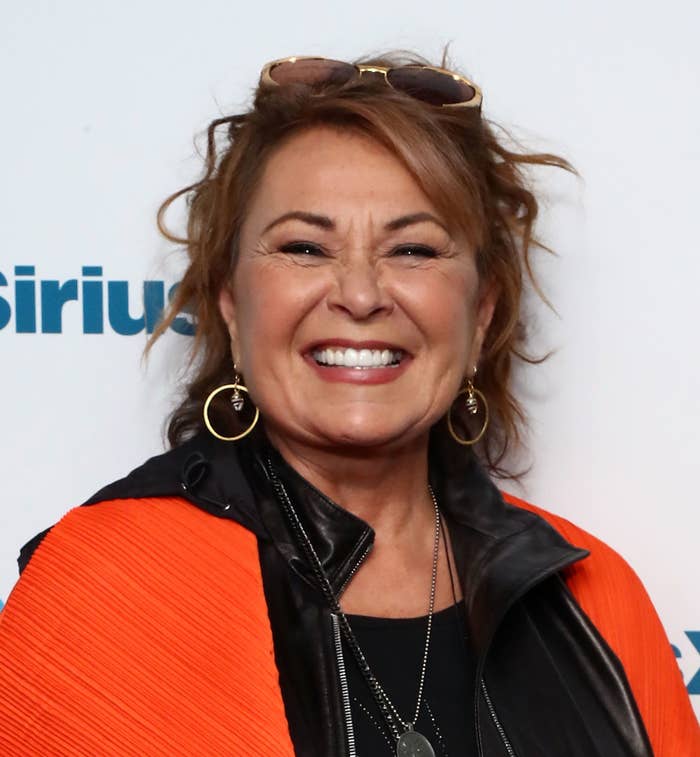 Roseanne Barr just couldn't stay away from Twitter.
After apologizing Tuesday morning for a racist tweet about former Obama adviser Valerie Jarrett, Barr wrote that she was "leaving Twitter." But about 11 hours later, she was back on the social media platform, retweeting conspiracy theories about the black White House aide's ethnicity and religion, and tweeting that she thought Jarrett was "Saudi."
The tweets and retweets — many of which were later deleted — came just hours after ABC canceled Barr's show Roseanne after the actor wrote early Tuesday that Jarrett was the "baby" of Egypt's Muslim Brotherhood political party and Planet of the Apes. Barr apologized to Jarrett for the initial tweet, just before announcing her departure from Twitter.
On Tuesday night, around the same time that Barr began retweeting fresh Jarrett conspiracy theories, the actor also issued a longer apology, via her publicist, apologizing to Jarrett, ABC, and the cast and crew of her now-canceled show.
But there seemed to be a disconnect — at least at first — between Barr's statement and her behavior on Twitter, where she spent about an hour Tuesday night replying to and retweeting comments from people who had defended her racist tweet about Jarrett...
...including this tweet about a fake Stanford yearbook page in which Jarrett is quoted saying she wanted "to help change America to be a more Islamic country."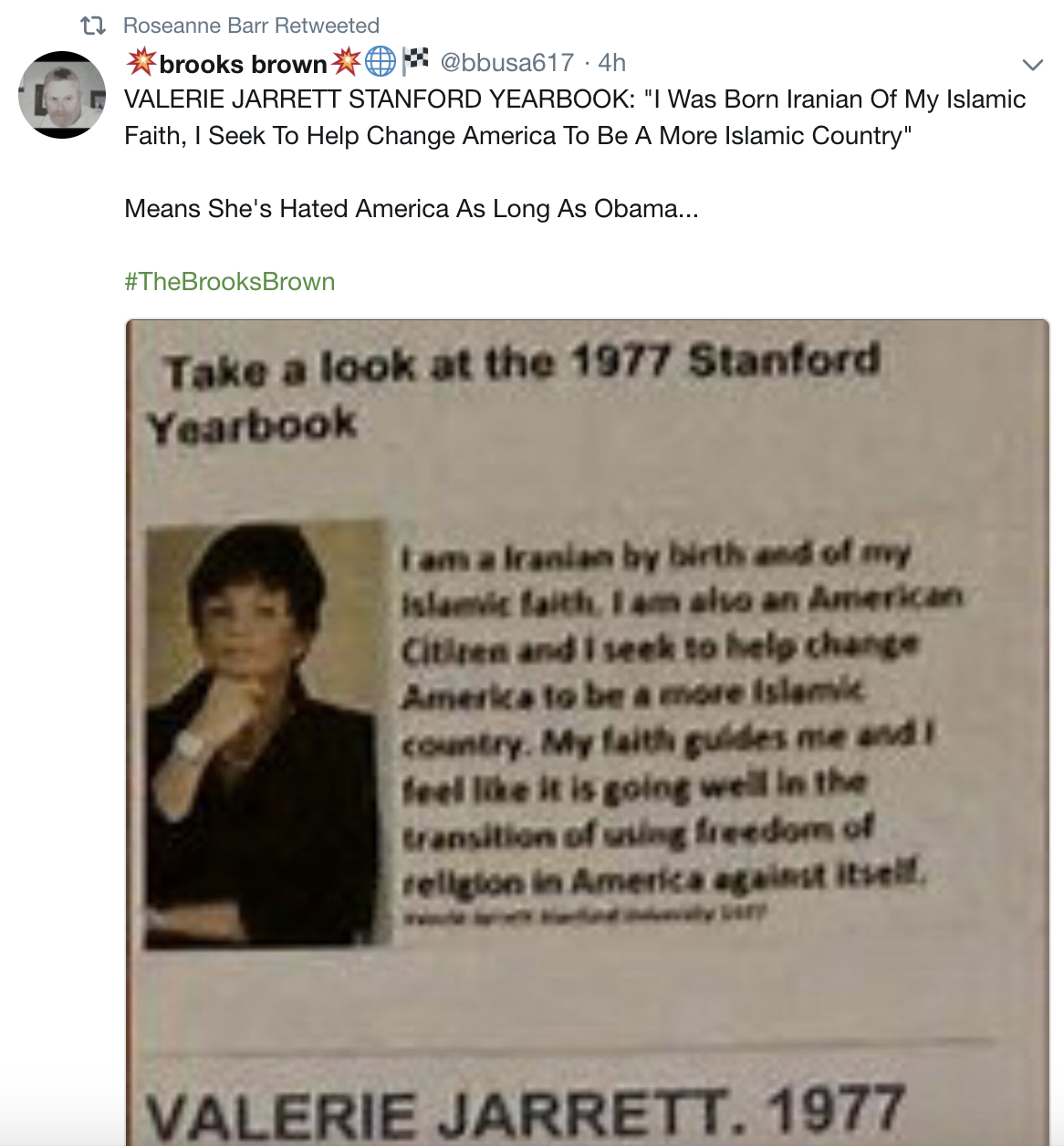 Barr later appeared to realize her mistake, removing her retweet of the fake Stanford quote and retweeting several other people who had pointed out that the quote was a hoax.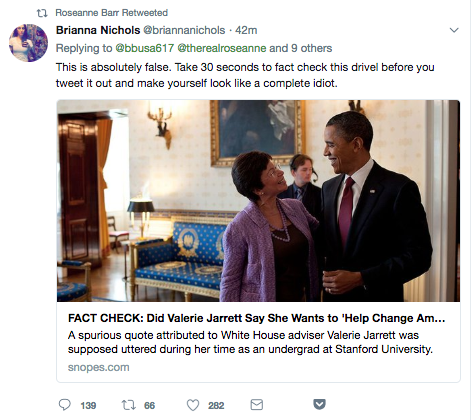 Other retweets defending the actor's racial assessment of Jarrett remained on Barr's feed Tuesday night, including this one, from the prank account @RepStevenSmith, giving Barr the benefit of the doubt.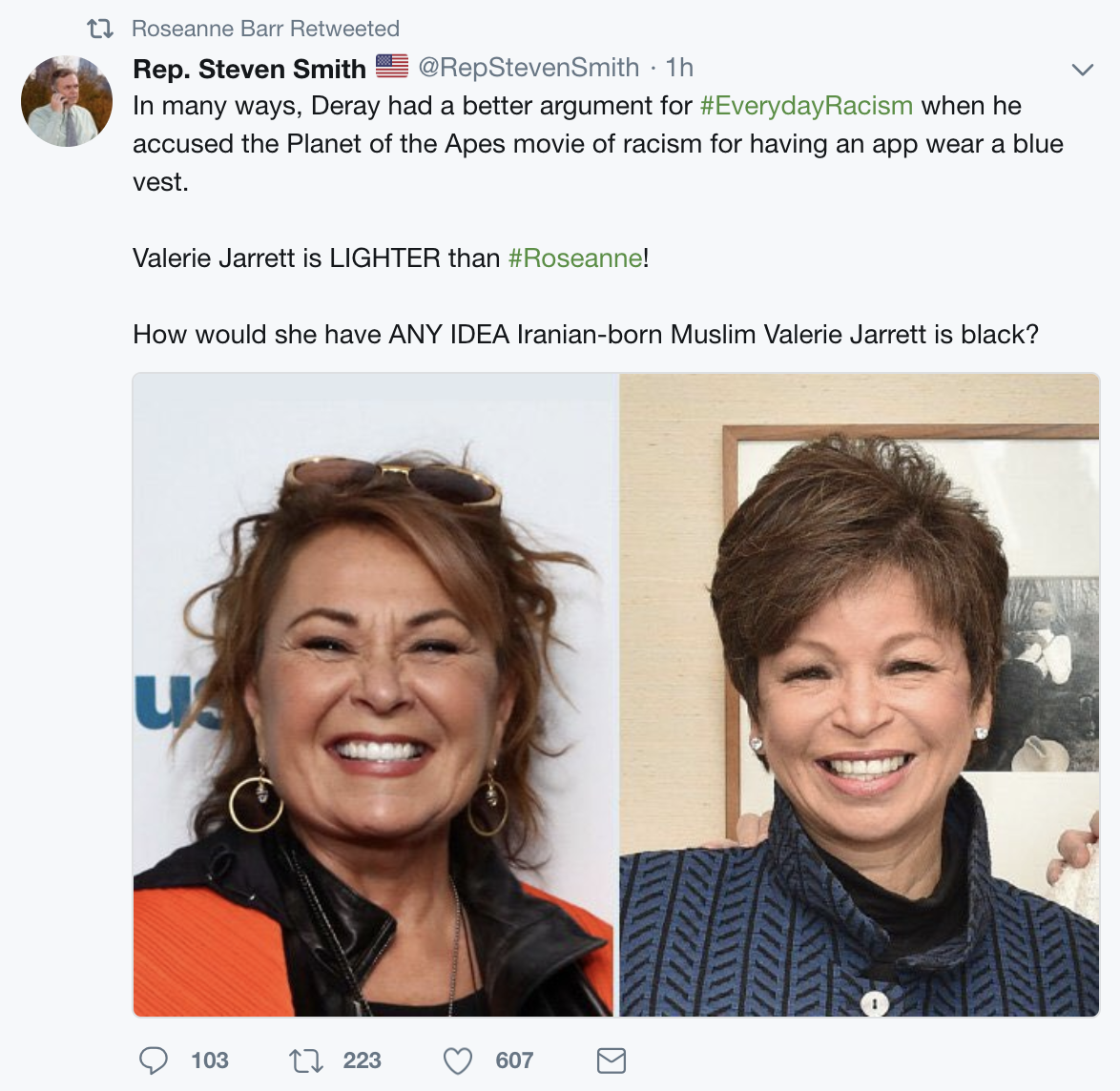 Barr also tweeted that she thought Jarrett was "Saudi," responding to another user who had written that he believed the former White House adviser — who, again, is black — was Hispanic.
Somewhat confusingly, Barr also tweeted directly at Jarrett again, apologizing for her earlier tweet.
And despite her retweets, she implored her supporters not to defend her, saying that she "did something unforgivable."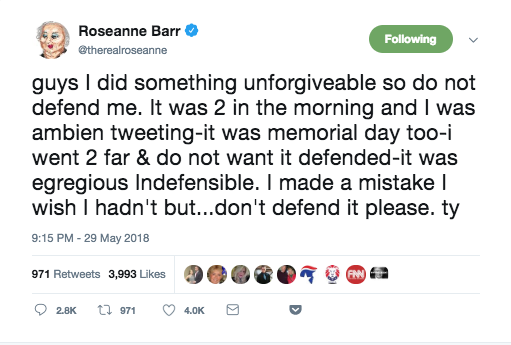 She also announced she will be a guest on comedian Joe Rogan's podcast Friday, in what will presumably be her first public interview following her show's cancellation.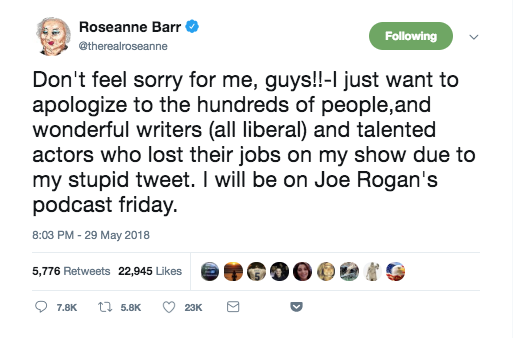 Barr continued retweeting her supporters throughout the night.
And some who condemned her behavior, including co-star Sara Gilbert.
Then there was a series of retweets of people asking why the media wasn't covering Gaza.
Then, after a long night, she put Twitter to bed.