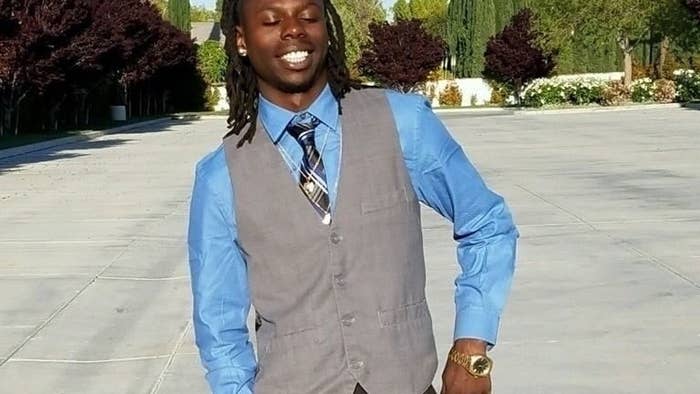 Officials are requesting an independent investigation into the death of a 24-year-old man who was found hanging from a tree in California this week after police ruled his death a suicide.
Robert Fuller was found dead in Poncitlán Square across from Palmdale City Hall at 3:39 a.m. Wednesday. The Los Angeles County Sheriff's Department said it appeared Fuller had killed himself, but, amid global protests against racial violence, his family, friends, and others in the community have expressed skepticism about the conclusion.
"We really want to find out the truth of what really happened," his sister Diamond Alexander said during a rally at the public square Saturday. "Everything that they've been telling us has not been right. ... My brother was not suicidal. He wasn't."
On Saturday night, Palmdale city officials said they supported county leaders and state legislators in requesting that the state attorney general's office conduct an independent investigation into the incident.

"The City of Palmdale joined the family and the community's call for justice, which includes a full investigation into his death," the city said in a statement. "The City will settle for nothing less than a thorough accounting of this matter."
On Monday, the Los Angeles County Sheriff's Department, fire department, and coroner's office laid out in more detail how officials came to Fuller's body, why the agencies arrived at the initial impression his death may have been a suicide, and what additional steps remained in the investigation before establishing an official cause of death.
During the press conference, Sheriff Alex Villanueva acknowledged a frustration in the community in light of the death of George Floyd in Minneapolis at the hands of police and the days of protests it sparked, but said the department would move to conduct a thorough investigation that would be monitored by the FBI's civil rights division.
But officials said their initial assessment from the area where Fuller was found was that his death appeared to be suicide.
"Initial reports appeared to be consistent with suicide, but we felt it prudent to roll that back and continue to look deeper," Chief Medical Examiner Jonathan Lucas said. "There was no other information to suggest that there was foul play."
Jamon Hicks, the attorney representing Fuller's family, told BuzzFeed News on Sunday that he is working with city officials to schedule an independent autopsy as soon as possible and that he will also be conducting his own investigation.
"I find the manner in which his death occurred very strange and troubling," Hicks said. "As a Black man, knowing the history of lynching in America's history, when we see a Black man hanging from a tree, we don't see a suicide first: we see a hanging, we see a murder first."
Fuller was a "happy 24-year-old" who was close with his family, especially his sisters, and he loved to dance, Hicks said. His family are still reeling and have never had any concerns about Robert's mental health or well-being, the attorney said.
"The family is completely devastated," said Hicks. "They want answers. They want full disclosure. Most of all, they want to know that Mr. Fuller's life mattered."
Officials said they would be looking into the last people Fuller was in contact with before his death, as well as his medical history in California, Arizona, and Nevada. Investigators were also expected to speak with his caseworker with the Department of Social Services, although officials did not disclose what services Fuller was receiving.
Authorities also said they had spoken with relatives of Fuller and discussed if there may have been any motive for him to kill himself, but they did not disclose any details of that conversation. Villanueva said investigators planned to continue speaking with the family about the case.
Homicide investigators would also be doing forensic analysis of the rope used in the hanging, including how the knot was tied, officials said Monday. There was no chair or stool near the body.
The Antelope Valley, where Palmdale is located, has a large Black population and a history of white supremacist skinhead gangs, racially motivated attacks, and racist and discriminatory policies. In 2016, three neo-Nazis were charged with hate crimes after attacking three Latino teenagers in a park and shouting "Heil Hitler, AV Skins."
Given the circumstances, the attorney said, he hopes that authorities will also look into Fuller's death as a possible hate crime.
"This area is known for its skinheads and for having racial conflict, and I would suspect that police would look into that as a potential narrative," he said. "The manner by which the body was found, not too far from City Hall in an area where there had been protests about Black Lives Matter and George Floyd, you can't ignore that. That's why you see such an outrage from the Black community."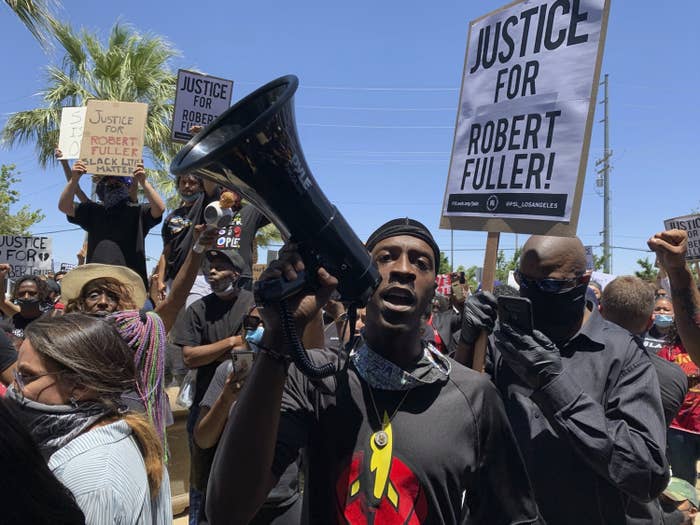 More than 200,000 people have signed a petition calling on the city and the sheriff's department to conduct a thorough investigation and release security footage and the 911 call reporting his death.
"During such a heightened time with the Black Lives Matter movement and the city's quickness to call his death a suicide before any investigation, there is reason to believe that Robert's death was a lynching," the petition said.

Officials have said there is no security footage available. Palmdale Mayor Steve Hofbauer said there are only two cameras in the square and that both are low resolution and follow traffic in real time, but don't record.
In a tweet reply on Sunday, Hofbauer emphasized that there are "no cameras IN the park" and said officials want the state attorney general to step in and oversee an independent investigation. The mayor attached a letter that officials sent to Xavier Becerra on Saturday, confirming that the sheriff department's homicide bureau is also looking into Fuller's death.
A final cause and manner of death is pending additional investigation, according to the Los Angeles County Medical Examiner-Coroner.

Hicks also noted that another black man was recently found dead hanging from a tree less than 50 miles from where Fuller's body was found. The family of Malcolm Harsch, 38, worry their loved one's death will also be ruled a suicide, and are conducting their own investigation into it.
Villanueva said his department would be in contact with Victorville officials to ascertain whether there are any similarities in the cases.
Hundreds gathered in the Palmdale square where Fuller's body was found Saturday to demand justice before marching through the city.
His friend Tommie Anderson told LAist she last saw Fuller at a nearby 7-Eleven a couple weeks ago and that they had talked about the nationwide protests over the police killing of George Floyd. She said Fuller was excited about the Black Lives Matter movement and that they were also planning a trip to Las Vegas later this summer.
"He didn't come to his park and hang himself," Anderson said. "Somebody brought him here and did this to him."
The National Suicide Prevention Lifeline is 1-800-273-8255. Other international suicide helplines can be found at befrienders.org.