Rex Tillerson Said The Poisoning Of Former Spy In Britain "Clearly Came From Russia"
The US secretary of state said the incident "certainly will trigger a response."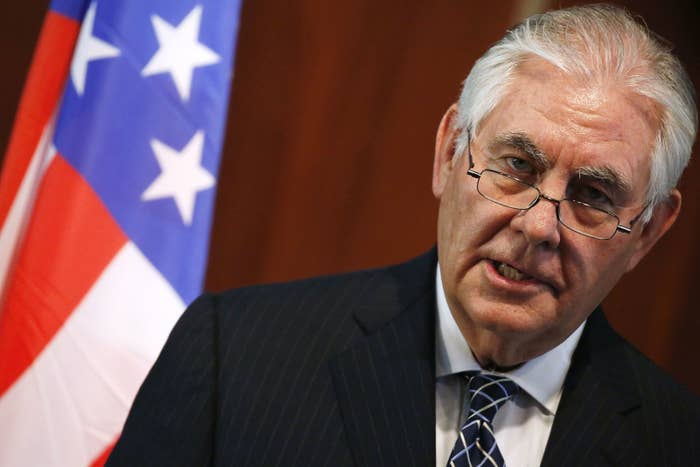 US Secretary of State Rex Tillerson said Monday that the poisoning of former spy Sergei Skripal in Britain this month "clearly came from Russia" and "certainly will trigger a response."
Speaking to reporters while traveling from Nigeria to Washington, Tillerson said he did not know if the Russian government knew about the poisoning, but argued that it could not have come from anywhere else, according to the Associated Press.
The attack, which occurred in a public space, was "almost beyond comprehension," Tillerson said, and "certainly will trigger a response." He declined to elaborate.
"I cannot understand why anyone would take such an action," Tillerson said. "But this is a substance that is known to us and does not exist widely. It is only in the hands of a very, very limited number of parties."
The State Department also released a written statement from Tillerson saying Russia was "likely responsible" for the nerve agent attack and that "those who committed the crime and those who ordered it" should face "appropriately serious consequences."
"Russia continues to be an irresponsible force of instability in the world, acting with open disregard for the sovereignty of other states and the life of their citizens," Tillerson said. "We stand in solidarity with our Allies in the United Kingdom and will continue to coordinate closely our responses."
His comments came hours after British Prime Minister Theresa May said it was "highly likely" that Russia was responsible for poisoning Skripal and his daughter Yulia. The two were found slumped on a bench in the city of Salisbury on March 4.
May said the substance Skripal and his daughter were exposed to was "a military-grade nerve agent of a type developed by Russia." The PM added that the Russian government either ordered the attack or lost control of the substance and "allowed it to get into the hands of others."
The incident has been compared to deaths previously linked to the Russian state, like the radioactive poisoning of former British spy Alexander Litvinenko in 2006.
Skripal, 66, is a former Russian military intelligence officer who was given a 13-year jail sentence in Moscow in 2006 for spying for the UK. He was released as part of a high-profile spy exchange between Russia and the US in 2010, and moved to Salisbury after he was given refuge in Britain.
White House press secretary Sarah Huckabee Sanders on Monday would not say if Russia was behind the attack, which she called "reckless, indiscriminate, and irresponsible."
"We are standing with our UK ally," Sanders told reporters. "We certainly stand with them throughout this process."
The White House did not immediately respond to BuzzFeed News' request for comment on Tillerson's statement.