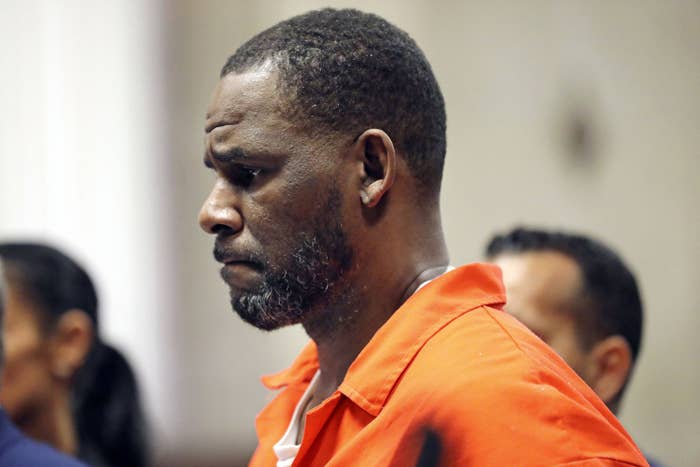 Fourteen years ago, a jury acquitted R. Kelly of producing child sexual abuse images in spite of a horrific video that allegedly showed him sexually assaulting and urinating on a 14-year-old girl. Their "not guilty" verdict allowed the R&B artist to walk free and continue preying on dozens of girls and young women.

Now, less than a year after Kelly's long-anticipated conviction in a federal sex crimes case in New York, federal prosecutors in his hometown of Chicago will attempt to at last hold him accountable for allegedly recording that infamous tape after their state counterparts failed to do so. In a new trial set to start Monday, the alleged victim, whose absence in the 2008 trial played a major role in the jury's decision to acquit Kelly, is cooperating with prosecutors. According to recent documents filed by the defense, she is expected to testify that she was the girl in the video — and that she wasn't telling the truth when, allegedly under pressure from Kelly, she told a Cook County grand jury it wasn't her.
The tape was parodied in a popular 2003 sketch on Dave Chappelle's Comedy Central show. Bootlegged versions were sold on the streets of Chicago, Atlanta, New York, and other cities. Though Kelly is already — finally — facing a 30-year prison sentence for decades of sexual abuse, his second federal trial may be a reckoning on the video that helped tie flagrantly predatory behavior to his public image and expose how he managed to escape accountability for so long.
"The most important thing about this trial is to highlight the travesty of justice that was the 2008 Cook County State's Attorney's trial," Jim DeRogatis, the Chicago journalist who broke the story about the tape for the Chicago Sun-Times in 2002, told BuzzFeed News in a recent interview. One of the victims who testified about graphic abuse in the New York trial described how she first met Kelly outside the 2008 Chicago trial, which she attended as a young fan.
"If he had not been acquitted, how many lives would have been spared the trauma of his sexual abuse?"
In the upcoming Chicago case, Kelly is facing 13 counts, including charges of producing and receiving child sexual abuse images and obstructing justice. He is accused of recording videos of himself sexually abusing the girl in the infamous tape, as well as two other minors, and is facing charges of luring them and two more underage girls to engage in criminal sex acts with him. Prosecutors also allege that he schemed with associates to round up the illicit tapes, pay off witnesses, and persuade the girl at the center of the 2008 case and her parents to lie about the true nature of her relationship with Kelly.
Unlike in New York, Kelly will be on trial with two codefendants who allegedly helped him conceal his wrongdoings during the investigation in the 2000s. Derrel McDavid, who served as a business manager for Kelly from 1991 to 2014, is accused of conspiring to obstruct justice and of receiving and conspiring to receive child sexual abuse images. Milton Brown, a former employee of Kelly's, is facing one count of conspiring to receive child sexual abuse images. All three men have pleaded not guilty, and over the years they've described the women who have accused them of crimes as liars who were motivated by money.
Jury selection is scheduled to begin on Monday, followed by opening statements from attorneys.
The Chicago indictment alleges that Kelly and McDavid began paying hundreds of thousands of dollars to an acquaintance in 2001 to collect the videos of Kelly allegedly sexually abusing the girls. Then sometime around June 2008, while Kelly was on trial for the state charges and acquitted, the pair and their associates paid that person $170,000 to cancel a press conference he had scheduled to announce that he had recovered videos showing Kelly sexually abusing minors, according to the indictment.
Prosecutors also allege that in 2007, Kelly and McDavid agreed to pay someone approximately $250,000 to return a tape that showed Kelly having sex with her and the girl who was the focus of the 2008 case. Kelly and McDavid also allegedly paid a third individual $100,000 for their efforts to return tapes depicting Kelly with the individual and the minor. As a condition of the payments, the individuals had to take polygraph examinations to determine whether they had returned all copies of the tapes.
Authorities did not disclose the details of these accusations — which suggest how Kelly and his associates allegedly pressured witnesses and victims into silence — until July 2019, when Kelly was hit with both the Chicago and New York indictments. The indictments followed a 2017 investigation by DeRogatis published by BuzzFeed News and the 2019 docuseries Surviving R. Kelly, which further detailed the allegations of women who said Kelly had abused them. But one of those women, Lisa Van Allen, had been telling her story publicly for years; in the 2008 trial, she testified that McDavid had paid her and another man $20,000 to return a different tape showing her and the girl in that case having sex with Kelly. Van Allen at that time said Kelly had offered her a total of $250,000, a detail that matches the indictment handed down more than a decade later. (Prosecutors would not comment on whether Van Allen was the woman described in the new charge.)
Why it has taken so long for Kelly to face federal prosecution is something DeRogatis said he'll never understand, but it's clear that his reporting and the documentary had an impact on the case finally breaking ground.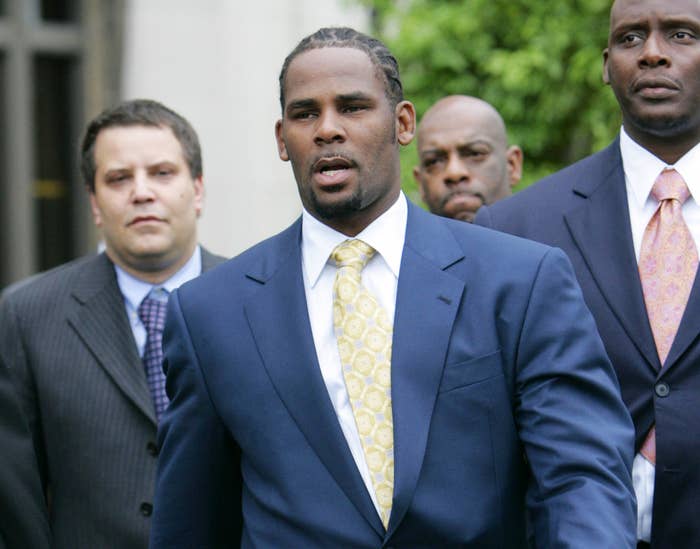 "That story in 2017 prompts #MuteRKelly and leads to Surviving R. Kelly, but the power of seeing those women one after another after another in your living room … telling their story — the way they did to me for years one on one — they were undeniable," he said. "I think that's when things shifted."
Despite the shift in public opinion, Kelly still has a following of outspoken supporters who remain adamant that he hasn't done anything wrong. And even though prosecutors have been struggling to get Kelly to pay fines imposed on him as part of his sentence, as of last week he had amassed more than $28,000 in a commissary account.
At the close of a recent remote pretrial hearing, his fans unmuted their phone lines to express their admiration for the R&B star.
"Love you, Robert Kelly," one person said. "You are my heart."
"Stay strong, praying for you, praying for freedom," another said.
"Free R. Kelly!"
While it's unclear what will happen during the new trial, the fact that Kelly is charged with producing not one but four videos that allegedly depict child sexual abuse and allegedly abusing multiple victims suggests the federal government will be able to put on a stronger case than the state did 14 years ago. Potential witness lists have not been released publicly, but in court filings the government has discussed the possibility of five alleged victims testifying and indicated that the mother of the girl whose alleged abuse by Kelly was the focus of the 2008 trial may also testify.
In 2008, the jury didn't hear from the girl, nor were they told about Kelly's history with other young women, notably his 1994 marriage to then-15-year-old Aaliyah and civil settlements with other underage girls. Despite more than a dozen witnesses positively identifying the figure on the tape as the 14-year-old, jurors ultimately said they weren't certain that it was her.
"If 2008 was one girl on one tape, we are now hearing and we're going to see evidence that Kelly had this proclivity … of sexually abusing minors and taping those assaults — taping assaults plural," DeRogatis said. "I think the jurors are going to be haunted by that."
Even though the jury in New York convicted Kelly on all counts last year, it's not a guarantee that the next jury in Chicago will do the same. DeRogatis said there's a presumption because of the #MeToo movement that things have changed and that now women are believed. But that just isn't always the case.
"I don't think things have changed that radically," DeRogatis said. "Certainly none of the women who bravely testified or trusted me with their stories … think things have changed. They say no one is believed — Black women in particular are not believed."
A second chance like the one the alleged victim from the 2008 trial will get is rare; the government is generally not allowed to prosecute a person for the same crime twice under what's known as the "double jeopardy" clause in the Constitution's Fifth Amendment. But because the charges in the present case are federal and not state, they are considered different offenses under an exception to the rule.
Steven Block, a former assistant US attorney in Chicago, said the Department of Justice has strict guidelines for when it chooses to charge someone with a federal crime after they were already acquitted for the equivalent state crime. It's likely that, given the allegations of obstruction in the 2008 case and the changed circumstances with the alleged victim, prosecutors were able to show a compelling interest to lodge federal charges, Block said.
"The state case has some perceived unfairness about it," he said. "[It] was a highly publicized, very sensational trial in Chicago, and I think that there is fairly uniform agreement that justice was not served in that case."
Still, DeRogatis questioned the value of moving ahead with another Chicago trial after the New York conviction. It's already likely that Kelly, now 55, will be behind bars for the rest of his life.
"Whatever loose ends remain to this case, it's not the ones that really should be tied up," DeRogatis said, pointing to the systems — from Kelly's record label to Chicago schools — that allowed him to exploit his fame to prey on girls and young women for years after evidence of apparent abuse became public. "I think it's just going to be enormously traumatizing to everyone involved."
But legal experts said there is still value in moving forward with this second trial. Kelly, who has continued to deny any wrongdoing, intends to appeal his conviction out of New York. And if he is successful, a second conviction in Chicago could give the government a bit of a "safety net" to ensure he stays in prison, said Shan Wu, a former federal prosecutor.
Wu said it's also important to show that justice delayed is not justice denied — even if Kelly has already been convicted of other charges.
"Ideally," he said, "any crime that there's evidence of will be fully prosecuted."