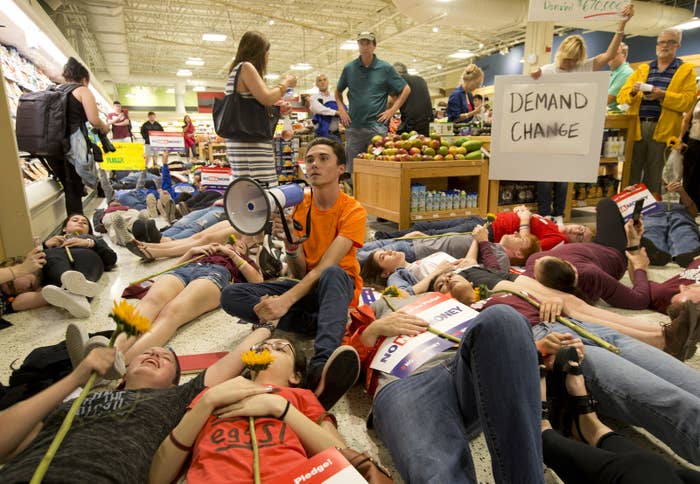 A Florida-based supermarket chain said Friday that it will stop contributing to political campaigns after students protested the company's support of a gubernatorial candidate backed by the National Rifle Association.
Led by Parkland school shooting survivor David Hogg, student demonstrators gathered for a "die-in" at the Publix located blocks away from Marjory Stoneman Douglas High School, where a shooter killed 17 students and faculty.
The demonstrators lay down in the store for 12 minutes. That's 720 seconds — about the number of school shootings in recent history, Hogg said. Hogg organized the event to protest the grocery chain's donations to Florida gubernatorial candidate Adam Putnam, who has called himself a "proud NRA sellout," according to the Sun-Sentinel.
Just before the demonstration was scheduled to start, Publix announced it had decided to suspend all corporate-funded campaign contributions "as we reevaluate our giving processes."
"At Publix, we respect the students and members of the community who have chosen to express their voices on these issues," the supermarket chain said in a statement. "We regret that our contributions have led to a divide in our community."
Here's the full statement:
Student activists began targeting Publix after reports that Putnam had received $670,000 over the past three years from the employee-owned corporation.
Putnam's votes and stance on gun issues have earned him a top rating from the NRA, the Sun-Sentinel reported.
Before the demonstration, Hogg and others drew outlines of 17 bodies in chalk in the store's parking lot to represent the 17 killed in the Feb. 14 shooting.
Cleanup crews came and removed the outlines from the pavement, but the students redrew them.
"I think it's a really good symbolism of what our politicians do to our kids," Hogg said in a live video on Twitter, as the crews began scrubbing away the chalk. "They are literally wiping them away and pretending it never happened."