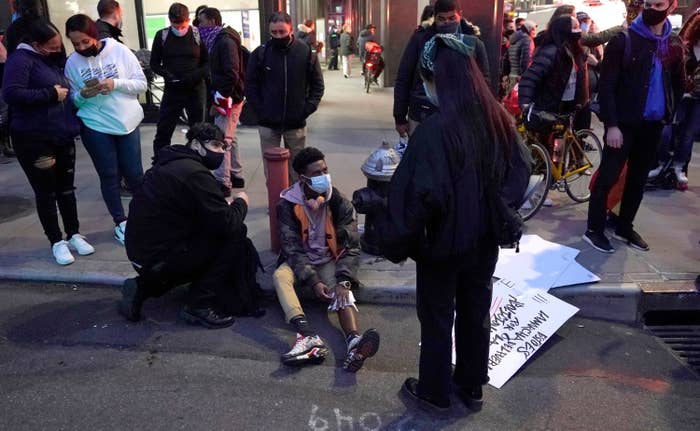 The driver behind the vehicle which struck protesters in New York City on Friday has been identified as 52-year-old Kathleen Casillo.
The New York Police Department confirmed to BuzzFeed News on Saturday that six people were injured after Casillo drove a 2019 Black BMW Sedan through a crowd of protesters at East 39th Street and Third Avenue. All of the victims were taken to local hospitals and none had life-threatening injuries.
Castillo was in the vehicle with another woman when the collision happened, and both were detained for questioning.
According to NBC New York, Casillo is believed to have "panicked" and drove forward to get away from demonstrators who had surrounded her vehicle.
Casillo, who is from Queens, was charged with reckless endangerment and her motive remains unknown.

The incident occurred at about 4:08 p.m. on Friday. Officials initially said demonstrators had gathered in the area to call for justice for George Floyd, the 46-year-old Black man whose killing by Minneapolis police sparked global protests against police brutality and racial injustice. However, local outlets reported that protesters were marching in solidarity with ICE detainees who are on a hunger strike at the Bergen County Jail in New Jersey.

Video of the scene showed a large presence of first responders in the intersection.

A witness told NBC New York that a BMW had "sped through" the intersection.
"I hear people screaming in the front. I look behind me. The woman is plowing through. I run out of the way," she said, adding that she saw "bodies flying" and had to dodge a bike that "came flying for [her] face."
Elsewhere in the protest, a 32-year-old woman named Nicolle Besuden was also arrested for interfering with EMS rendering aid. Besuden was charged with obstruction of governmental administration and disorderly conduct.