A Longtime Newspaper Cartoonist Was Fired After Editors Spiked His Cartoons Critical Of Trump
Rob Rogers, an award-winning editorial cartoonist, was fired from the Pittsburgh Post-Gazette Thursday after 25 years with the newspaper.
A longtime Pittsburgh Post-Gazette editorial cartoonist said he was fired Thursday after the newspaper declined to print a number of his cartoons, including several that were critical of President Donald Trump.
Rob Rogers, whose cartoons often appeared in national publications, had worked at the Post-Gazette since 1993. He announced his firing on Twitter.
Rogers told BuzzFeed News that he had nine cartoon ideas killed and 10 finished cartoons withheld from publication since March — including six that were spiked between May 25 and June 4.
One of the cartoons that wasn't published depicts Trump laying a wreath in front of a grave marker that reads "Truth, Honor, Rule of Law."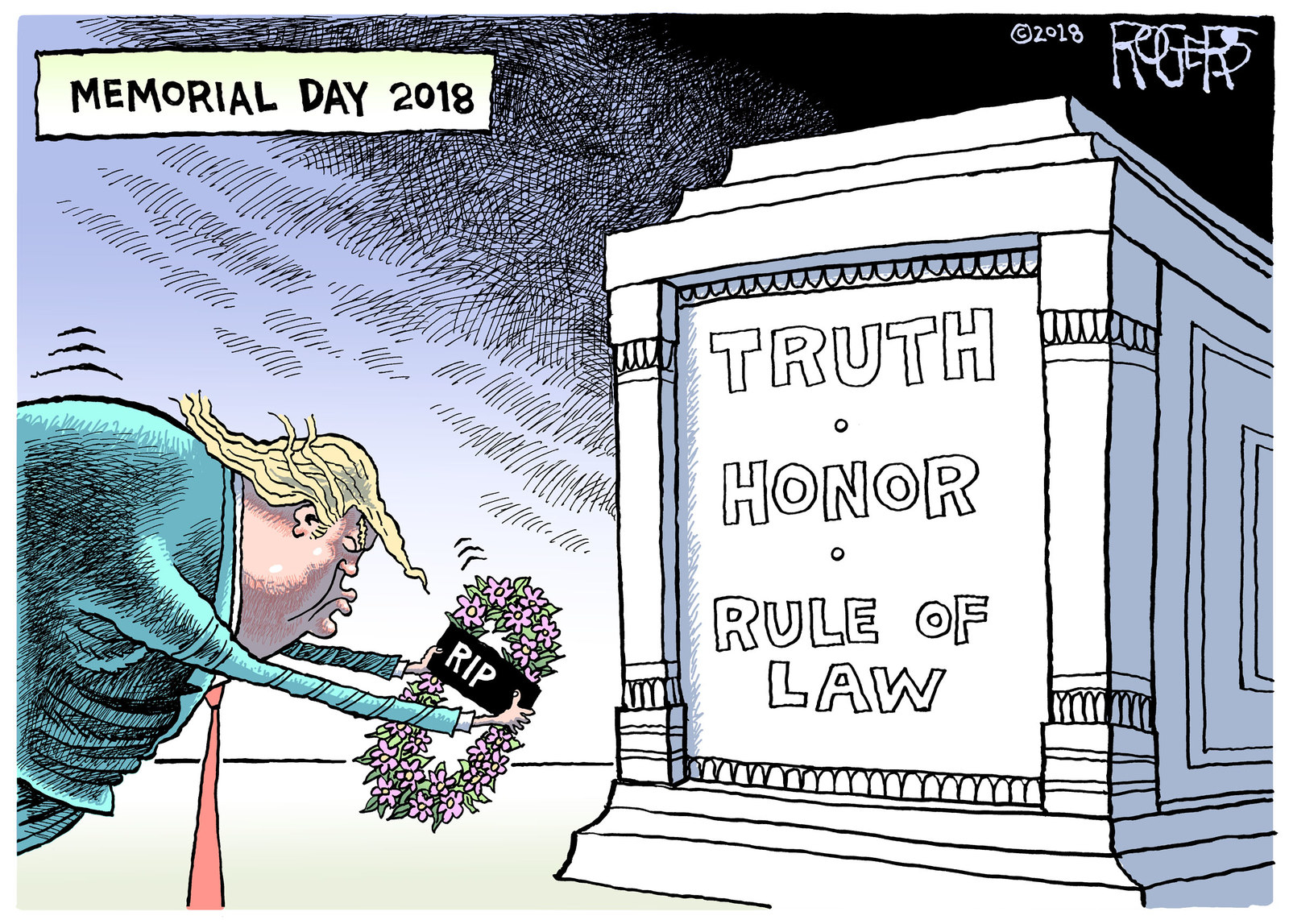 Rogers said his cartoons normally appeared in the Post-Gazette five days a week. The newspaper last published one of his cartoons on June 5.
Rogers, a Thomas Nast Award winner and a 1999 finalist for the Pulitzer Prize for editorial cartooning, said he has always prided himself on coming up with his own ideas and that readers have come to expect his viewpoint in the paper.
"There has to be a variety of opinions on any editorial and op-ed page in order to sort of give people a lot of different things to read," Rogers said. "There's already attacks from the White House on free press but you wouldn't think that the same attacks would come from management."

Another nixed cartoon depicts a character in a white hood asking a doctor, "Could it be the Ambien?" — a nod to Roseanne Barr's defense for a racist tweet.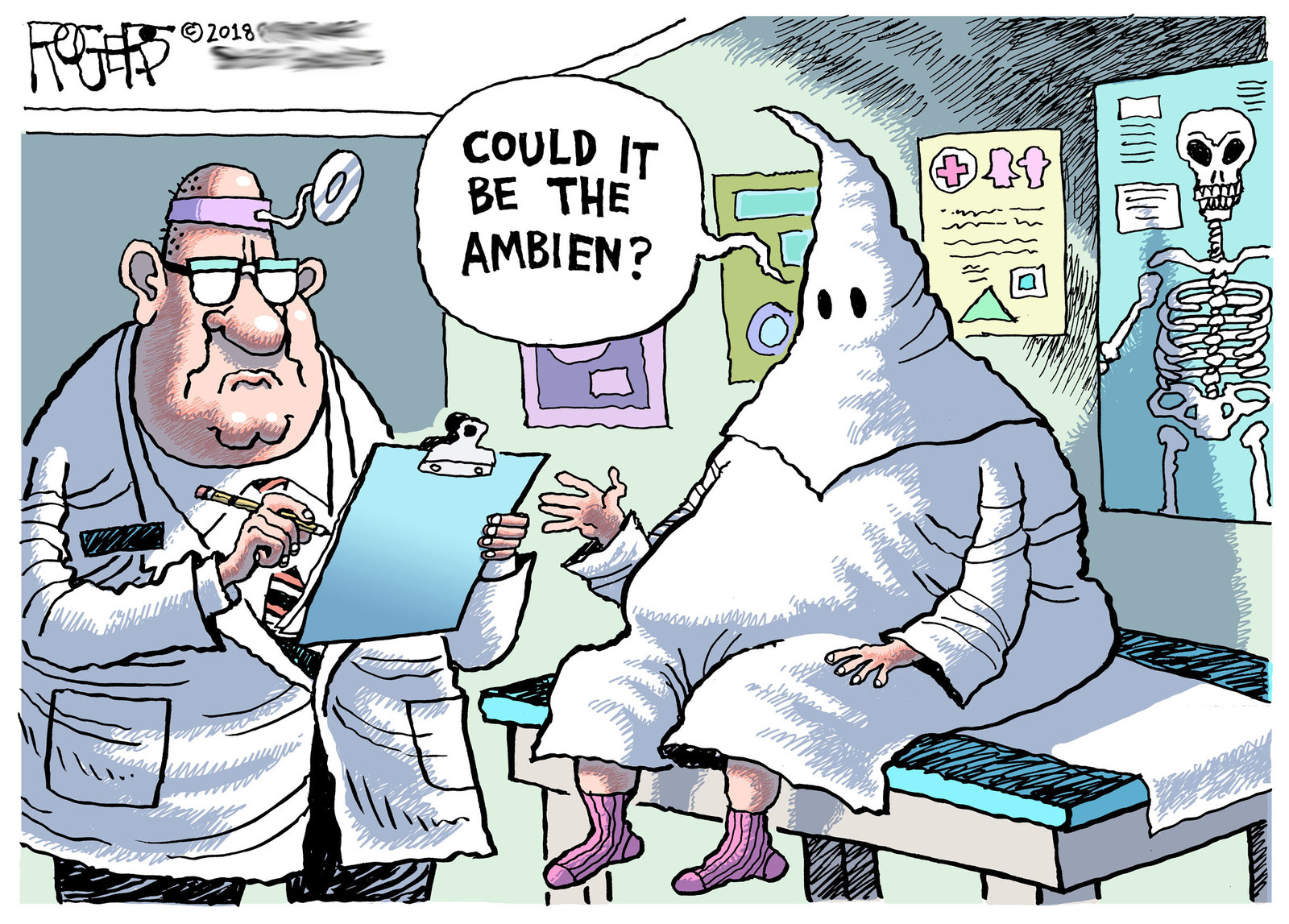 It's normal for cartoonists to have their work withheld from publication a couple times a year, Rogers said, but never six times in a row.
"I sort of felt like it was just simply to tamp me down and to get me to draw softer cartoons about Trump or no Trump at all," Rogers said.

In a statement provided to BuzzFeed News, Stephen Spolar, chief human resources officer for the Post-Gazette, declined to comment on Rogers' firing, saying the newspaper "does not provide details about employment matters."

The statement continued, "in light of Mr Rogers' public comments today, we do want to acknowledge his long service to the newspaper and our community. Any further discussions will be conducted with Mr. Rogers as a private matter."
A spokesperson for the newspaper declined to comment on about why Rogers' cartoons were withheld from publication.
Things changed, Rogers said, when Block Communications, the paper's parent company, appointed Keith Burris as editor, vice president, and editorial director in early March.
Burris became Rogers' direct boss and started to shoot down the cartoonist's ideas multiple times a day.
"In subtle ways he would say you've got to stop your obsession with Trump. You've got to move on to other topics," Rogers told BuzzFeed News. "Even if Trump was the biggest story that day he still would say get on to something else and I did and I did often times."

Burris did not immediately respond to a request for comment from BuzzFeed News.

The Association of American Editorial Cartoonists board also linked Burris — who they called "Trump-supporting" — to Rogers' cartoons being held from the paper.

"We would take this opportunity to remind all editorial page editors that their responsibility is to the readers (among whom in Pittsburgh, Rogers cartoons are wildly popular) and to the open and ongoing search for truth in contending opinions," the board said in a statement. "The editorial pages are a public forum, not a members-only private resort in Florida."
Rogers said that in recent years the Post-Gazette's editorial pages have become more conservative, adding that in 2015 the newspaper's publisher John Block "became sort of enamored" with Trump.
Block later took a photo with then-candidate Trump in 2016 and posted it on Facebook as reporters expressed concern over what would happen to the paper's credibility if it endorsed the real estate mogul, according to the Pittsburgh City Paper.
"In 39 years of full time journalism I've met many interesting people," Block wrote in the post. "This one was more than memorable."
Rogers said he knew that Block, who has been publisher of the Post-Gazette for more than 20 years, was unhappy with some of the cartoons but it wasn't until Burris came along that they started getting held from the paper.