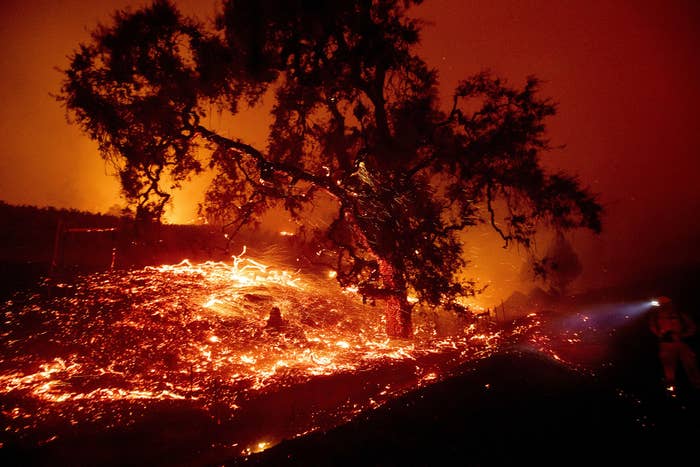 After shutting off power for more than 2 million Californians earlier this month, the state's largest utility defended the controversial decision, saying the move prevented its equipment from sparking catastrophic wildfires.

But on Wednesday evening, hours after Pacific Gas & Electric shut off electricity once again, this time to 178,000 customers, one of the utility's high-voltage transmission lines in the hills north of San Francisco malfunctioned, according to a report submitted to the California Public Utilities Commission.
Six minutes later, a fast-moving blaze fueled by powerful winds was reported in the area, forcing thousands of people in Sonoma County, including the entire town of Geyserville, to evacuate their homes in darkness.
PG&E said Thursday that while its distribution lines in the area were shut off as part of its second public safety power shutoff this month, high-voltage transmission lines in the area where the Kincade fire ignited Wednesday night were not.
"Those transmission lines were not deenergized because forecast weather conditions, particularly wind speeds, did not trigger the PSPS protocol," the utility said in a statement.

The cause of the Kincade fire, which has burned 16,000 acres and was 5% contained as of Thursday evening, is still under investigation. Meanwhile, the CPUC is conducting its own investigation "to assess the compliance of the electric facilities with applicable rules and regulations."
PG&E said it became aware of the outage on a 230,000-volt transmission line "when the line relayed and did not reclose." On Thursday, a PG&E employee patrolling the line observed that Cal Fire had taped off the area around the base of the transmission tower and "what appeared to be a broken jumper on the same tower."
The utility said the tower was inspected earlier this year as part of its wildfire safety program.
"Filing the [report] does not tell us where the fire started so that the fact that we filed it ... does not actually tell us what caused the fire or where it started," PG&E CEO Bill Johnson told reporters Thursday night. "We still at this point do not know what happened."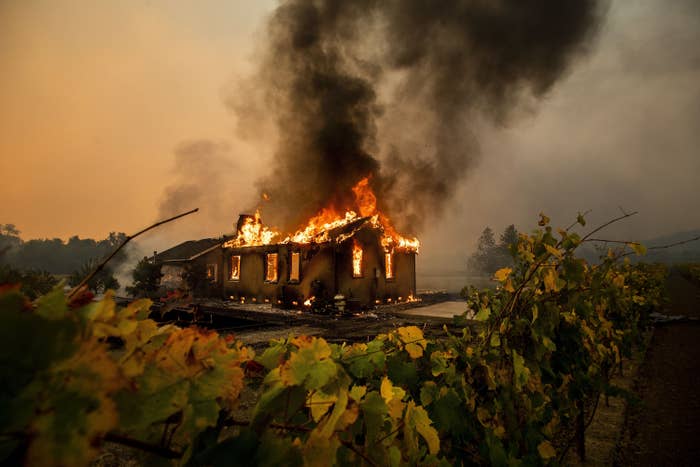 The Kincade fire is the second wildfire this month that ignited in areas where utility companies reported electrical equipment failures even as they shut down power to thousands of people to prevent the lines from sparking blazes during extremely windy and dry conditions.
Last week, fire officials in Los Angeles said the more than 8,000-acre Saddleridge fire was believed to have started under a transmission tower owned by Southern California Edison. In a report to the CPUC, Edison said its facilities "were impacted close-in-time to the reported time of the fire."
The cause of that fire, which killed one person, destroyed 19 structures, and damaged dozens more, has not yet been determined.
While climate change and drought have made California's fires more destructive and unruly in recent years, investigators have found that power lines and equipment owned by utility companies sparked some of the deadliest and most destructive fires in the state's history.
The disasters have cost PG&E billions in lawsuits and damage claims and plunged the company into bankruptcy as it works to make billions of dollars in improvements to its equipment and cut back on vegetation that could come in contact with transmission lines and spark fires.
Yet, as the utility prepares to potentially shut off power for the third time this month this weekend when California will see what PG&E meteorologist Scott Strenfel described as "possibly the strongest offshore winds that we've seen in years," the outrage continues to build.
"It is infuriating beyond words to live in a state as innovative and extraordinarily entrepreneurial and capable as the state of California to be living in an environment where we're seeing this kind of disruption and these kinds of blackouts," Gov. Gavin Newsom said during a press conference Thursday.

The first wave of shutoffs this month forced businesses to shut their doors, closed colleges and schools, put people out of work, left researchers scrambling to save samples from spoiling, and put those who rely on electricity for their medical needs at risk. Some communities were without power for three days.
"[In the] 21 century, in a state like ours... to see this kind of disruption, potentially lives, millions of Californians at risk because they can't access critical care or even water in some cases is unacceptable," Newsom said.