A Tennessee man and woman were arrested on child abuse charges after a waitress who observed bruises on their baby's face at an Olive Garden restaurant in Kentucky posted about the family on Facebook.
Jordan Cooper said the couple came into the restaurant in the city of Paducah Sunday night with a young girl and a baby who appeared to have been "beaten in the face."
"Her face was black and blue all over," Cooper wrote in the now-deleted Facebook post. "The guy in this picture was force feeding her food down her throat and grabbing her by her shirt and getting in her face."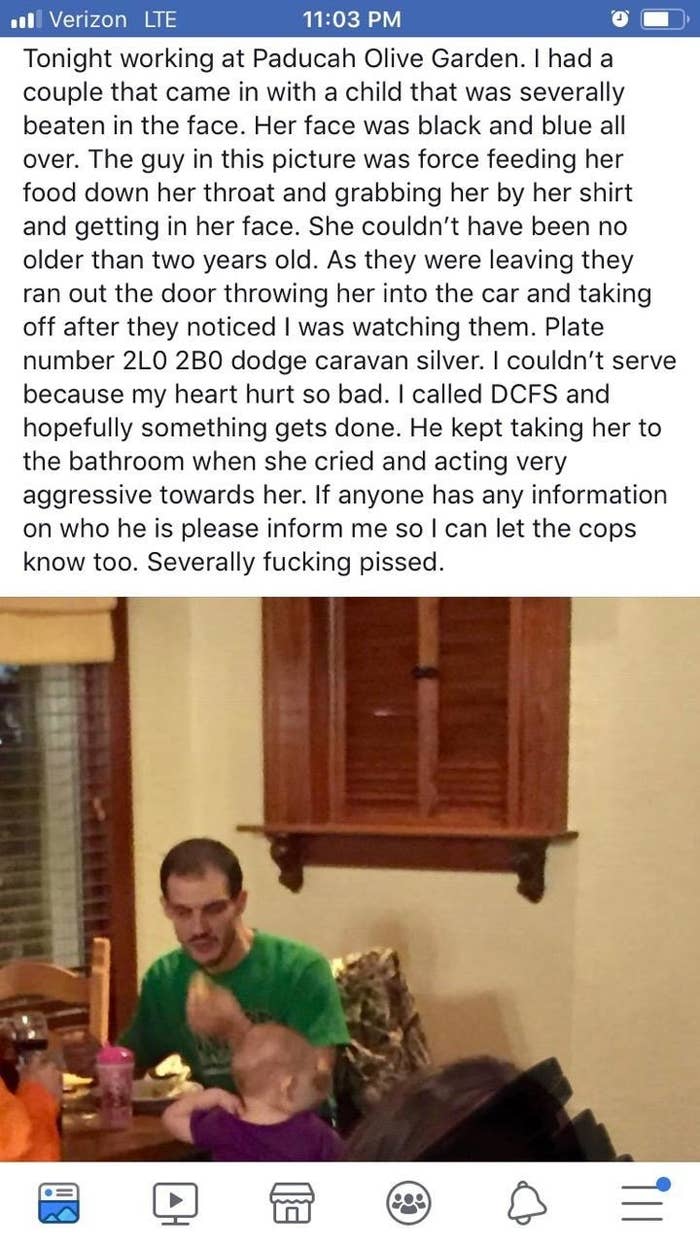 Cooper told WPSD-TV when she walked around to the baby, "she looked at me with a face that said 'help.'"
Cooper said she took a photo of a group at a nearby table to capture the couple and the children behind them. She said the man and the woman started to get suspicious and quickly paid their check to leave, so she followed them outside, wrote down their license plate number, and called 911.
When she got home, she posted the photo to Facebook, asking anyone who may recognize the man to contact her so she could give the information to police.
"I couldn't serve because my heart hurt so bad," she said. "I called [Department of Child and Family Services] and hopefully something gets done."
About an hour later at 10 p.m., Cooper's high school friend Aaron Caldwell, a 911 dispatcher for the Metropolis Police Department in Illinois, clocked in for his overnight shift, saw the post, and jumped into action.
"I called her; she gave me all the information on what was going on," Caldwell told BuzzFeed News.
Caldwell said people on Facebook had messaged Cooper, identifying the man as Mark Pierce.
"I went ahead and I got all the information on him I could," Caldwell said.

Within a half hour, he had found an address for Pierce in Paris, Tennessee, and called the local police department to make a welfare check at the home.
Paris police investigator Derrek Colley told BuzzFeed News that officers responded to the home around 11:45 p.m. and located Pierce, 33, the children's mother, 36-year-old Jessica Woodworth, and the two children.
"They observed bruising on the child that they believed to be abuse," Colley said.

Officers then took the child, who is about 20 months old, to a local hospital for evaluation and arrested Pierce and Woodworth on charges of aggravated child abuse and neglect.
They are both being held in lieu of $200,000 bond each.
The 11-year-old was returned to her father in Illinois and the infant was taken into the custody of the Tennessee Department of Children's Services.
Colley said Pierce, who is not the child's biological father, was convicted of child abuse in 2008. He said Pierce and Woodworth told officers they met online and had been dating and living together for three to four months.
Colley said the couple stopped at the Olive Garden in Paducah on the way back home from picking up the 11-year-old from her father's.
Colley commended Cooper and Caldwell for reporting the incident.
"The team effort that went into that was great," Colley said. "I wish there was more citizens that would observe something like that and actually notify authorities."
Caldwell said that even though the report came from across state lines, he felt like he was just doing his job by tracking down Pierce.
"I didn't have to answer it, but I would have answered it 100 times," he said, adding that as a dispatcher he often gets similar calls, but it's rare that they actually find the people involved. "We never really have this kind of an outcome. Sometimes you can't find people — that's what sucks about the job."
He added that Cooper, who was not immediately available to be interviewed, did what he hopes anyone would do in that situation.
"She did awesome and she deserves to be recognized 100%," Caldwell said.