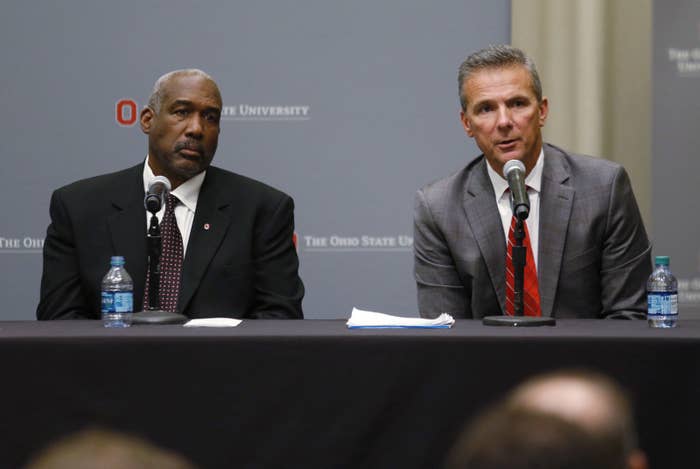 Ohio State University has suspended its football coach and athletic director after an independent investigation found they failed to adequately report allegations of domestic abuse against an assistant coach three years ago, officials announced Wednesday.

Coach Urban Meyer will be suspended without pay until Sept. 2, as well as for the first three games of the season, while Athletic Director Gene Smith will be suspended without pay from Aug. 31 until Sept. 16, Ohio State President Michael Drake said.
"We believe Urban Meyer did not and does not condone domestic abuse. However, he did fail to take sufficient management action regarding Zach Smith," Drake told reporters during a press conference.

Meyer was placed on administrative leave Aug. 1 after a report claimed that he knew about domestic abuse allegations against assistant coach Zach Smith in 2015.
He fired Zach Smith on July 23 after an Ohio judge issued a domestic violence protection order that forbids Smith from getting within 500 feet of his ex-wife.
Former US Securities and Exchange Commission chair Mary Jo White, who led an independent group formed to investigatio the situation, said they interviewed more than 40 witnesses and reviewed 60,000 electronic documents and 10,000 pages of Meyer's text messages.

While no criminal charges were filed against Zach Smith as a result of a 2015 law enforcement investigation, White said the group found that neither Meyer nor Gene Smith reported the domestic abuse allegations "to compliance."
"Simply relying on law enforcement is not in our view an adequate response," White said, noting that there are many instances in which abuse takes place but no arrests are made.

Investigators also concluded that Meyer did not "deliberately lie" when talking to reporters about the abuse allegations on Big Ten media day July 24.
Both Gene Smith and Meyer apologized to the Buckeye community and voiced support for the administration's decision to suspend them.
"I followed my heart and not my head," Meyer said. "At each juncture I gave Zach Smith the benefit of the doubt."
Under Meyer's leadership, the football powerhouse has won two conference titles and a national championship title.