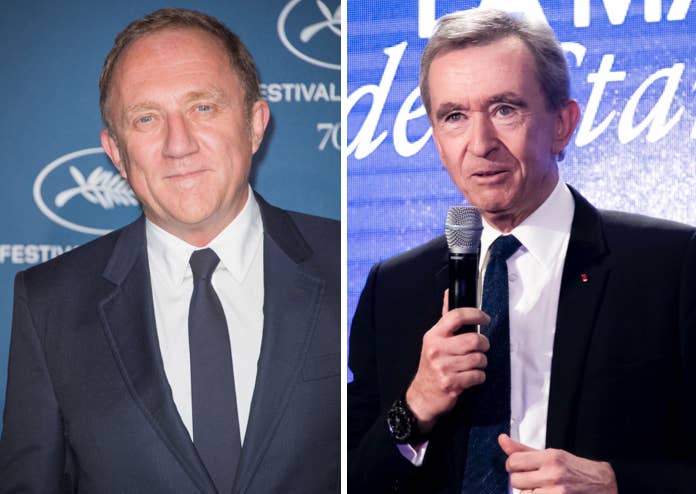 French billionaires and major companies have pledged to donate at least 600 million euros to help reconstruct the Notre Dame Cathedral after a catastrophic fire tore through the historic structure, collapsing its spire, and causing significant damage.

Their donations came as Paris firefighters declared Tuesday morning that the fire had been fully extinguished.
"A group of experts are analyzing all of the structures to establish the next stages," Paris fire brigade spokesperson Gabriel Plus told reporters.
François-Henri Pinault, chairman and CEO of the international luxury group Kering, which includes Gucci and Saint Laurent, said Monday night that he and his family will donate 100 million euros to the cathedral's reconstruction.

In a statement posted on Twitter, Pinault, who is also president of holding company Groupe Artémis, which owns the fine arts auction house Christie's, wrote: "My father [François Pinault] and I have decided to release as of now from the funds of Artemis a sum of 100 million euros to participate in the effort that will be necessary for the complete reconstruction of Notre Dame."
His donation was doubled Tuesday morning by Bernard Arnault, chairman and CEO of luxury goods group LVMH, whose brands include Moët & Chandon and Dior.
"In the wake of this national tragedy, the Arnault family and the LVMH Group pledge their support for #NotreDame. They will donate a total of 200 million euros to the fund for reconstruction of this architectural work, which is an integral part of the history of France," read a statement posted on the LVMH Twitter account.
French cosmetics company L'Oreal, as well as its principal shareholder, the Bettencourt Meyers family and their charitable foundation, also pledged a combined 200 million euros.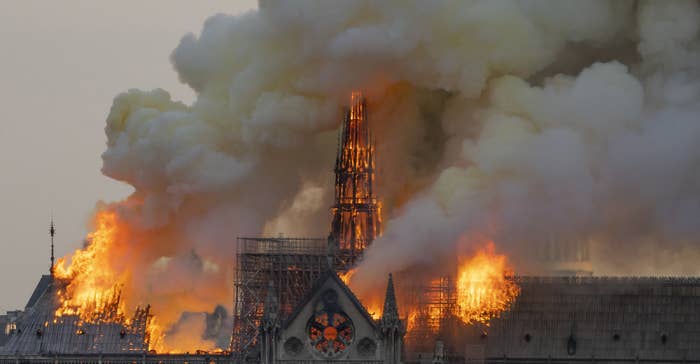 Andrey Andreev, the founder of the dating app Badoo, also pledged Tuesday to donate 100% of the app's April profits from its 22 million users in France to the reconstruction of the cathedral.

"Notre Dame is an extraordinary landmark and an immeasurable symbol of Paris," Andreev said in a statement posted to Instagram. "It represents love and unity, bringing people together from all over the world no matter who they are and where they come from."
Apple CEO Tim Cook also said the tech company would contribute to the rebuilding efforts.
Henry Kravis, co-founder of the New York-based private equity firm KKR, also pledged $10 million to the reconstruction.

Together with donations from French companies, including 100 million euros from oil and gas giant Total, the combined amount pledged as of Tuesday exceeded 600 million euros. And that was ahead of French President Emmanuel Macron's plan to launch a national fundraising campaign to rebuild the centuries-old cathedral.
"We will rebuild," Macron told reporters. "We will rebuild Notre Dame because this is what the French expect, because this is what our history deserves, because it is our destiny."
Addressing the nation on Tuesday, Macron said Parisians are "builders."
"There is a great deal to be rebuilt, and we will make the cathedral of Notre Dame even more beautiful," he said.
Donald Tusk, president of the European Council, called on the EU's member states to also contribute to the cathedral's reconstruction.
Two police officers and a firefighter suffered light injuries tackling the fire, the Paris fire brigade tweeted Tuesday morning. It said that nearly 400 firefighters took part in a 9-hour effort to combat the flames.

"The structure of the cathedral is saved and the main artworks have been safeguarded, thanks to the combined actions of different state services," it said.
In its more than 800-year history, Notre Dame has undergone extensive and costly restorations to repair and restore one of the finest examples of French Gothic architecture.

When the fire broke out, the spire was being restored as part of a multimillion-dollar renovation to repair water damage to the wooden structure.
In recent years, cathedral officials have sought private funding to buttress the funds the French state dedicates to its upkeep through the Friends of Notre-Dame de Paris foundation.